Hello Folks ✌️
One would like to say good morning, but I think "be aware" is actually more appropriate today. Ukraine is experiencing a brutal invasion… I'm speechless...
I would like to take you away from this drama for a moment. Today I have a story to tell which relates to my first trip to Viet Nam.
When I was flying to Ho Chi Minh City for the first time, in 2016, I saw how many people, women, children and men dress unusually nice, strange for the newcomer, and as it turned out later, very comfortable clothes.
First, the check-in desk at the Pudong airport in Shanghai, then the Vietnam Airlines flight crew allowed me to see a nice, facial outfit. This intrigued me very much.
I have met before with the crews of airplanes who wear national costumes, such as in the case of Malaysia Airlines or Singapore Airlines. However, they seemed more so popular. The Vietnamese ones looked more distinguished.
Walking through the streets of Sai Gon during the Lunar New Year, I watched with admiration how people were dressed in beautiful, colorful and very attractive-looking clothes.
I was interested in what it is and I decided to deepen this topic a bit ...
Today I invite you for a short trip to the outskirts of Sai Gon, where there is an interesting, small, extremely picturesque museum of traditional Vietnamese clothing - Áo dài.
A garment that is not called "national" but is a traditional Vietnamese garment.
We pronounce the Áo dài like "ˈaʊˈzaɪ". It is dressed by men and women rather for formal occasions such as Tet - Lunar New Year, weddings or other celebrations.
Today it is a long tunic, divided into two parts, worn with trousers, which are an inseparable element of this outfit.
The very name of the outfit translates as Áo - shirt and dài - that is, long.
Inspired by beauty and universality, I made sure to have such an outfit.
I went to one of the best tailors in Sai Gon, specializing in Áo dài sewing. Due to my height, buying a ready-made, and therefore cheaper garment was out of the question. So I decided to buy a tailor-made one.
It takes about three to four weeks to make such an outfit in Sai Gon. This practically requires a visit to the tailor twice. The first to remove the measure and the second to pick up the ready-made outfit.
I ordered two - red and navy blue. Basically because I wasn't able to choose just one color. I fell in love with both.
As for the costs - if you have a standard physique, there is a good chance of buying a ready-made Áo dài on the spot. You can choose from dozens of ready-made patterns and colors. Just try it on and it's ready. In this case, the cost will be around $ 40, which is within VND 1 million. On the other hand, tailor-made sewing, depending of course on the height and amount of material used, will cost about $ 80 to $ 100. In my case the cost was 2.2 million VND and I found the price quite affordable for what I got.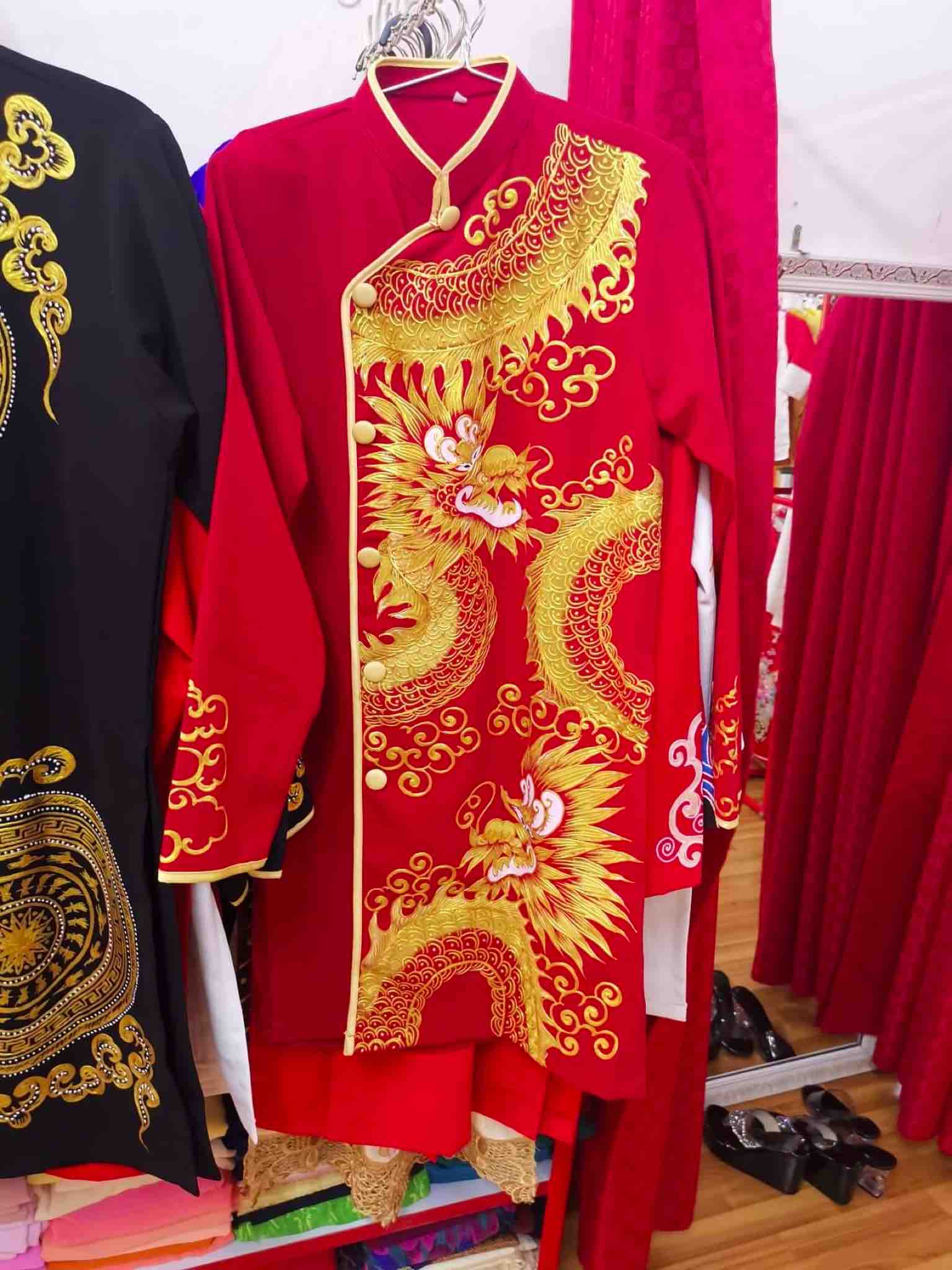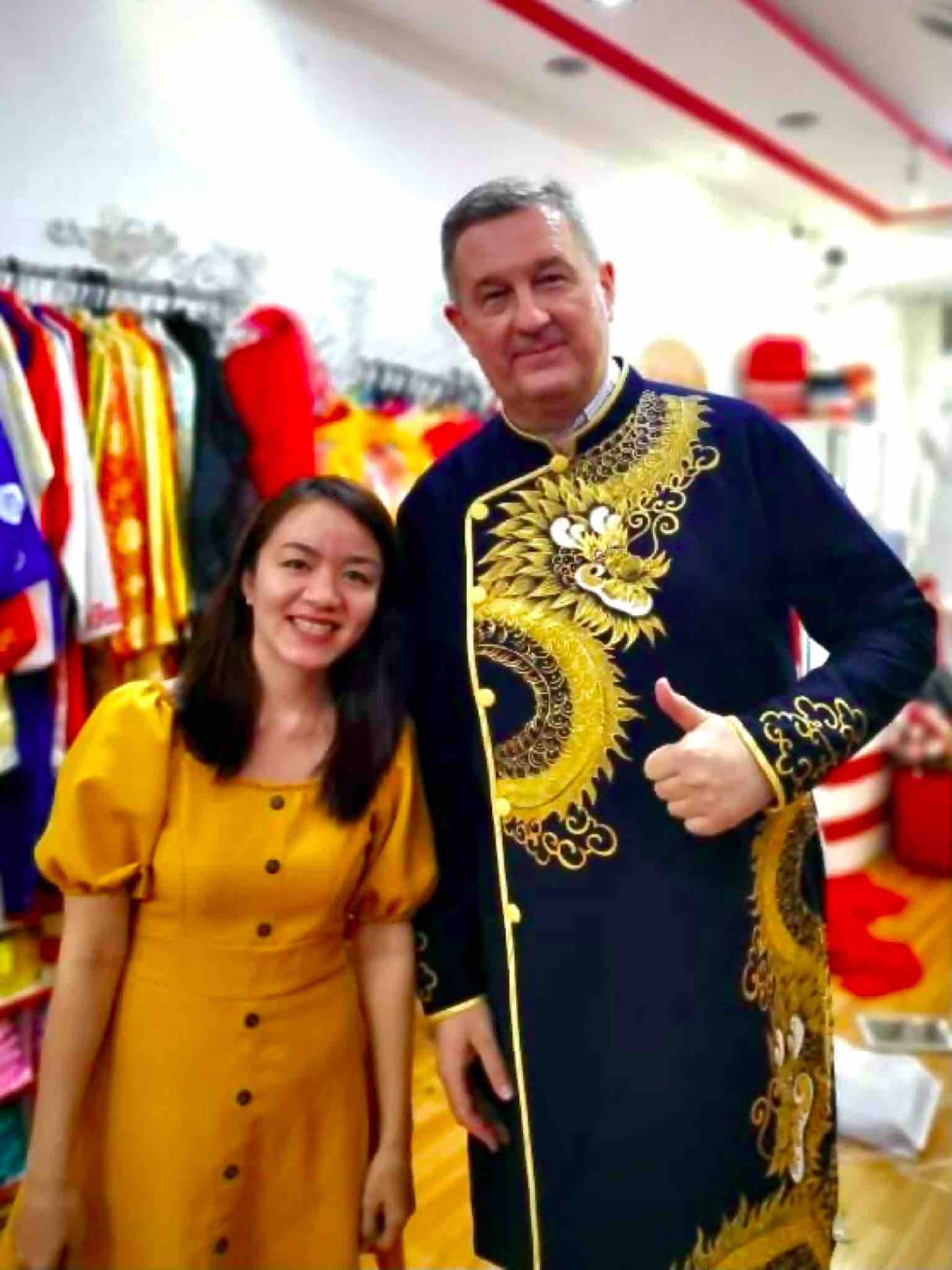 Museum

Áo dài

To learn the history of Áo dài, it is worth going to the place that I want to recommend to you today as a weekend getaway outside the city center.

This is Bao Tang Áo dài - District 9 Áo dài Museum, P. Long Phuoc, 206/19/30 Long Thuan.

From my location, which is located right next to the tunnel under the Sai Gon River, so very close to the city center, access to the museum does not cause any major problems. It's about 15 kilometers, which you will cover in 30 minutes, both by motor and car.

I chose Grab - although, to be honest, I was afraid if I choose Graba in a place quite distant from the city center, which is the location of this museum, I would have no problem with the way back. It turned out that I found Grab on my way back even faster than on my way to the museum. The cost of the trip will be around 140,000 VND one way.

The museum itself is a bit off the beaten track and after about 25 minutes of driving in my case, we finally reached the entrance located a bit further in a side street.

Small-sized signs lead to the gate, so you have to look carefully because Grab drivers are not quite able to recognize this place either.

We cover the first part of the route using the Mai Chi Tho exit and then the Saigon-Hanoi highway.

Finally, take the exit to the provincial roads and after about 10 minutes I reach the place.

You will be welcomed by a fairly well-marked gate and, in accordance with local tradition, a large Buddhist altar in front of the entrance to the museum. Immediately on the right side we have a customer service desk. The admission ticket costs 50,000 VND, which is approximately $ 2 per person. Along with the ticket, we receive a small map of the entire area with descriptions of individual places. Be prepared for cash only payments. There are bars with drinks, coffee and sweets in the museum. Payment only in cash. So it's worth having at least 200,000 VND with you so that you can spend almost two hours in the museum, to see the entire area and at the same time be able to breathe a bit, drinking an iced coffee or another drink.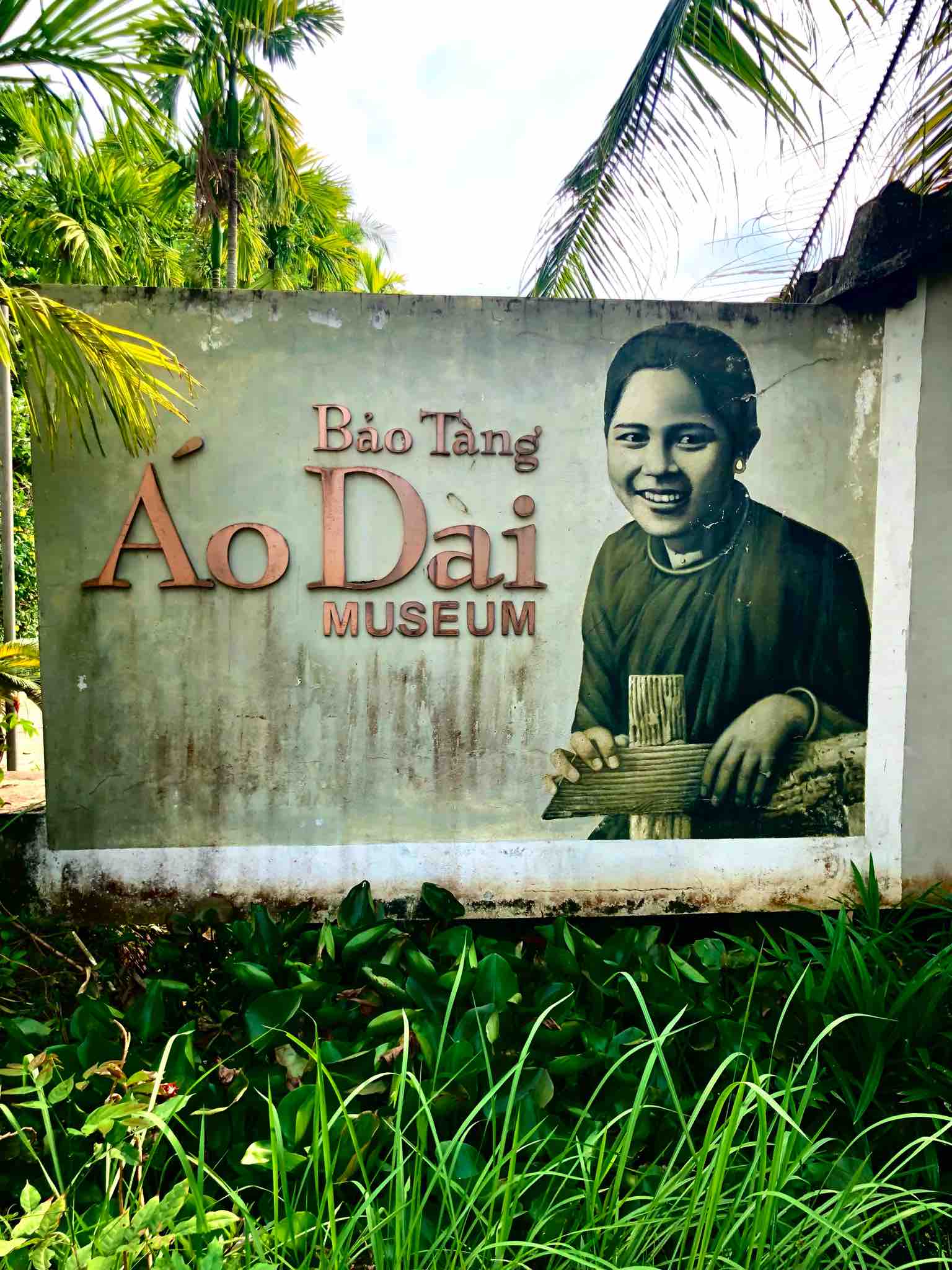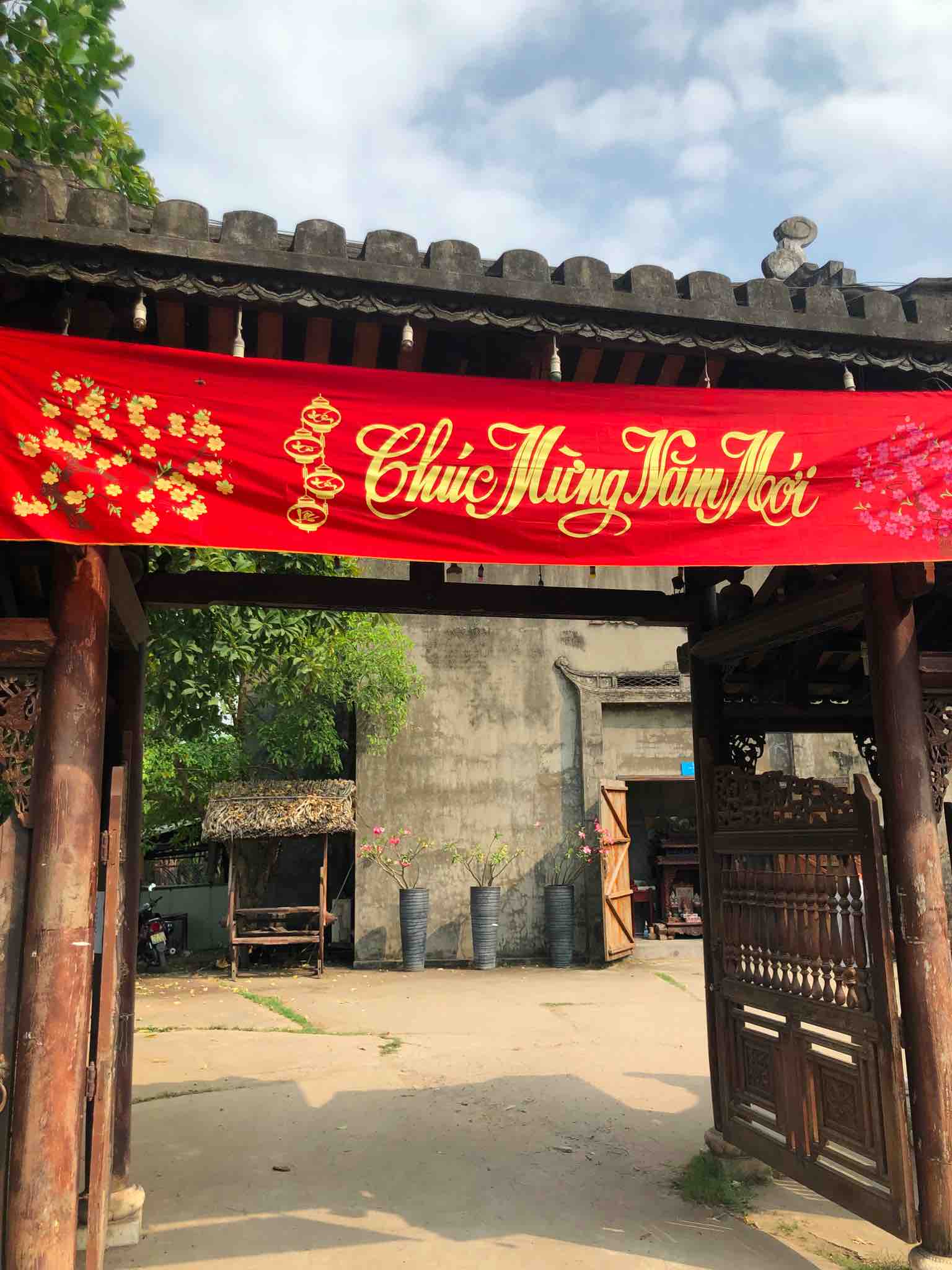 History
The museum area is basically one large garden, spread around a picturesque lake, to which water is supplied by one of the nearby branches of the Sai Gon River. We start with a large, long building somewhat reminiscent of Polish poultry farms.
Immediately after entering, we have the opportunity to learn about the history of the costume and see the exhibits that show the development of Áo dài over the years. Even centuries. You must know that this traditional Vietnamese dress has its origins in the eighteenth century.
This is the result of the creative invention of the Nguyen lords, who created everyday knitted garments. Initially, it was made of five parts, hence the first Ao Dai was called a five-piece tunic. Only later, after the fashion craze of the fifties and sixties of the 19th century, this outfit began to be promoted in Saigon as more representative, which can be worn on many occasions. It is at this time that the tunic slowly becomes essentially a two-piece over the pants, leaving a side slit running along the hips and thighs. The female version reaches mid-calf and the male version reaches the knees.
The outfit was improved by fashion designers both in Paris and in the United States. For example, in the 1920s and 1930s, it underwent various modernizations. And this is a stand-up collar at the neck, and this is without a stand-up collar. It is fastened more as a double-breasted jacket on the left side or as a typical tunic without fastening. The fabrics were initially thick and hand-woven. With time, they became thinner and airy.
And just in the museum, you can see how the garment has evolved over the centuries. As from the first, very coarse five-piece outfit used in the countryside every day, it has become an elegant outfit that we now wear in Viet Nam for all kinds of important occasions.
I also learned that Áo dài had developed into the garb of the South of Vietnam rather than the North. Only in the 1980s, it became popular all over Vietnam and today it is such an official garment worn for all kinds of celebrations.
The Áo dài is also paired with the traditional Vietnamese Non la hat, the one you know, pyramidal made of leaves, or with a special Khan van toe, such a turban that is used as a headgear. The color and pattern of the Khan van match the main outfit.
You can learn about all this - how this outfit was sewn, what materials were used, what colors were dominant in individual years, you can find out while walking around the museum building.
Each of the costumes displays a short history of the version, so you can educate yourself a bit in this regard.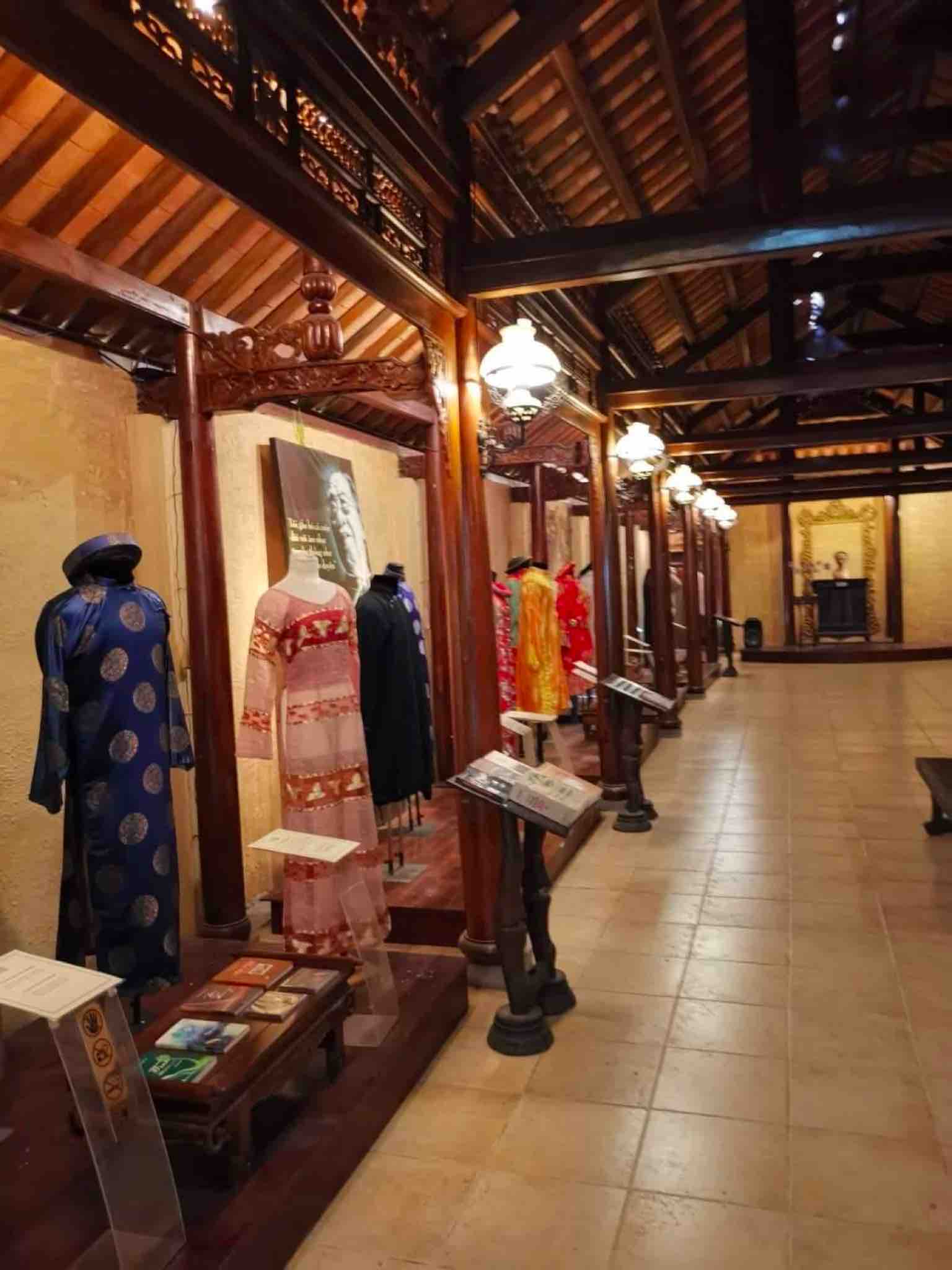 Stroll
Time to walk to the lake, where a number of small buildings were built around in the style that I call the Hoi An style - these buildings resemble the beautiful buildings of old Hoi An, known as the city of lanterns. I wrote about my visit to the city of lanterns in one of the articles, to which I leave a link here.
Each of these buildings is divided into rooms with Áo dài exhibitions. Household appliances from the period are also displayed in the rooms. We also have sewing machines, mannequins, threads and types of materials shown. I slowly walk along the lake admiring the nice greenery and I approach two old buildings.
One is a Buddhist temple and also serves as a meeting room. The second is a small gazebo where you can relax for a while, drink something and at the same time admire the nearby river. On its shore you will meet huge water coconut palms. It is also an opportunity to see what the fruits of such a water coconut look like - like the shell of a turtle.
Wandering on, you come across a beautiful wooden bridge that reflects the architecture of the canopies in Viet Nam. The roof behind the curled ends of the ridge tiles, beautifully carved pillars and handrails. It's a great place to take a few souvenir photos.
Straight from this bridge, I went to the large, two-story pavilion, which is both the exhibition site and the tailor's workshop.
It turns out that while visiting the museum, you can participate in Áo dài sewing workshops. There is a machine, a cutting table, a choice of materials, threads and there is an instructor.
It's really a fun.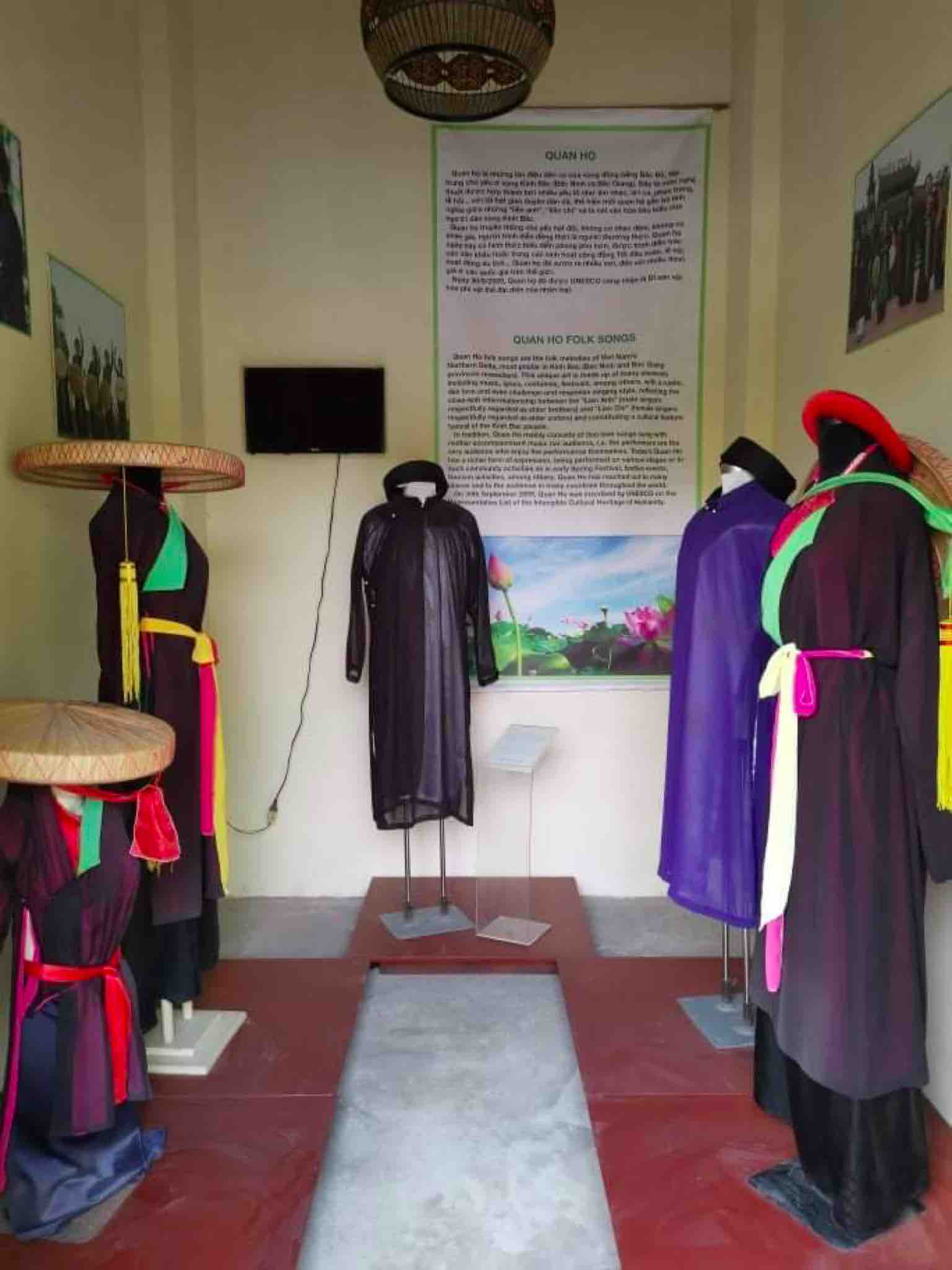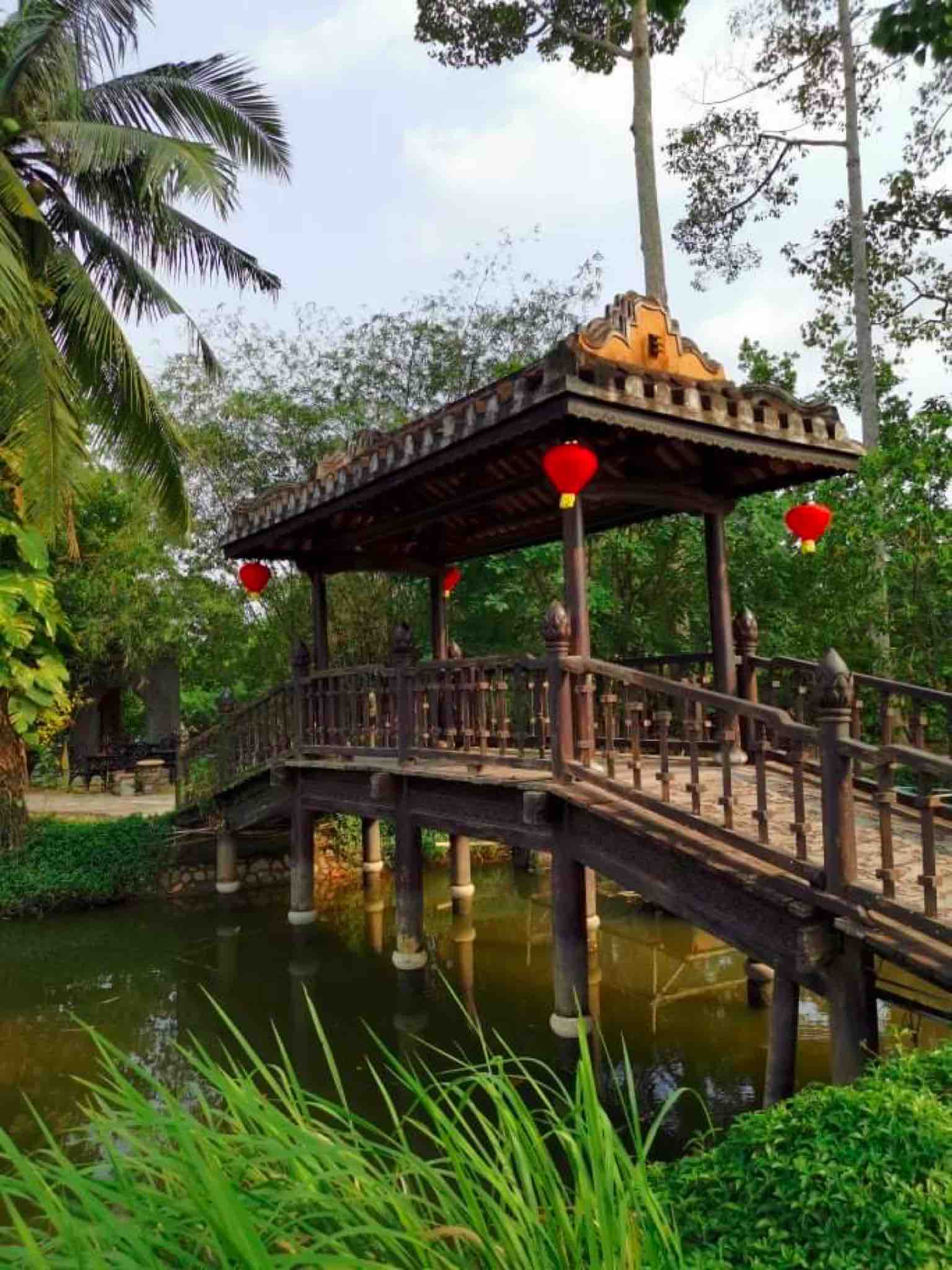 During such a workshop, we learn how the design of the tunic has changed over time. How the outfit has evolved from five-piece to three-piece. How and where there are slits on the sides so that you can walk freely but also sit down.
I experience personally by dressing Áo dài how comfortable it is in such an outfit.
After all, you already have pants, so slightly opening the back of the tunic and tossing it slightly allows you to sit comfortably on the chair.
It was this model that became very popular in the nineteenth century.
However, it was still more loose, which makes it similar to the five-piece original.
Currently, this outfit is being sewn as more fitted.
That is why I believe that to have a nice Áo dài you should order it at a tailor shop. Only then does this outfit take on value and look really nice in it.
Of course, the material and colors are free. Nevertheless, there are several canons.
In a wedding outfit, a woman should rather be in white and a man in a dark blue color. For celebrations or important holidays such as Lunar New Years Eve, the color red is chosen. This, of course, is not a warrant. Yellow, green and black outfits are also commonly used. In principle, there is complete freedom and creative invention.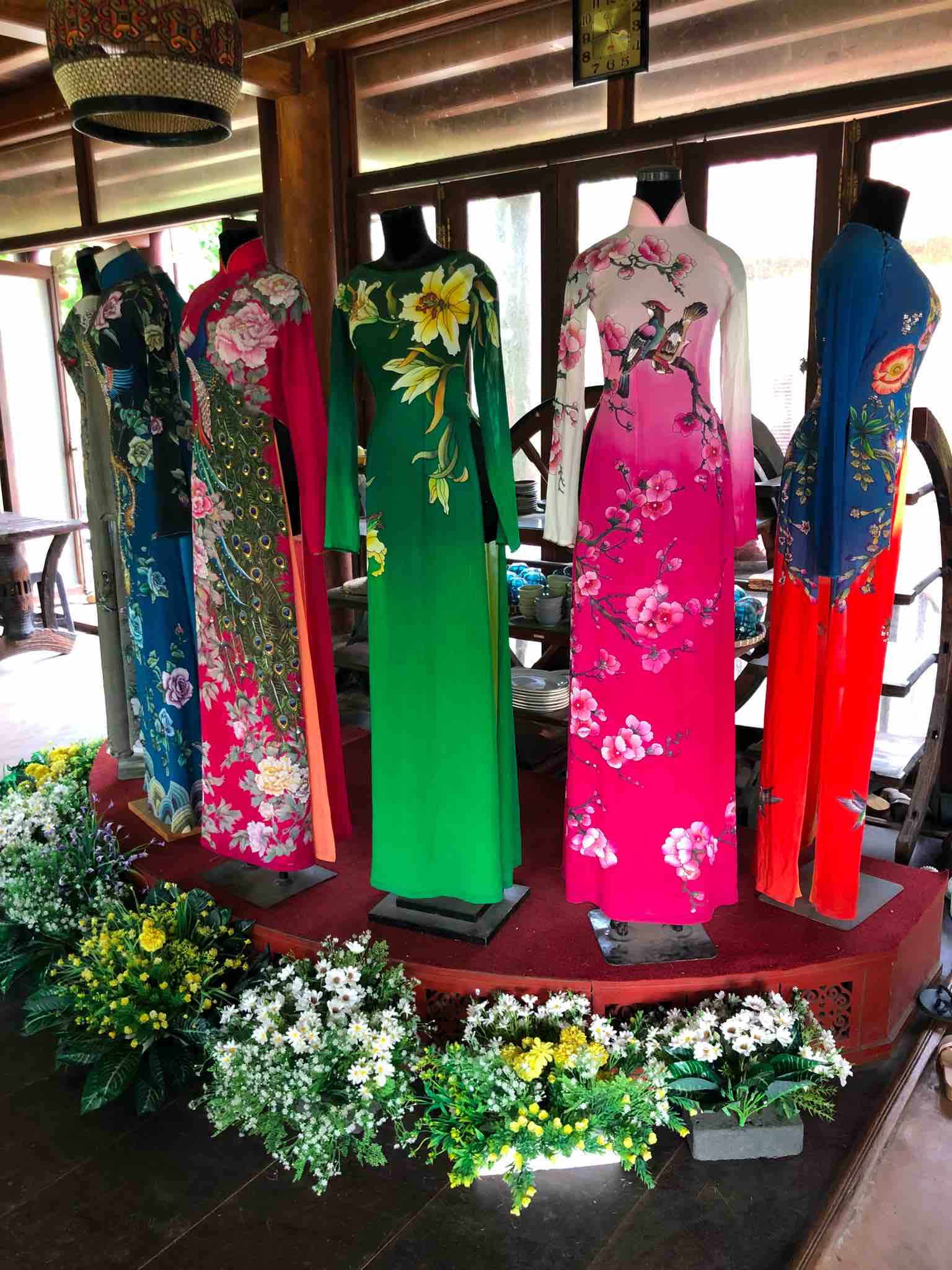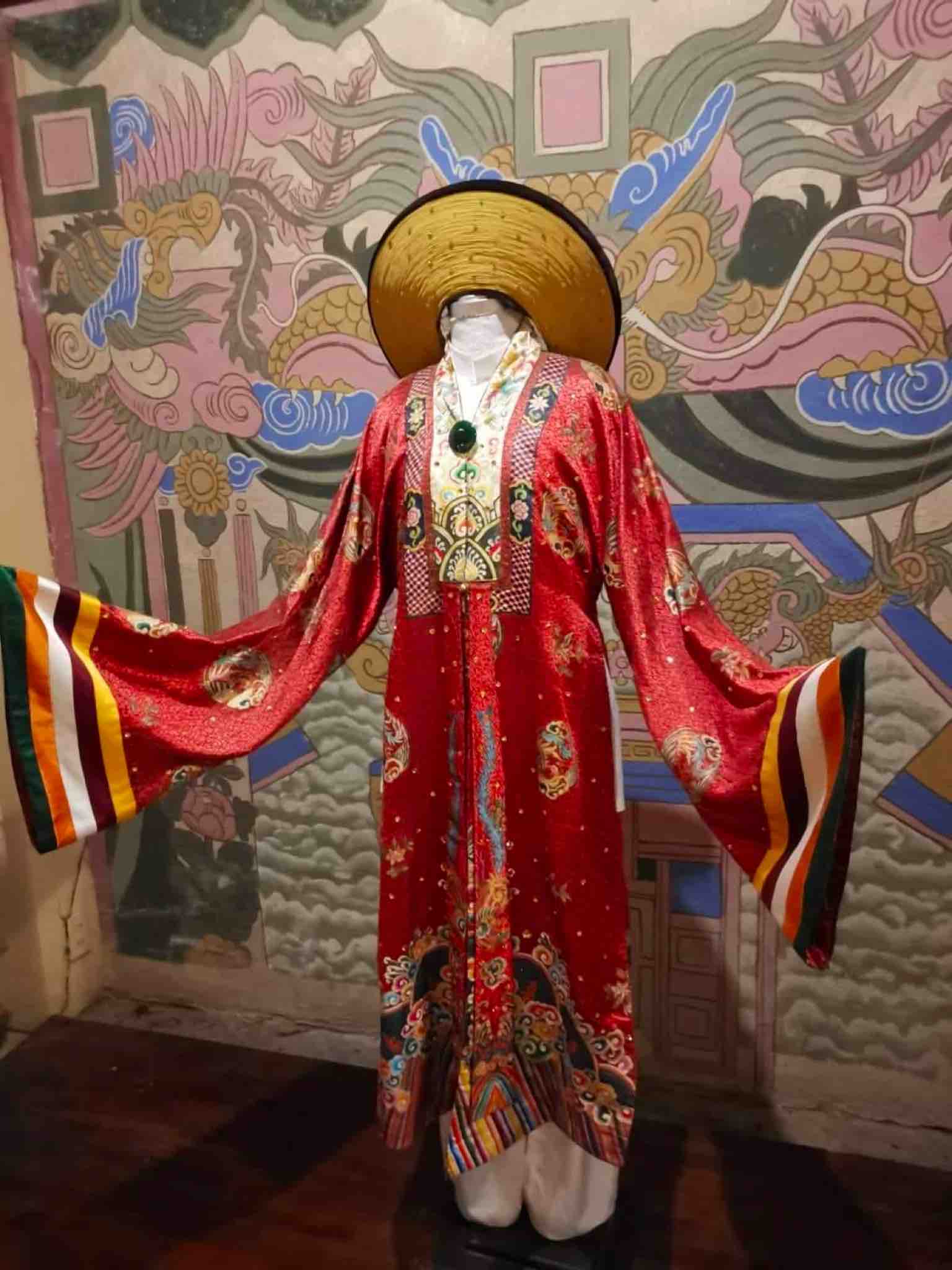 Apart from the material, the most important thing for me is the selection of decorations. We have an almost unlimited range of possibilities here. You can choose geometric decorations, you can choose traditional decorations. For me, the most beautiful are decorations with the image of golden dragons. Maybe that's why I'm a Buddhist dragon.
That's why I chose, for my navy blue outfit, the image of a dragon snaking gracefully on the Áo dài. The red Áo dài, on the other hand, is decorated with geometric patterns.
I consider the dark navy blue outfit to be more "entertaining". Perfect for events such as New Year's Eve party or a trip to friends for a birthday. I use the red robe at official meetings and during the new year.
For this, of course, decorative trim on the edges and sewn buttons.
There are a lot of buttons that are used to fasten the front flap - six.
There is also one at the neck with a snap fastener. He is the most problematic for me. It's hard for me to zip it up while looking in the mirror. I can only fasten it with somebody's help. I need to work on this.
The decorations that adorn the Áo dài are different and their application is also different.
They can be applied by printing, mainly these are the cheaper versions.
The pattern is applied thermally to obtain a spatial effect quite commonly. Patterns are convex and clear. The paint "swells" under the influence of temperature, creating a very decorative pattern. This is a good, medium price range and looks very refined from a distance.
The third version is the most expensive and exclusive embroidered with colored threads all over the outfit.
Such outfits are really very decorative and it can take up to a month to embroider a pattern.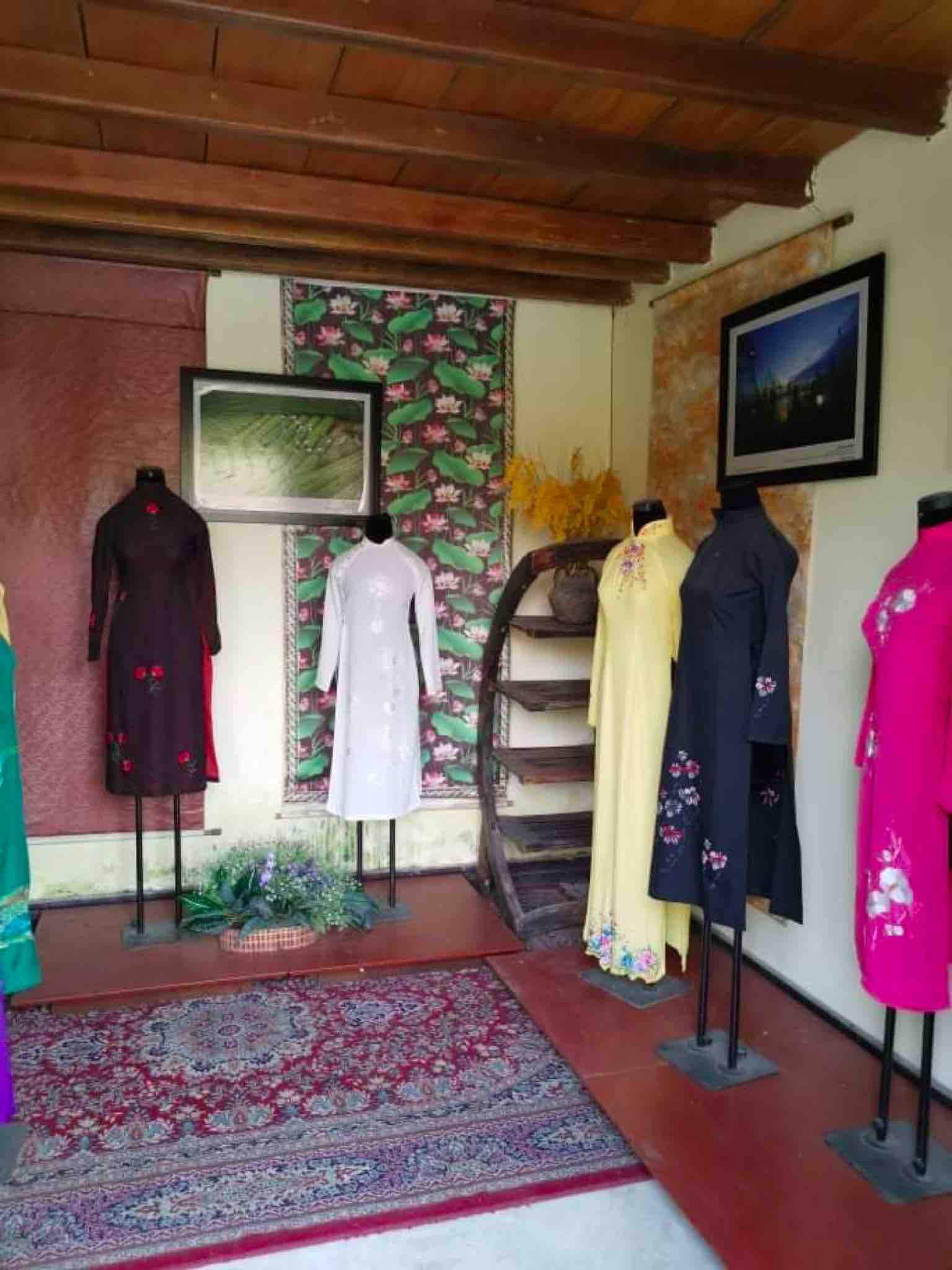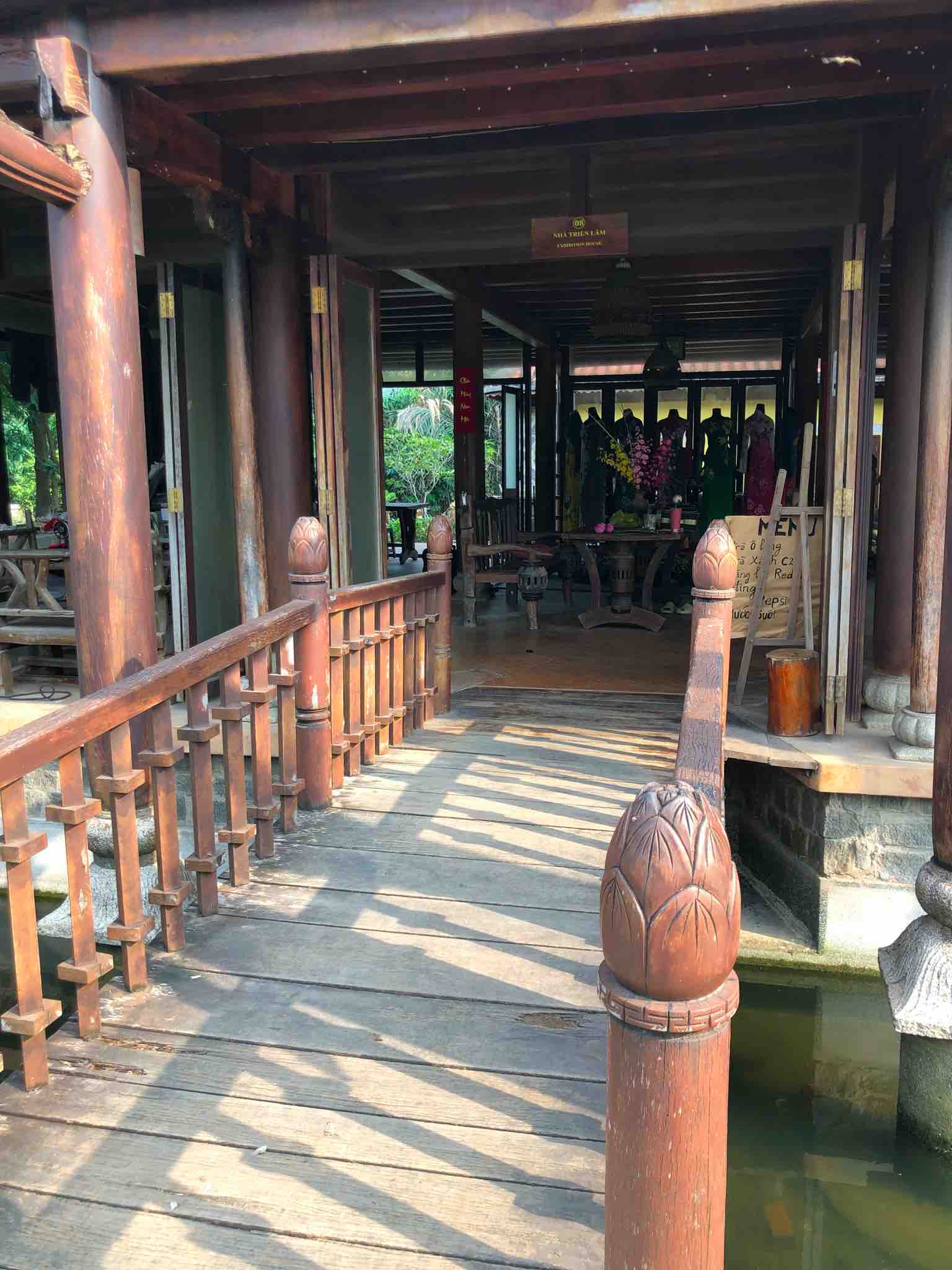 In Viet Nam, Áo dài is recommended as a garment for teachers and students.
So you can still see the students and teachers who wear Áo dài.
In the nineties of the 20th century, the tradition of Áo dài festivals was also born.
Such a festival takes place every year in Ho Chi Minh City, but also in the United States, California, and San Jose. It is in this city that the largest diaspora of the Vietnamese in the United States lives and the festival takes place on the beach.
A visit to the Áo dài museum is recommendable to spend a few hours outdoors, away from the hustle and bustle of the city. I already know that I will go there again wearing my Áo dài.
The importance of this outfit for the culture of Viet Nam is confirmed by the 65-story skyscraper currently under construction in Ha Noi, which is called Ha Noi City Complex.
The design of this building was inspired by the appearance of Áo dài's outfit.
I am curious how this building will look like.
I would also like to add that in 2008 the Miss Universe selection took place in Viet Nam and for this occasion one of the prominent Vietnamese designers designed the Áo dài outfit for the finalist representing Viet Nam.
So if you have a moment at a weekend or when you are in Viet Nam, I invite you to such a trip outside the city. It is also an opportunity to take a walk along the local sandy roads where a scooter comes over and over again. You can see gardens, houses and children returning from school, for example.
I came back mainly inspired by the fact that I should wear my Áo dài for the day whenever there is an opportunity. I also enriched my knowledge. Now I know how this outfit was created, how it evolved. This allows me to wear it as usual.
I also know that I will have to complete my outfits by buying more hats.
I will go to the same tailor and have both the colors of the rollers made.
In addition, I spent a very pleasant 2 hours in the green, sipping iced coffee and walking among the palm trees. I was able to touch a blade of rice again in a small rice field and at the same time prepare this short report for you.
It was also in this museum that I learned that Prada and Giorgio Armani have Áo dài in their collection.
What's more, you will see Áo dài in such films as "Good Morning Vietnam" or "Indochina".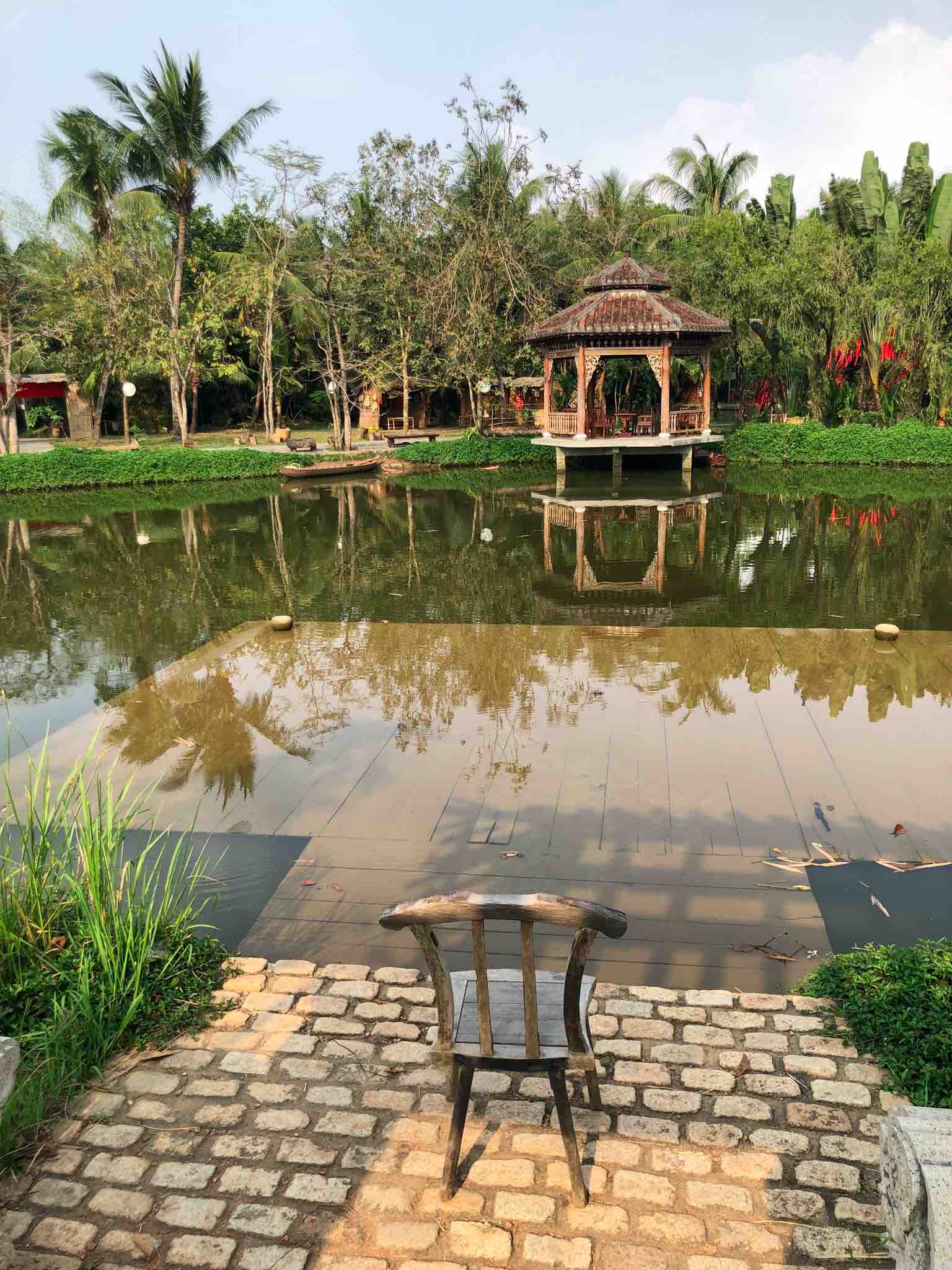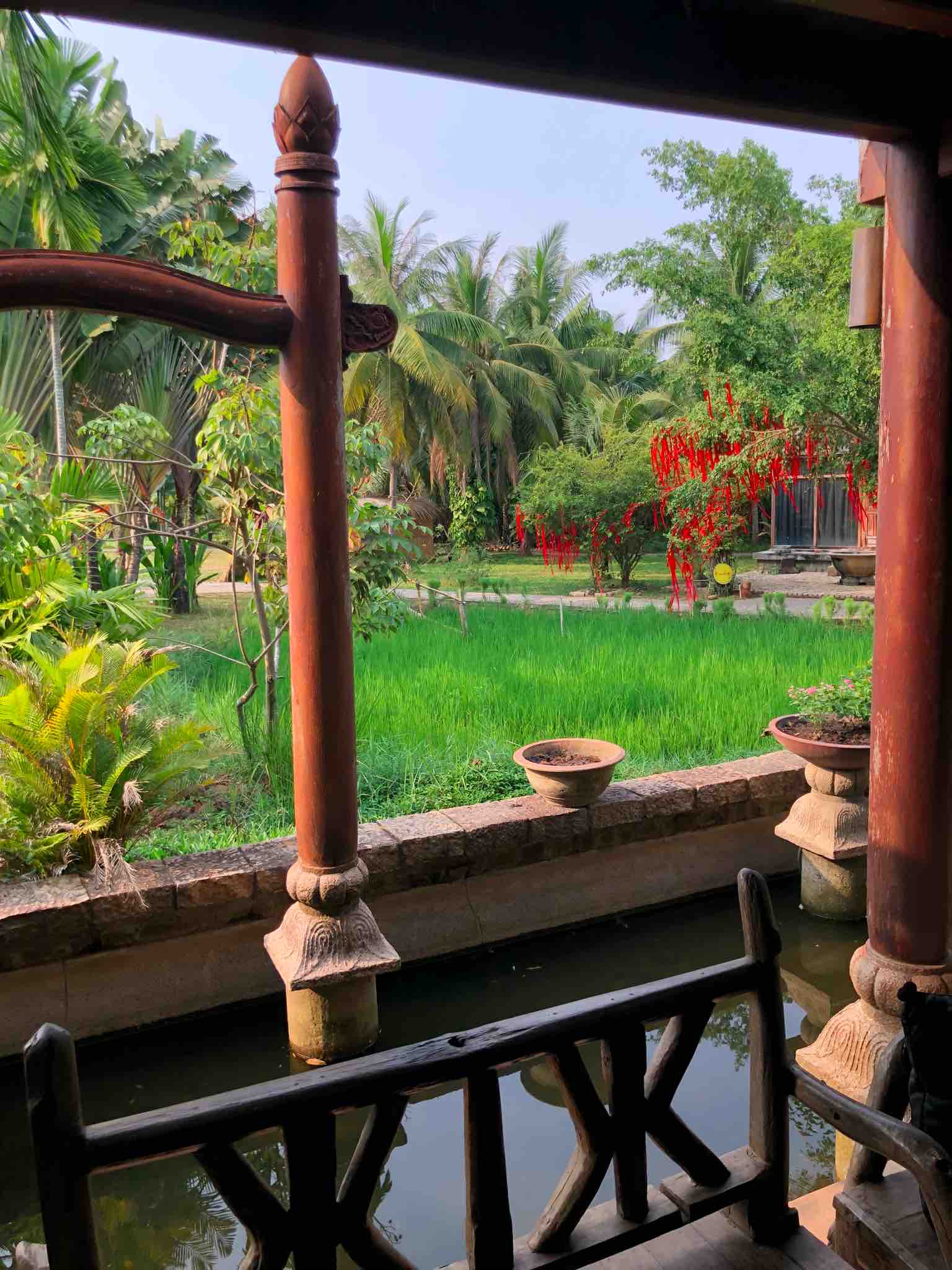 I would like to add immodestly that while at the New Year's party in the Baltic Sea, on the Polonia ferry, I dressed my Áo dài - one before midnight and the other after midnight ... I must admit that I made a sensation. Everyone hailed this outfit the highlight of the evening. It's really amazing.
And that was it. As always, the weekend in Sai Gon is sunny and hot. 28 ° at night, 32 during the day. March is coming soon.
I hope you are safe.
Spring is coming in Europe and northern Asia and I hope it will brighten everyone's mood.
It will be fine. Stay strong Ukraine!