Selamat pagi!
As announced, we are returning to Bali. It is one of the 17,000 islands in Indonesia and so much is going on there that three articles are not enough to describe the beauty of this island. With its breathtaking scenery and picturesque sunsets, Bali is a tropical paradise you won't want to miss.
There are very few places in the world that can capture the imagination like Bali, and it's not as far away as we think.
The flight from Poland to Bali will take approximately 12 hours, as long as it is charter. For self managed flights, book a stopover in Singapore or Kuala Lumpur. First, it will be cheaper. Secondly, it will give you the chance to acclimatise to the time zone and climate and… visit one of these cities before landing in Denpasar. It is the capital of Bali and the name of the airport at the same time.
Due to my residence in Asia, my task is easier. The flight from Shanghai or Saigon takes only a few hours. From Singapore or Kuala Lumpur it takes 2 hours.
You, start planning your next vacation in Bali right now. Swap a suit, tie and heels for airy clothes, plan a flight and explore distant temples or beaches as you climb a volcano to see the sunrise with only a backpack and a pair of flip-flops, though I recommend sturdy hiking shoes. I can assure you that it is worth it.
We live in such a busy world where it is easy to forget to stop, breathe and enjoy the fleeting moments. Bali is the perfect place to step out of your comfort zone and experience a different side of life, and I must admit that a visit to Bali was the beginning of a spiritual transformation for me. Despite being brought up in a Christian culture, I noticed the uniqueness of Buddhism as a philosophy of life. Excitement. Spirituality. Introspection. The list of reasons to learn about Buddhism is long. From that moment on, I feel more Buddhist than Christian. I feel well with it.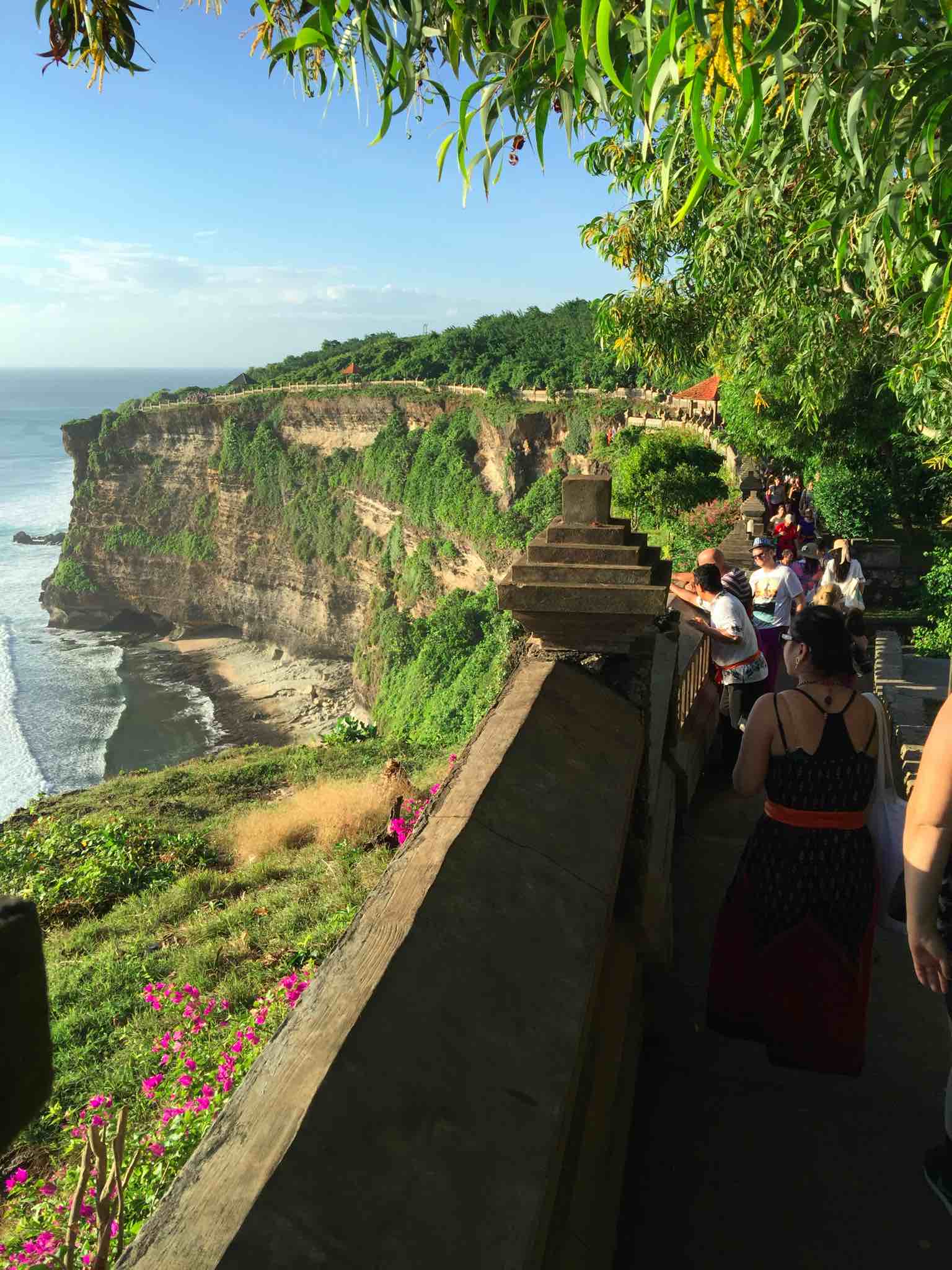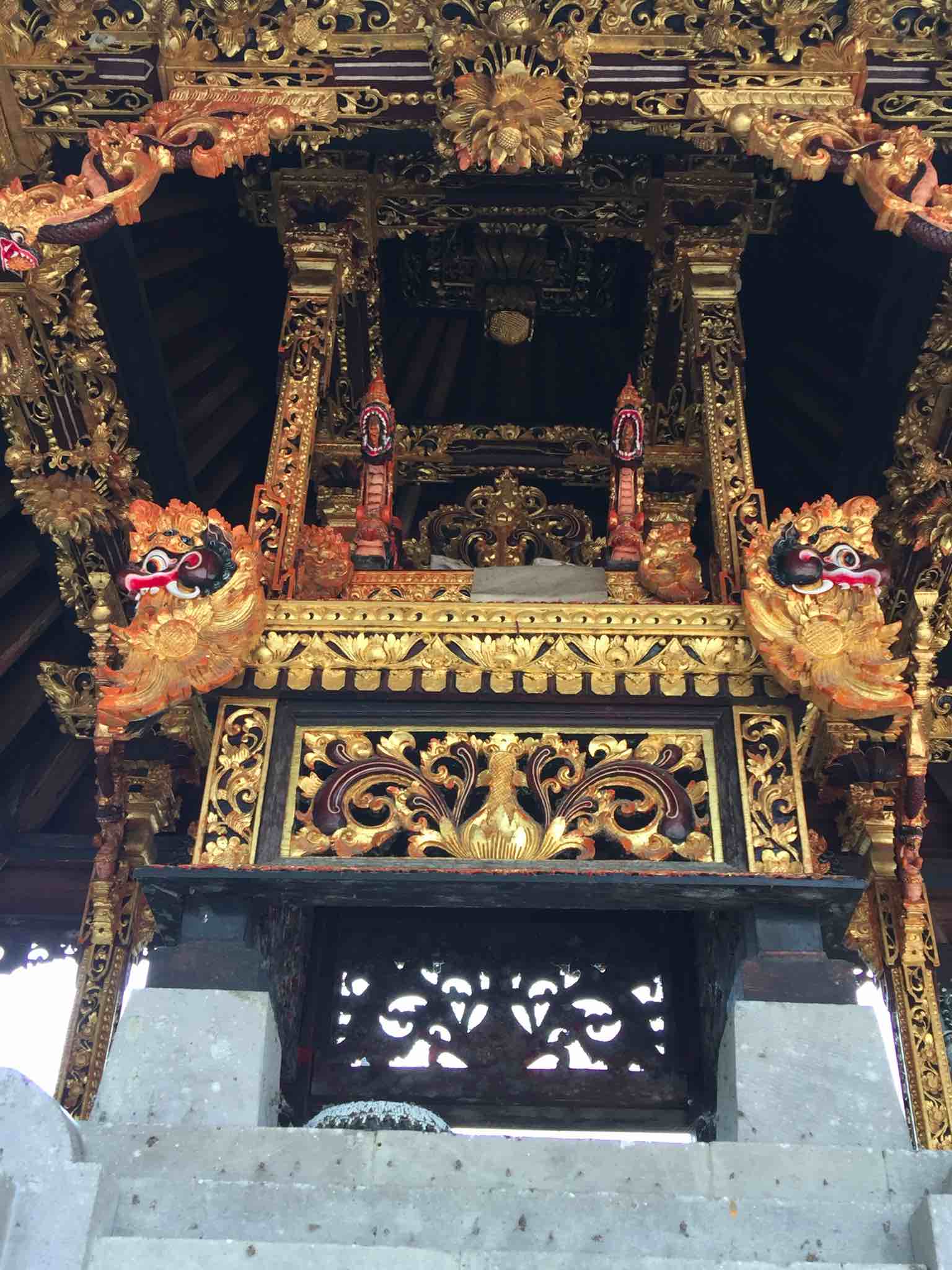 Where to go in Bali?
Bali is an island of contrasts. It has both naturally beautiful rice fields and beautiful beaches. When visiting Bali, one of the most rewarding things to do is explore Balinese temples. There are over 500 of them in Bali, and each of them provides a unique experience.
You often ask: how many days should I spend in Bali, what should I do in Bali and what is worth seeing in Bali?
The best way to get to know this amazing island is to spend a few days exploring different regions and subcultures. There is something for everyone in Bali, but there are a few places you should definitely visit when you come here.
Bali's top attractions are Uluwatu Temple, Tanah Lot Temple, Kintamani Volcano, Mount Batur and Tirta Empul Temple.
Add to that the Garuda Wishnu Cultural Park and Ubud Rice Terraces and the Goa Gajah Temple or the Elephant Cave and we will have activity for at least 10 days.
When planning a stopover in Singapore or Kuala Lumpur, the optimal length of stay in this part of Southeast Asia is 14 days.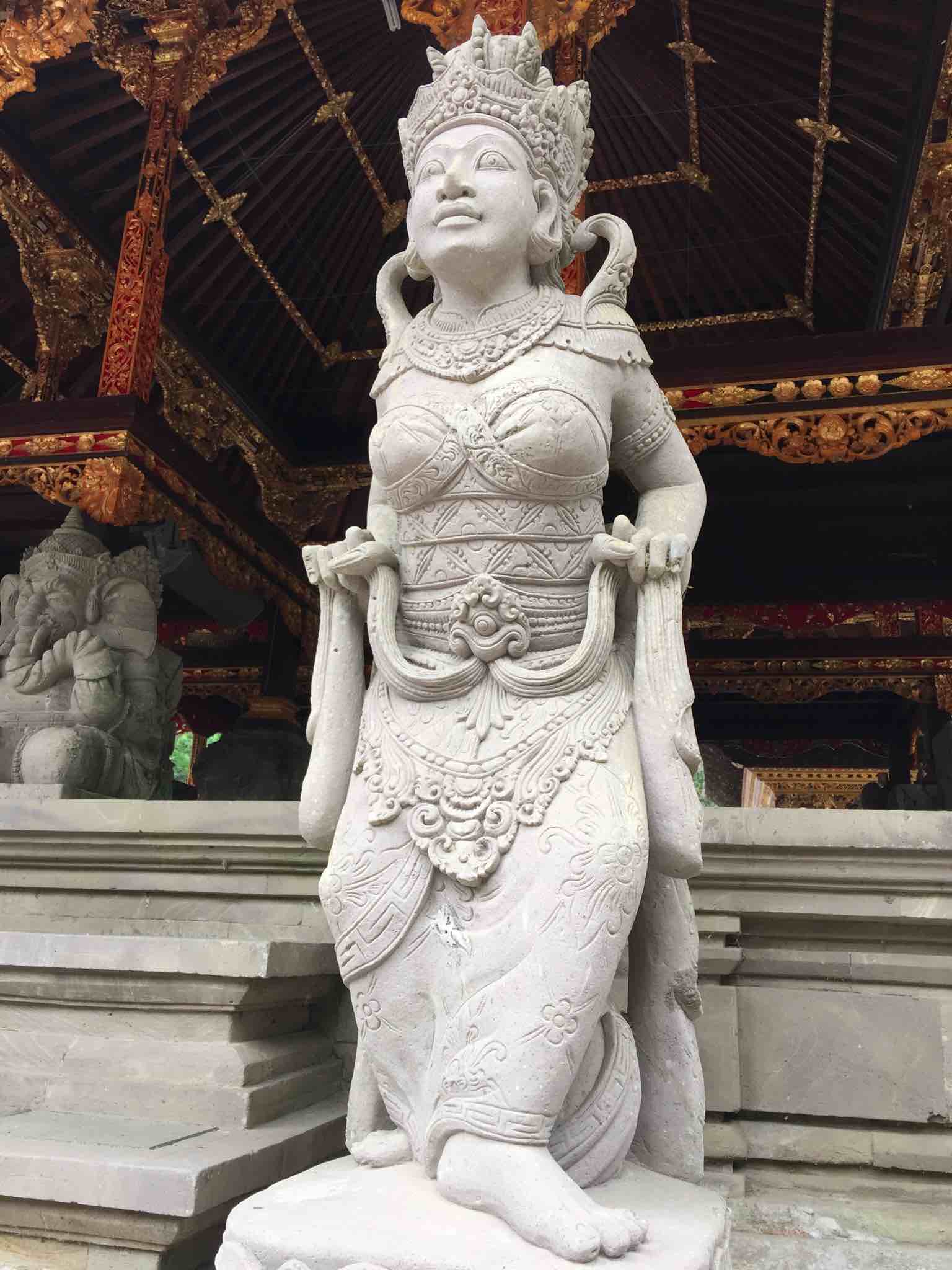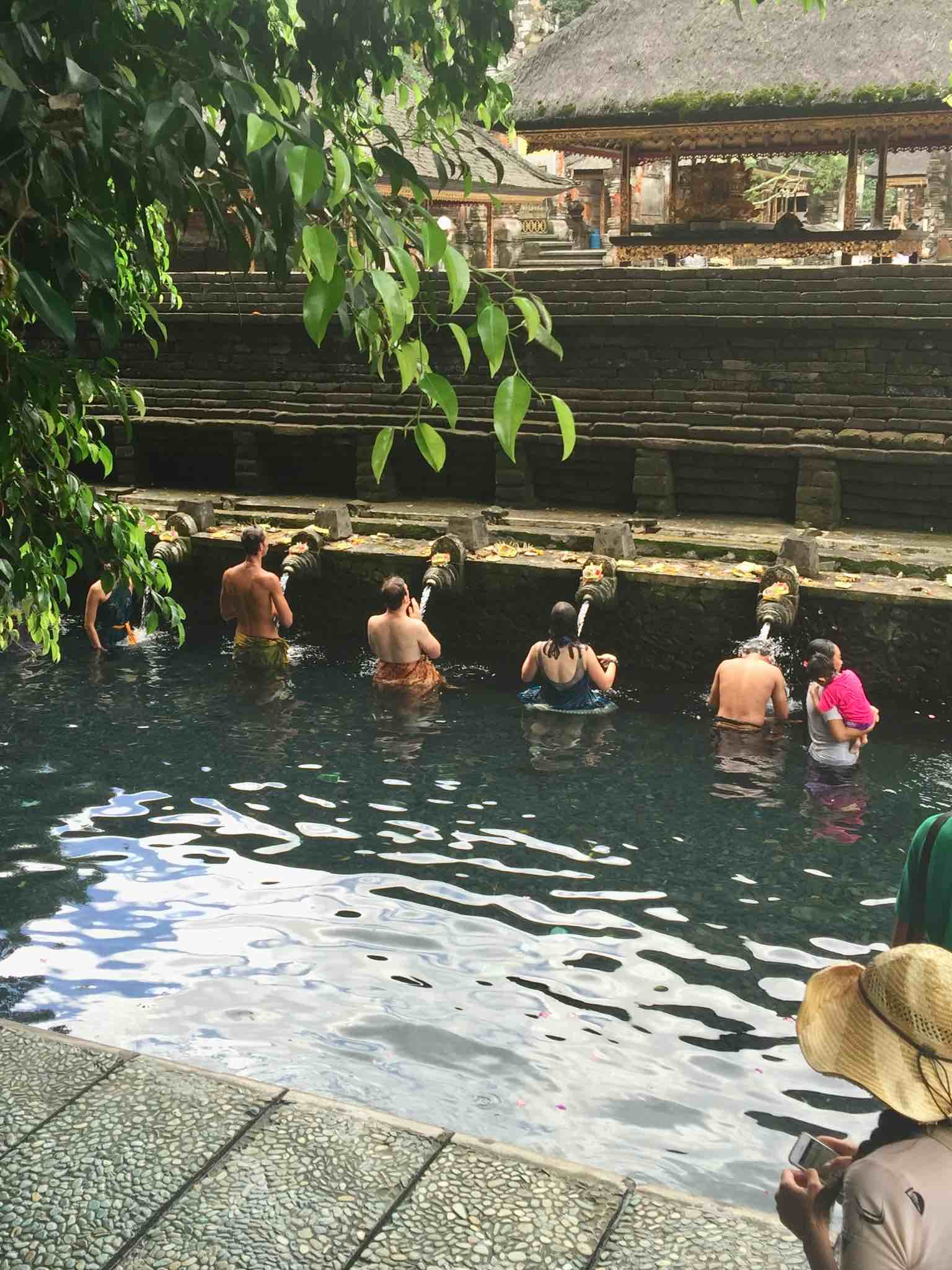 What you need to take and wear
Before going on a trip, it is worth knowing how to dress in Bali, what not to take and what to watch out for when visiting Balinese temples.
If you are visiting a temple in Indonesia, you should know what to wear. You should wear clothes that cover your body from the shoulders to the knees. Men can wear pants and women can wear skirts or dresses. You should also avoid wearing clothes with images of people, animals or non-Hindu symbols. And it's important for both men and women to cover their shoulders and back with clothing so that they don't reveal the skin. So don't wear anything that will make your body too exposed or tight, and in case you just forget about it, it is fortunate that you can borrow a cover right there, before entering the temple. It will be a kind of large scarf that can be wrapped around your hips and wrapped around your shoulders. In Bali, it is also worth taking an insect repellent with you, because mosquitoes are really nasty there.
What not to take?
Well, anything that can be caught by monkeys is potentially at risk of loss, or at least damage. Glasses, necklaces, caps, telephones hanging on lanyards, ornaments or keys - all this is within the reach of monkey's paws and they will almost certainly try to take it away from you. You won't even have time to react when the monkey jumps on your head and takes what you are wearing there. Chasing lost things is not easy and the local guards, despite their practice and having poles with a hook, are often unable to help. What's more, monkeys with their claws often damage the skin and this is a simple way to infection with jaundice or tetanus. The good news is that the temple staff knows what the monkeys can do and there are medical points prepared where you will be treated and the wounds disinfected. Be aware.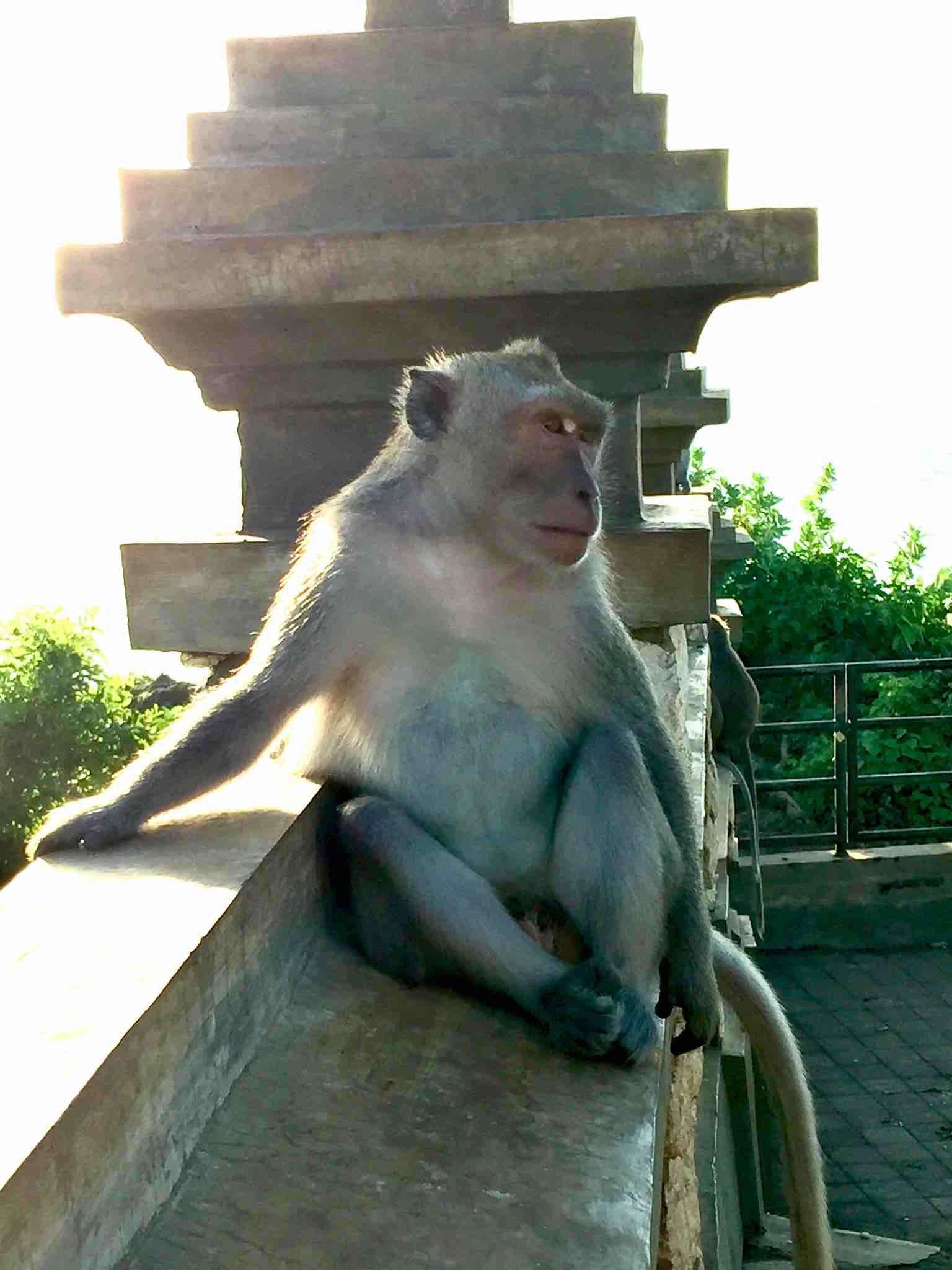 5 reasons to visit Goa Gajah Temple
Bali is the perfect place to visit, combining a spiritual and cultural experience. The Goa Gajah Temple, otherwise known as the Elephant Cave Temple, was built in the 9th century and has been one of the most important in Bali ever since. Although we do not know the history of the cave itself, it can be clearly stated that this place was created with a spiritual destiny in mind. I know the legend of its creation from the fingernail of the giant creature Kebo Iwa, although when analyzing the architecture of this place, I tend to lean towards the history of its traditional construction, lasting until the 11th century, during the heyday of the Balinese Kingdom. Why?
The temple complex contains images of both Hindu and Buddhist gods. In the cave itself there are images of "lingam" and "yoni", symbolizing Shiva and Ganesha. While on the river flowing through the temple, we find the "stuppas and" chattra "reliefs that are a testimony of Buddhism. It is rather a planned activity of the architect and builders. Although, who knows, maybe it's the influence of the gods? The cave was rediscovered in 1923 by Dutch archaeologists, while the extensive ritual bathing site was not until 1954. So quite late.
What is characteristic of Goa Gajah are the images of menacing faces carved in stone. Their task is to ward off evil spirits.
Where did the name Elephant Cave come from? Some sources say that its name comes from a stone statue of the Hindu god Ganesha, with the head of an elephant inside the temple.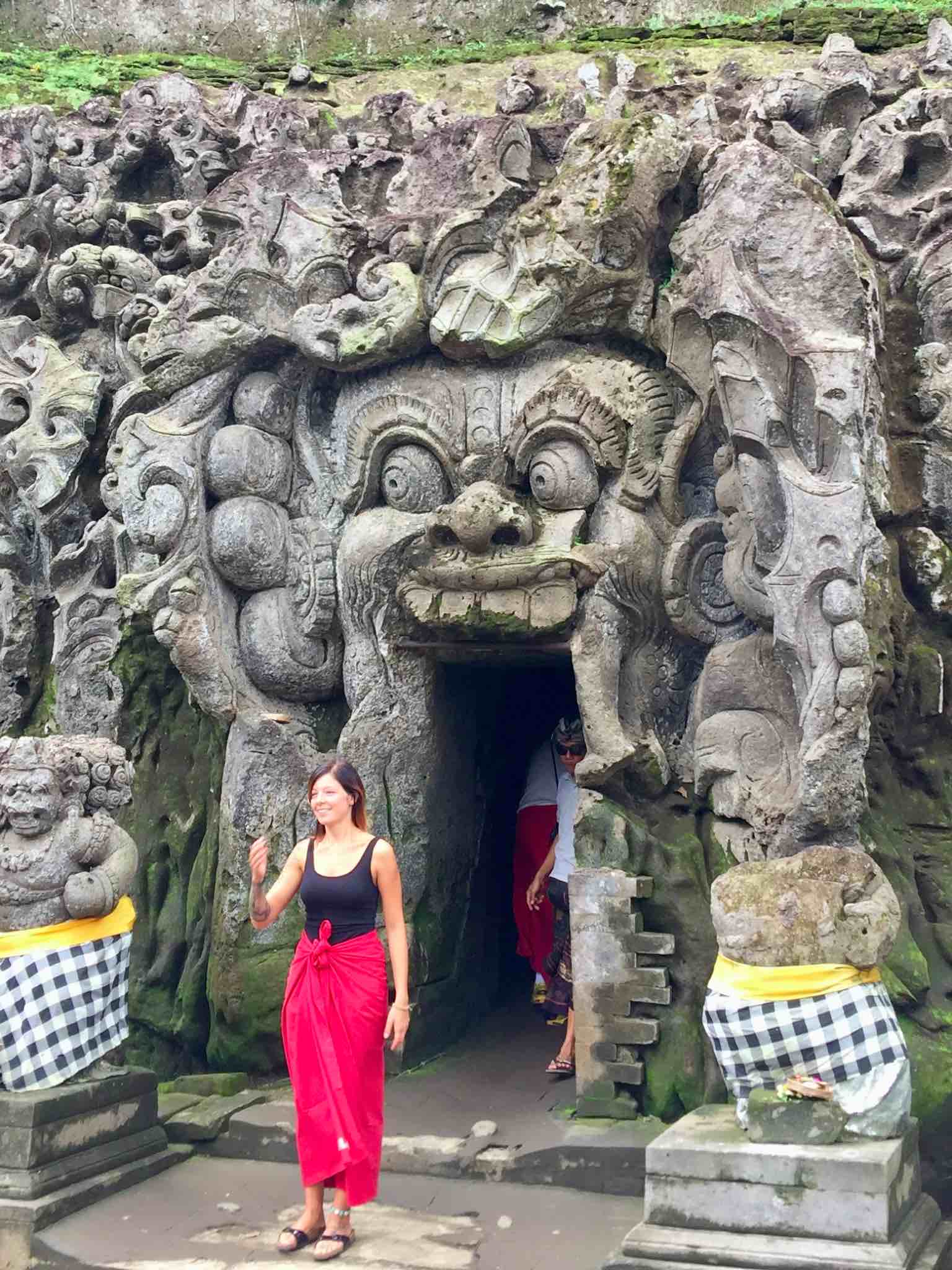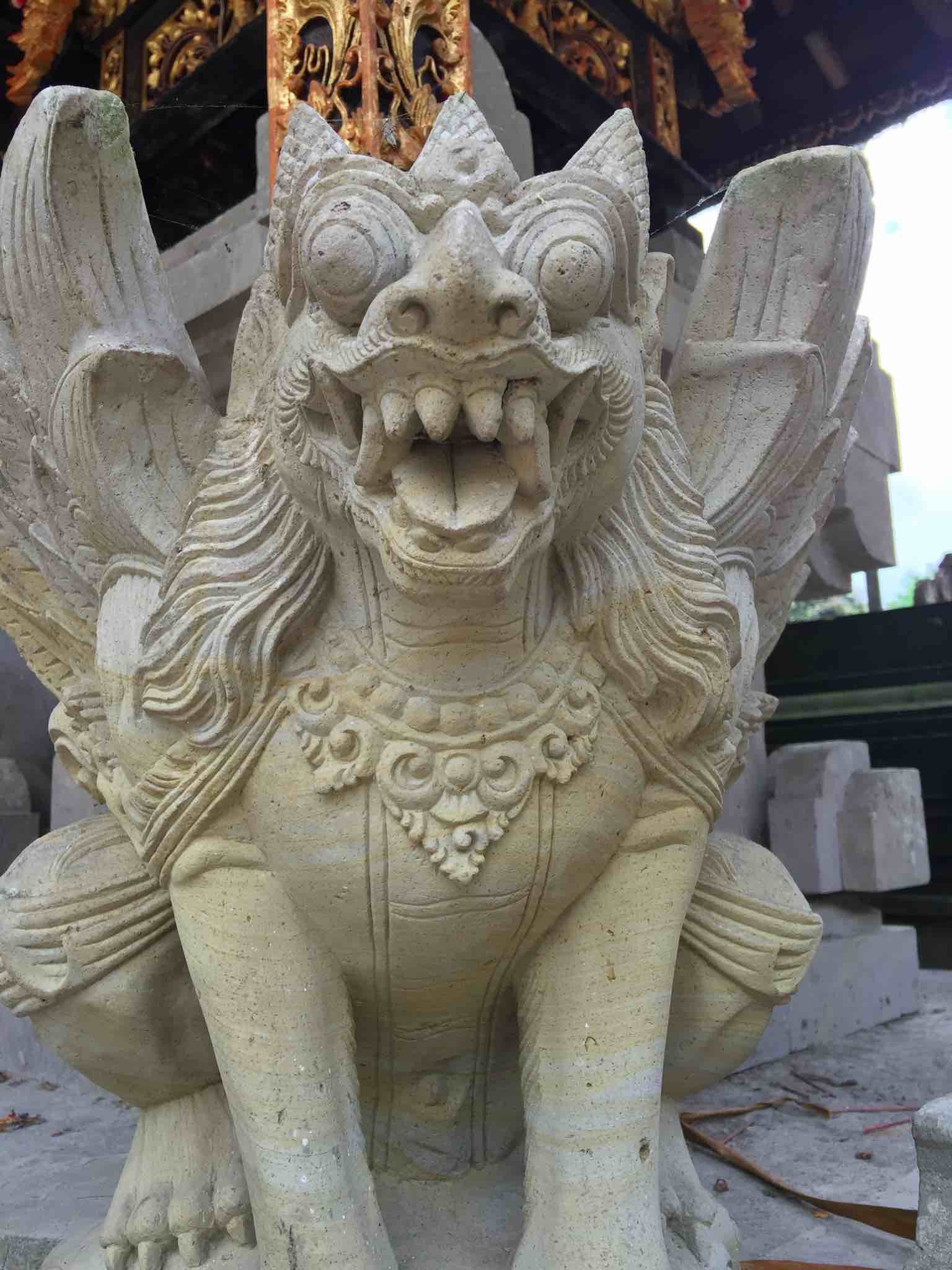 Entering the temple requires going down quite long stairs. The inside itself is small, dark and full of streaks after burning incense.
The vicinity of the nearby ritual pools is decorated with seven statues of women holding jugs of water. It is an allegory of the 7 sacred rivers of India - Ganga, Sarasvati, Yamuna, Godavari, Kaveri, and the Narmada River. One of the statues is damaged by the earthquake.
There are five reasons to visit a temple in Bali:
First, it allows you to be inspired by its beautiful architecture and pray in a spiritual environment.
Second, you can enjoy your ritual bath.
Third, people from all over Indonesia meet each year to celebrate Bakti Purnama, a festival of peace and unity. It is during these days that you will meet dozens of local people carrying huge plates with gifts for the gods on their heads and you will have the opportunity to weave yourself to the rhythm of the festival.
Fourth, Hinduism has made a huge contribution to Indonesian culture.
Finally, from such a visit you will learn a lot about the different religions and cultures of Indonesia.
And this is not the only temple on the island, as you already know.
The temples in Bali are a representation of Hinduism. These are quiet, spiritual places with beautiful architecture. The Goa Gajah Temple is for those who want to experience Hinduism but also want to enjoy the beach life. The temple is located off the coast of Bali and has much better access to the beach than Uluwatu, which is located on a cliff. Goa Gajah is still untouched by tourism and is a great place to discover Indonesian culture and admire nature without any distractions.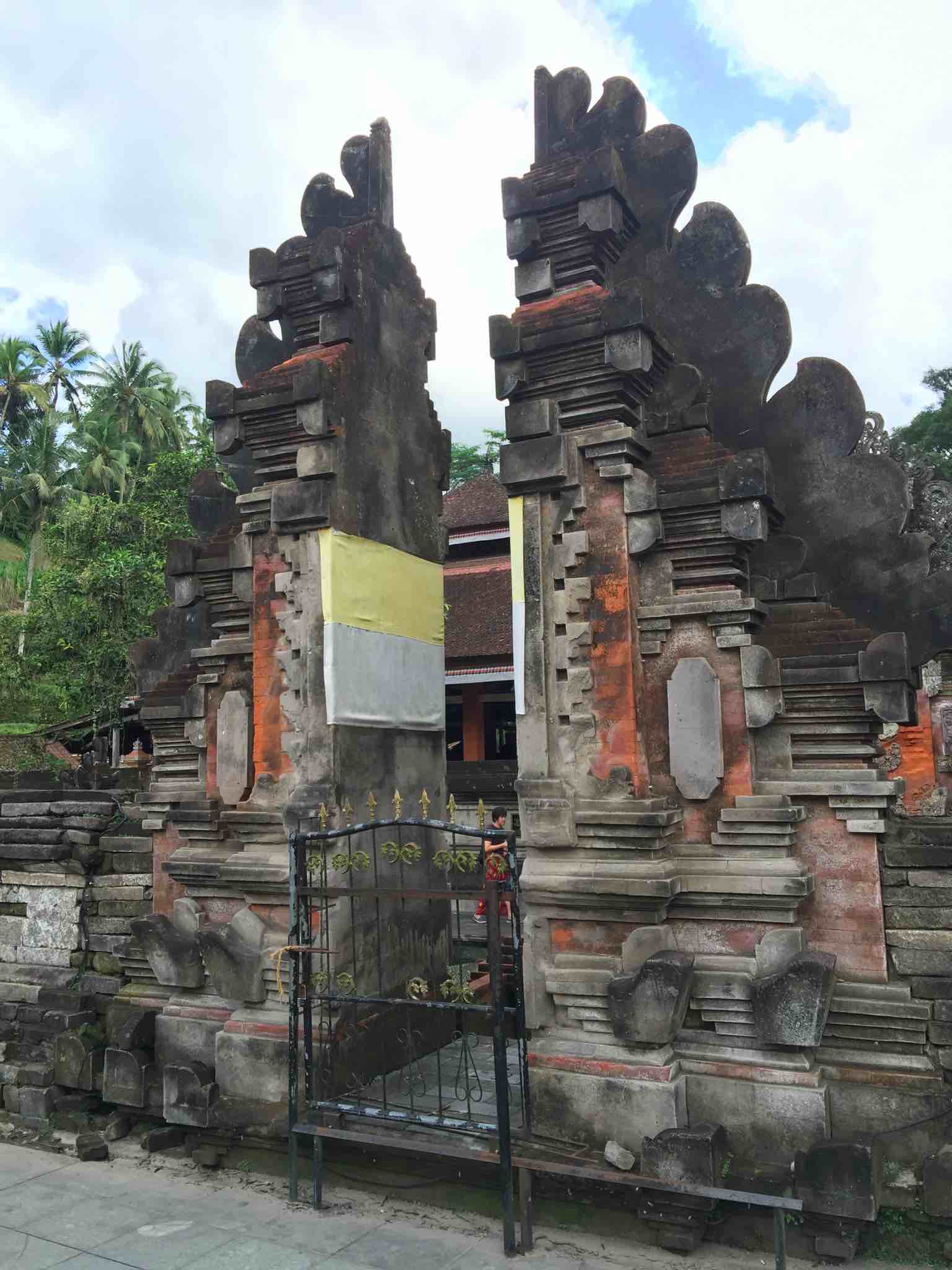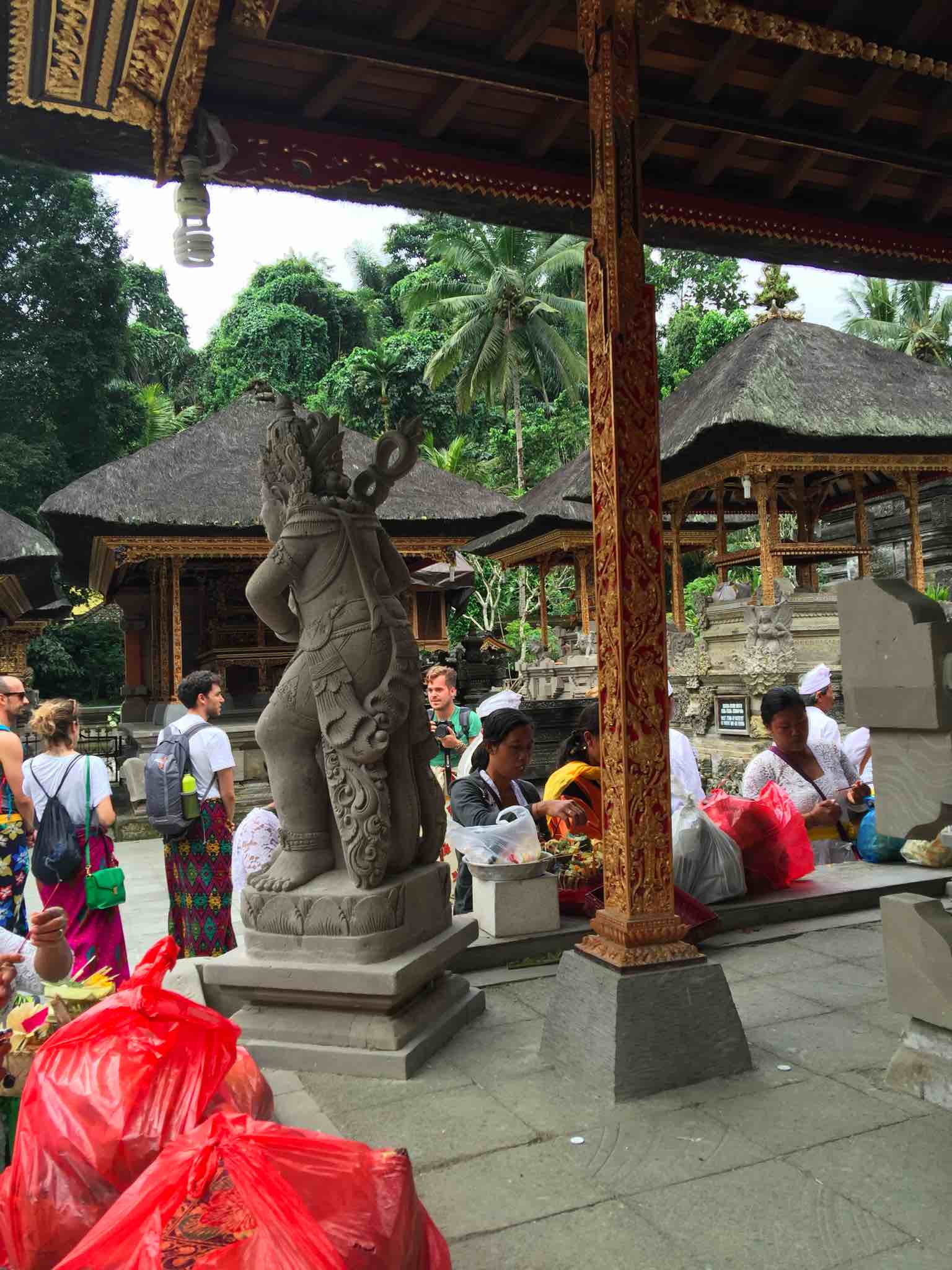 There is one more reason to go to Goa Gajah.
This is one of the best ways to escape the hectic life and head to the nearby beach. Here you can walk in nature, swim in the warm ocean or join one of the numerous groups that hold yoga and meditation sessions on the beach. Hindus from all over the world come to this beach every year to celebrate their festivals and pray for the blessing of the gods. For both Hindus and tourists, this is a great opportunity to get closer to Hinduism or enjoy the warm waters of the Indian Ocean.
Bali also offers delicious food and drinks made from fresh ingredients. One of the popular fruits served in hundreds of ways is papaya. It is also the main ritual fruit in Bali.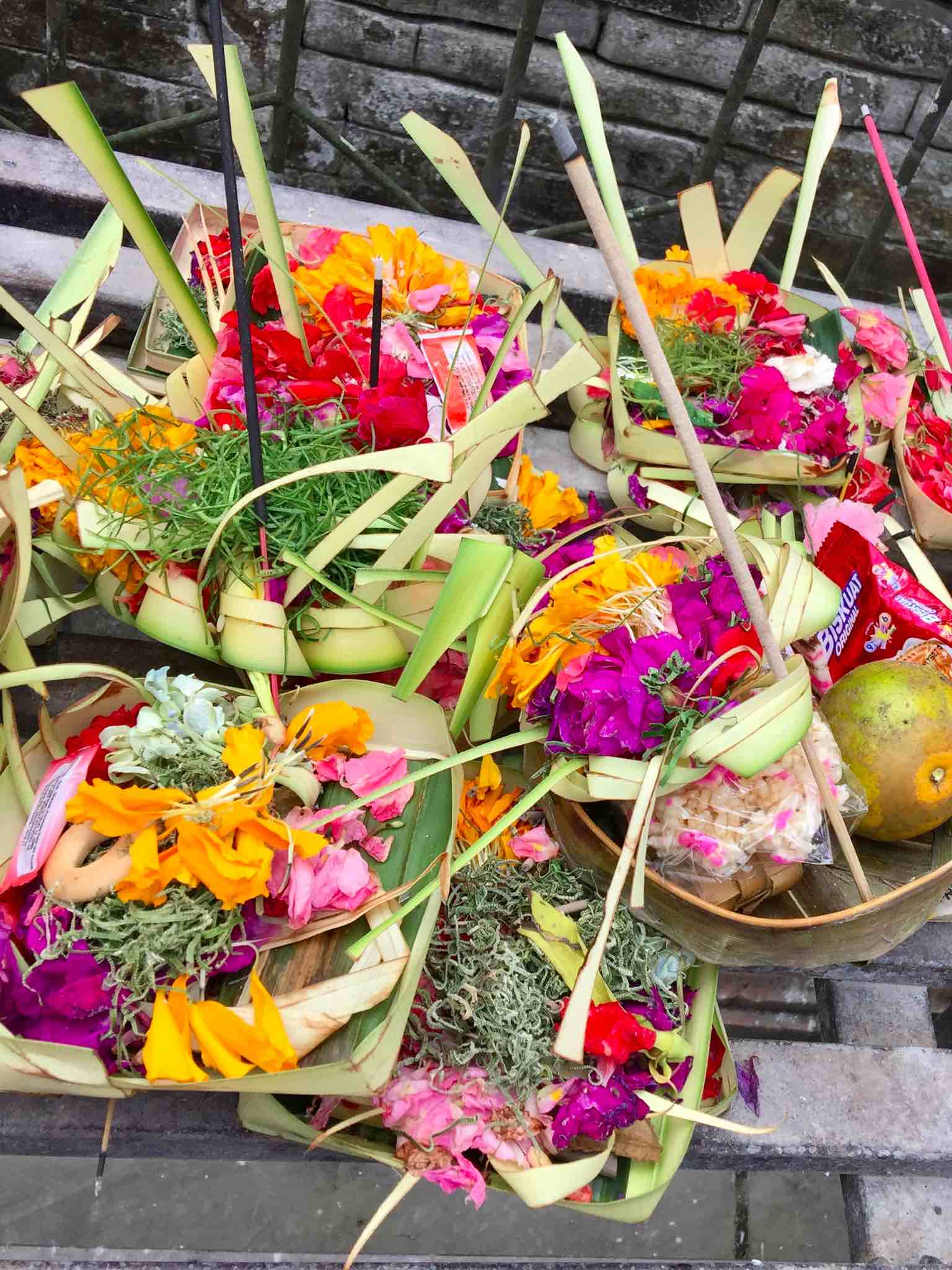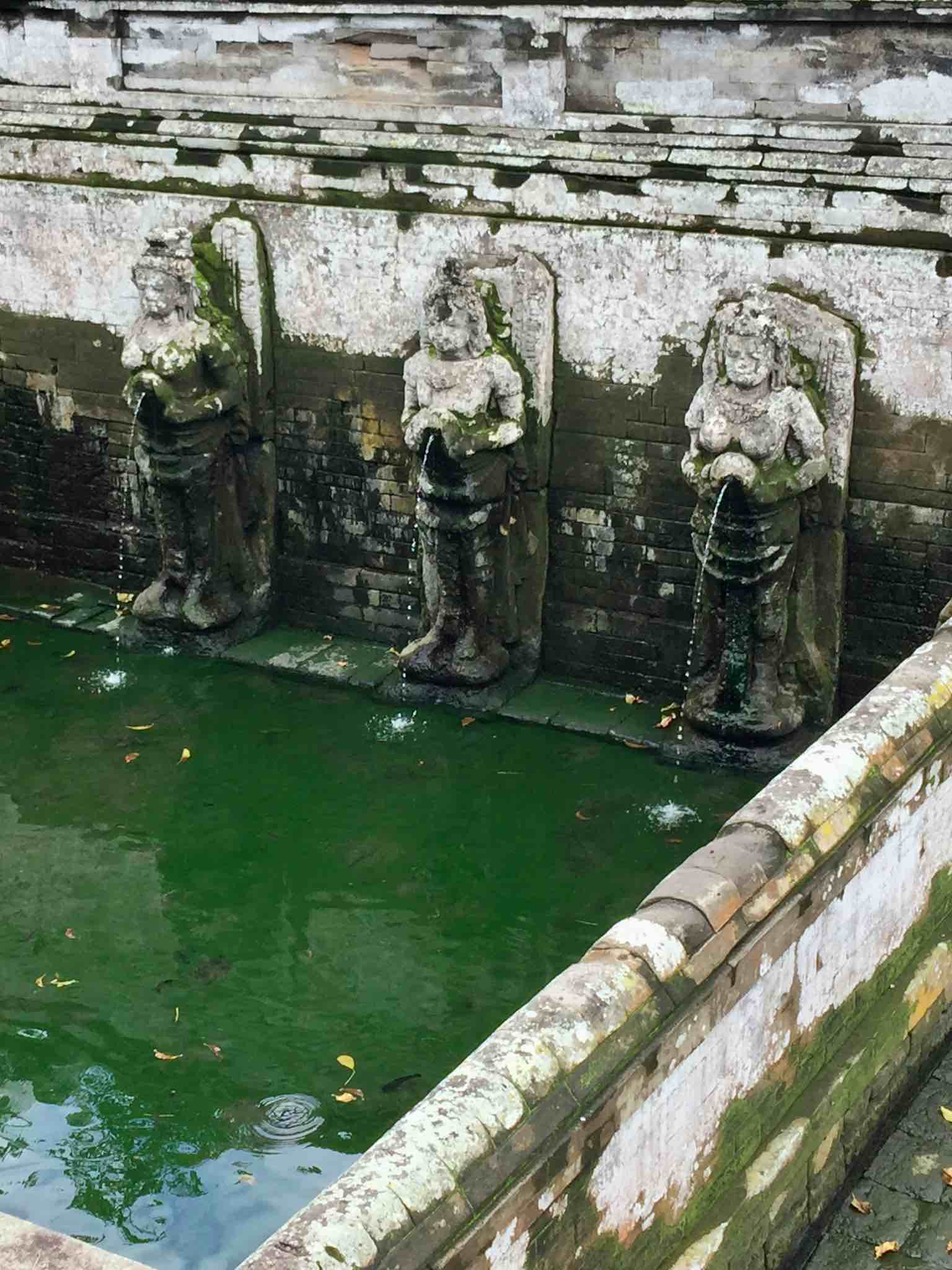 Why is papaya important in Balinese culture?
Papaya is a fruit that is eaten raw or cooked in Balinese cuisine. It is also used for its healing properties.
The fruit is often associated with the Hindu goddess Lakshmi. It personifies her care for the Hindu people and the richness of tastes. Hence, it is the main fruit used in religious ceremonies.
The papaya tree has many different names in different Indonesian languages. In Javanese it is called "sayur pepaya", which means "papaya dish". In Balinese it is called "buah naga" which means "dragon fruit". And in Sundanese it is called "buah peteh", which means "boiled papaya".
Papaya is common, cheap, and most animals like to eat it, making it a forage fruit as well.
There is one thing I must confide in you here. I eat everything in Asia. Unfortunately, I don't like papaya. Why?
Well, while traveling in Malaysia, I saw birds being fed this fruit. The image of papaya thrown to birds, mixing with sand and their droppings, and the specific smell of such a place have effectively blocked my mind and since then I have not eaten papaya. Every time I see papaya the image and smell come back… well, I can't help myself.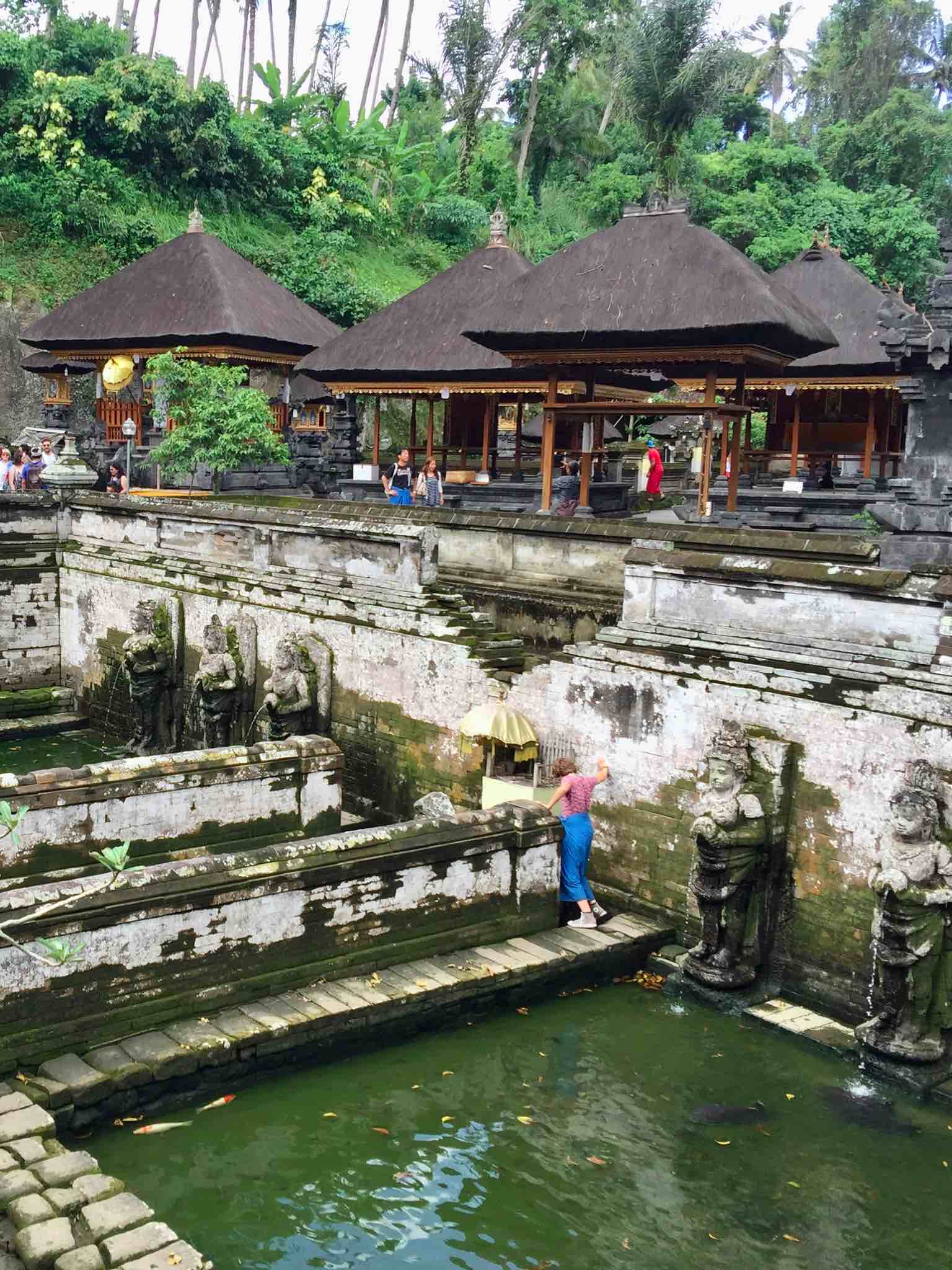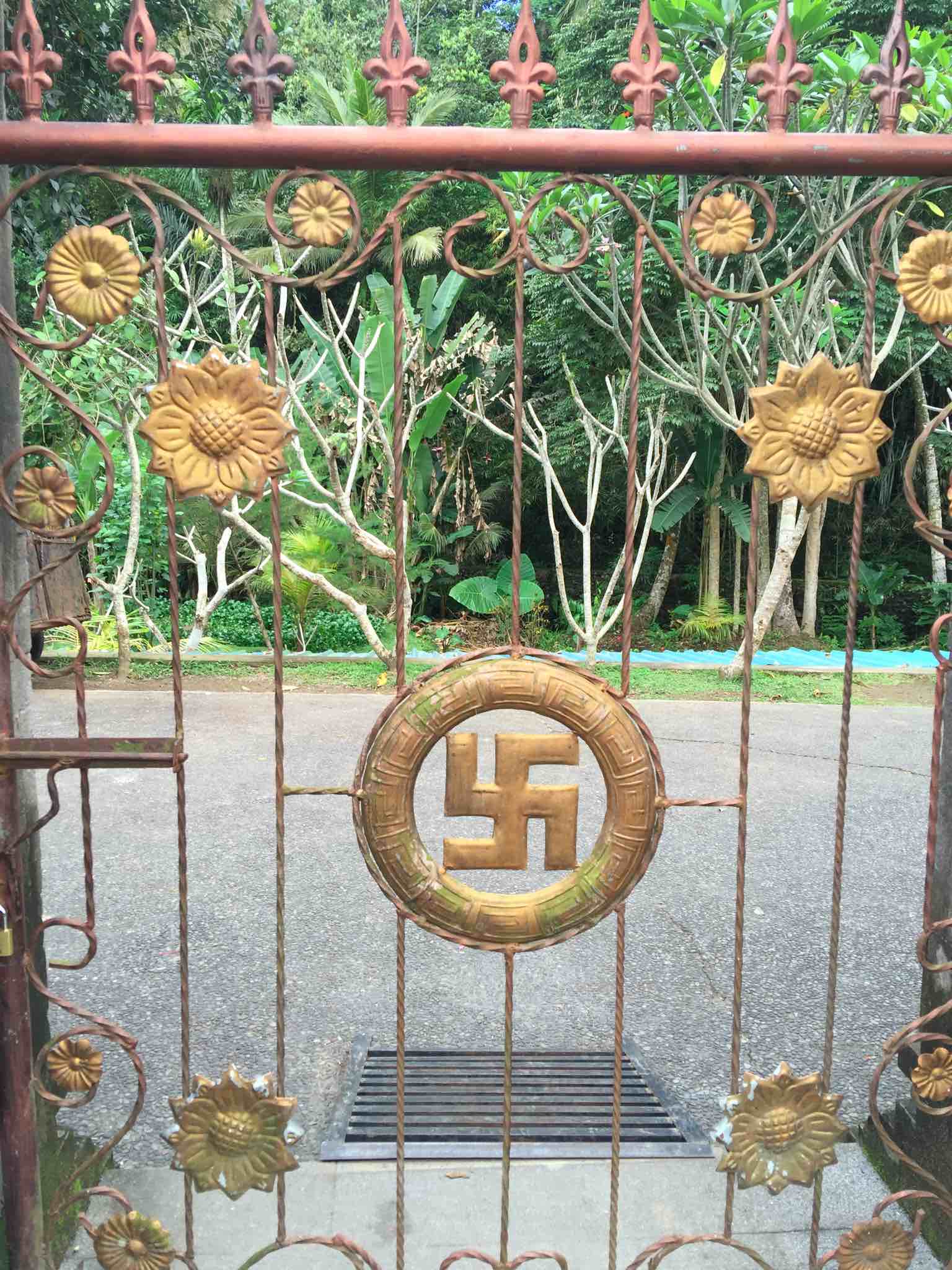 So, is it worth visiting Bali?
Definitely yes.
There are plenty of things to do once you arrive on the island. You can go for a walk or take classes at the Goa Gajah Temple if you want to experience Balinese culture. In the vicinity of Goa Gajah, there is also a curiosity - a prohibition sign for monkeys, which will be a photo opportunity for any monkey lover!
Before you start exploring the island, make sure you are well prepared. Make sure your camera or camcorder is charged and ready to go. Make sure you dress properly, remember about the monkey attack, take water, snacks and sunscreen with you. And you can go.
This island is not a place for people who want to constantly party, but for those who want to get away from the boredom and dullness of everyday life.
 
Terima kasih, sampai berjumpa lagi, Wonderful Indonesia!
Thank you and see you soon!