Hello Folks!
As promised, we're going back to Bali.
This Indonesian island, the mainstay of Hinduism in the Indonesian archipelago, is a holiday dream for people all over the world. Some people choose this island as a destination and stay for a few days, others go to Bali as a transfer on their way to Australia or New Zealand.
I wrote about the attractions on the island in one of my previous articles - take a look.
Today we are going to a place that is perfect for tourists who have a day or two to stop in Bali. Why?
The destination of our trip is just 15 minutes by car from the airport in Ngurah Rai. Even if you have one day, you can see… Garuda Wisnu Kencana Cultural Park.
Of course, those staying longer should also visit it. The goal of our trip is a 60-hectare culture park, which will allow you to get acquainted with the legend of Garuda, take a walk among the greenery and see several theater performances and the largest Garuda statue on the islands of Indonesia. A stay in the park is a trip for a few hours. Its location on the southern Nusa Dua peninsula and easy access from the airport make it rather crowded. In the case of a week's stay in Bali, it is worth combining such a visit with a visit to the Garden of Hope and a walk among the black rocks of the volcanic shore. By the way, you will see geysers ejecting huge masses of water that can sweep walkers off the wooden promenade - so be careful. Anyway, the alarm siren system warns against coming waves - giants that can cause such a situation, so you will definitely be safe.
Let's go to the park.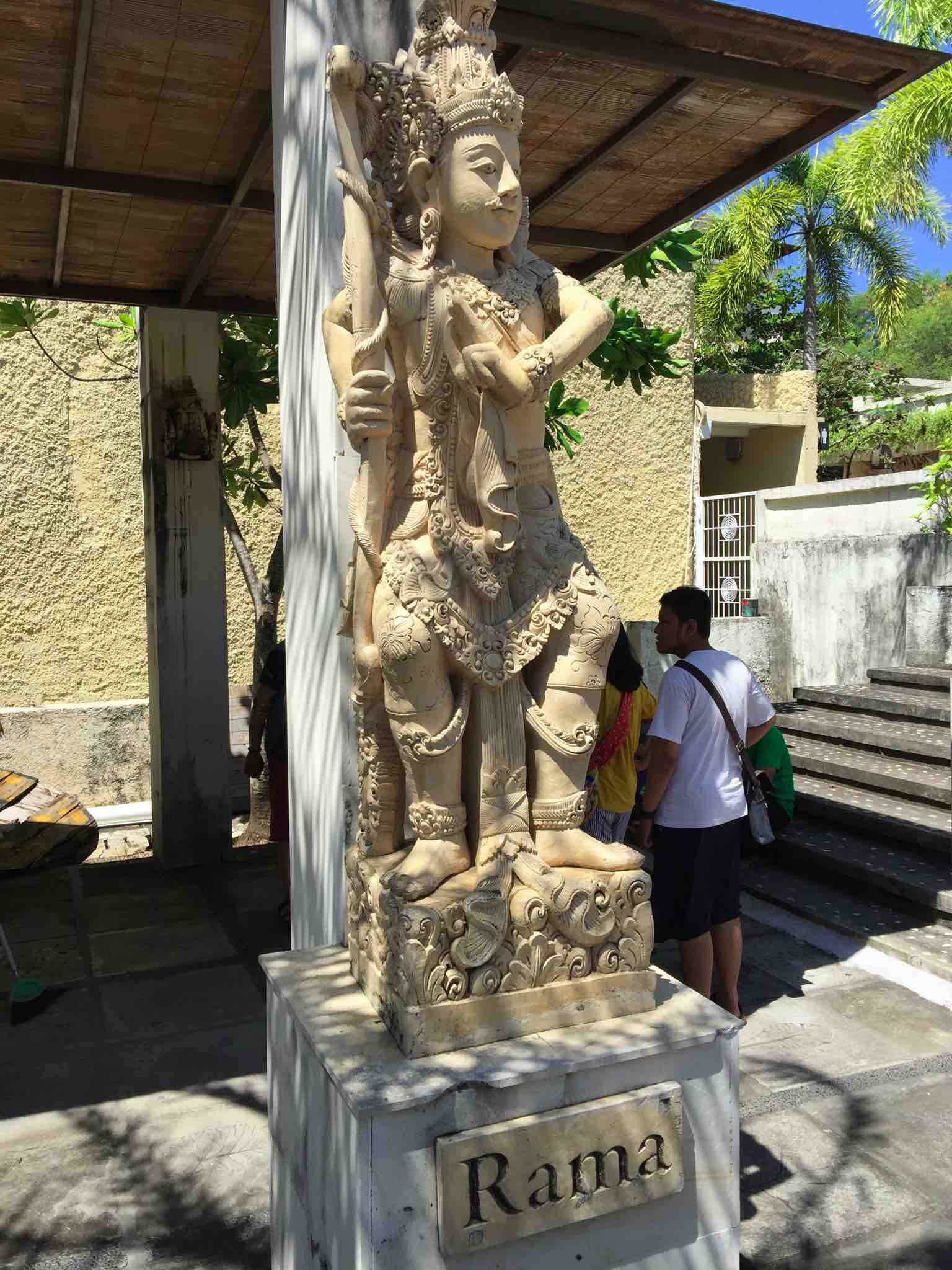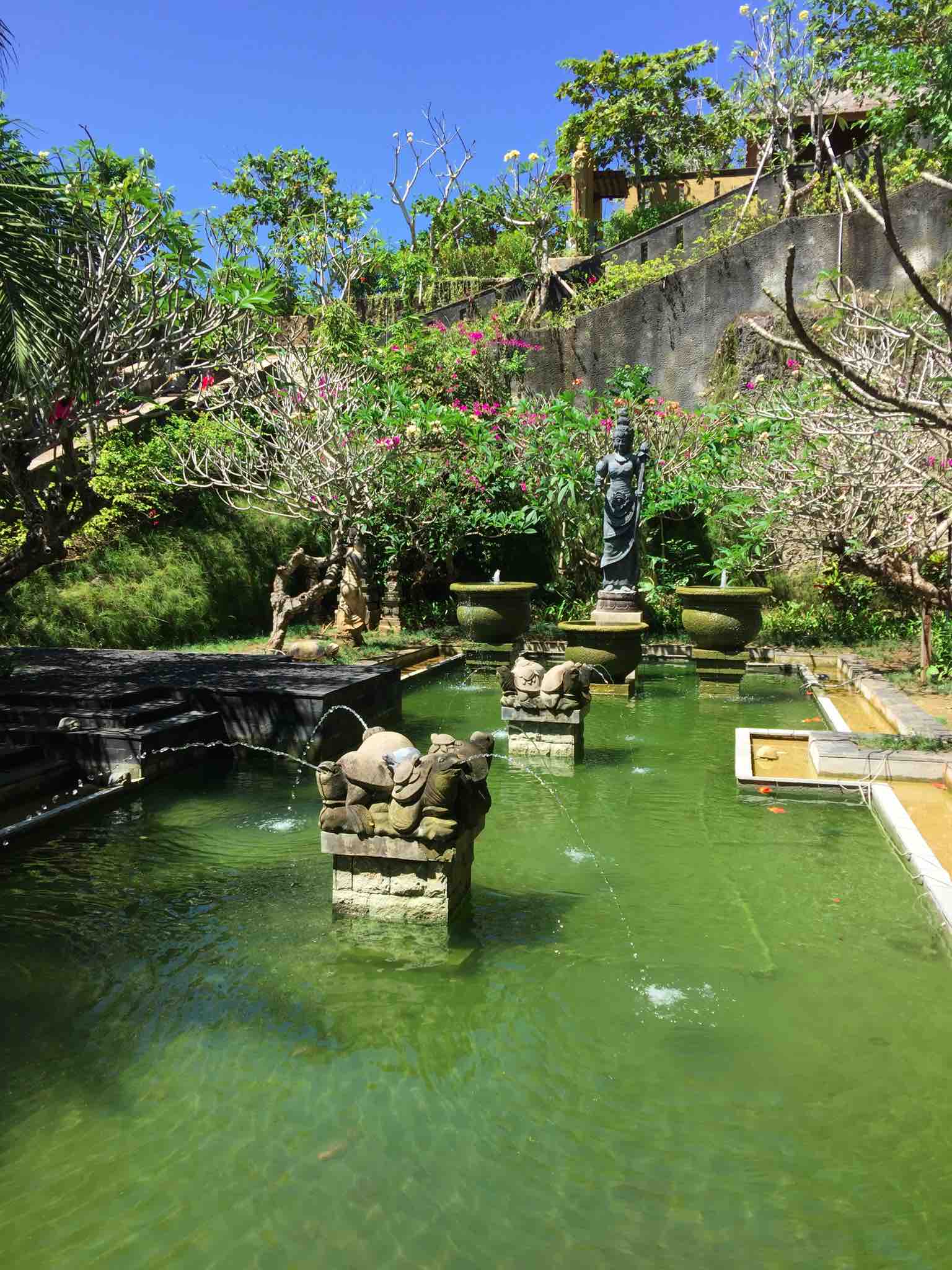 GWK -

short name of the Park

Situated on a small plateau, 263 meters above sea level, it is famous, easily accessible and well prepared to receive thousands of tourists. But not only.

One of the large areas within the Park is the Lotus Pond - several hectares of meadow surrounded by volcanic rock walls.

When I walked in there, the first impression I had was ... a concert scene. I found this place perfect for "live" concerts.

And guess what? I was right.

As it turned out, concerts of Iron Maiden, Paramore and the Electronic Dance Music Festival have already taken place here. Something unusual can be felt in this place.

Before we get there, you need to park your car. There is no problem with it, the parking lots in front of the park are vast. There are quite a few souvenir shops, ticket offices around and we go in.

We are welcomed by figures related to Hinduism, beautiful stairs, the handrails of which are made in the form of a dragon-snake. A walk between trees, statues and ritual pools confirms my first impressions - I am in the temple of Wisnu. On the way to the biggest attraction of the park - the Garuda statue, I also pass a small amphitheater - here, every 30 minutes there is a theater performance describing Garuda's arrival and its history.

Well, maybe it's time to meet Garuda?

You've probably already seen and heard this name somewhere… wait a minute… at the airport?

Well, Garuda Indonesia - is the name of the national airline of Indonesia.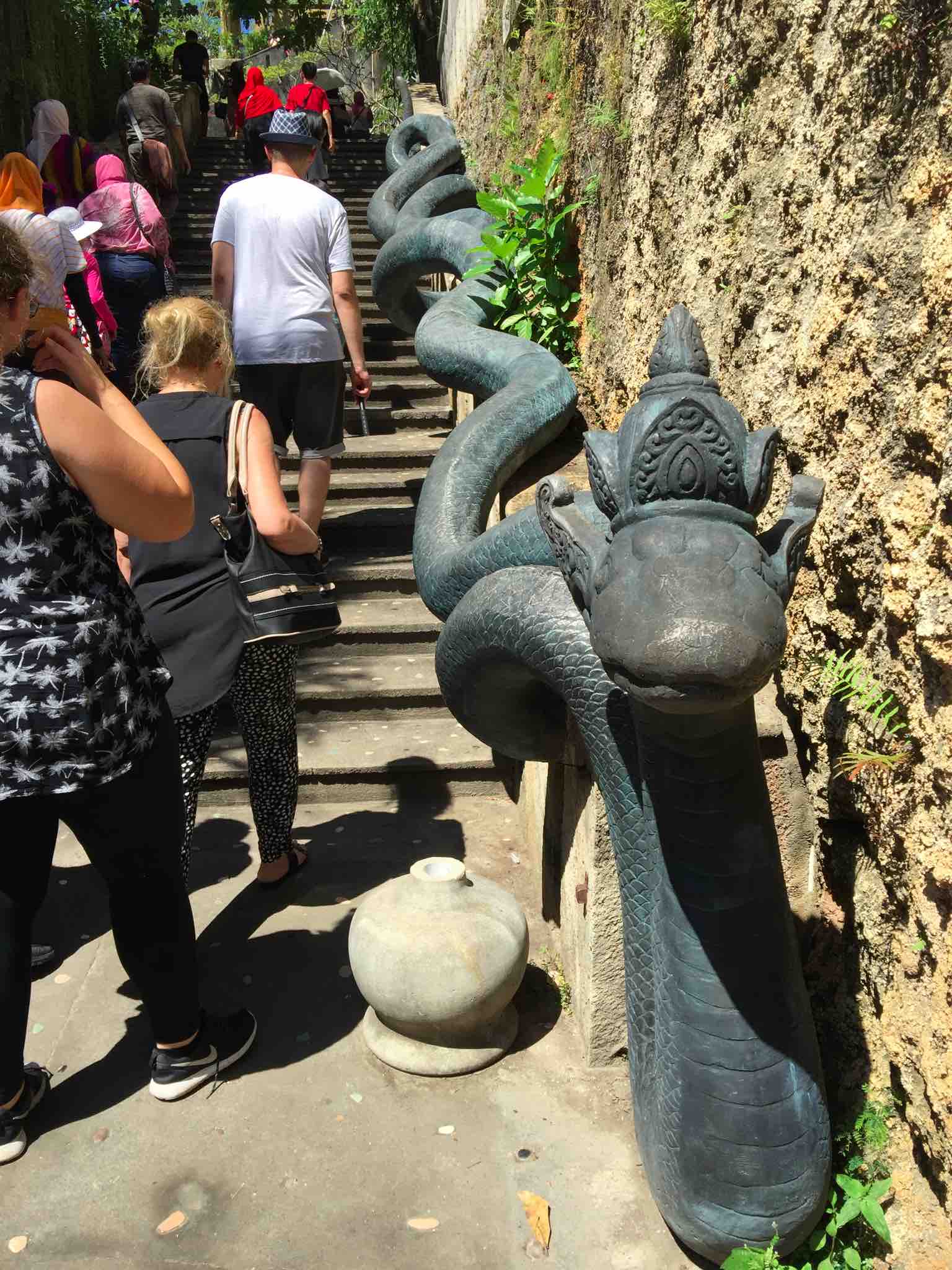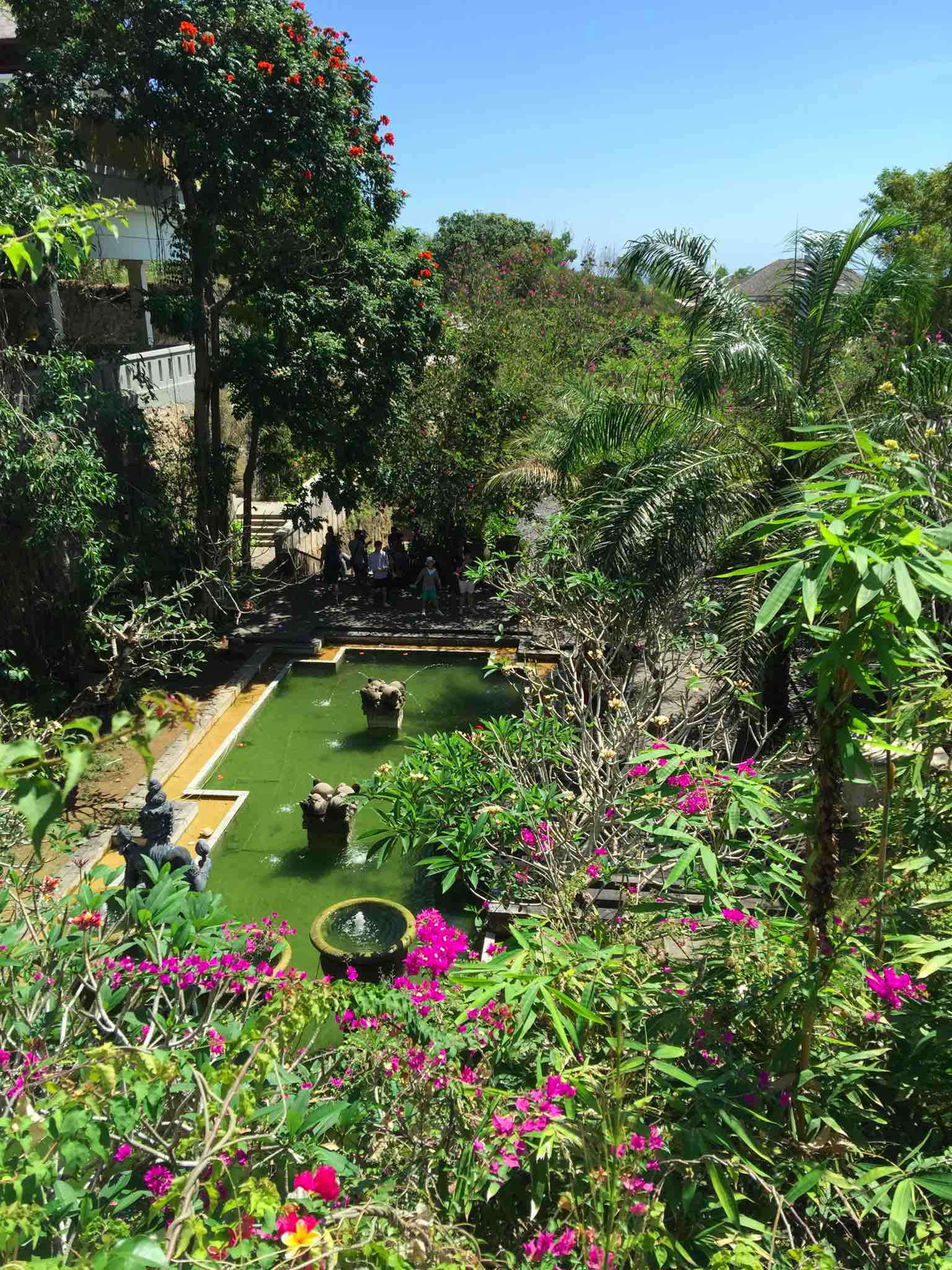 Meet Garuda
Indonesia uses Garuda in a form known as Garuda Pancasila as a national symbol. It is somewhat intertwined with the Phoenix concept.
Garuda Pancasila is black or gilded in color, symbolizing both the greatness of the nation and the local hawk - Nisaetus bartelsi. The black color represents nature. There are 17 feathers on each wing, 8 on the lower tail, 19 on the upper tail, and 45 on the neck, which together make up the date of August 17, 1945, when Indonesia declared independence.
Her shield carries the motto of Panca Sila, which symbolizes self-defense and bravery in battle.
Garuda's park figure as a bird was inspired by a tale in Hindu mythology about the search for Amrita (the elixir of life). Accordingly, Garuda agreed to be ridden by Lord Visnu in exchange for the right to use the elixir to deliver his enslaved mother.
The idea for the monument was not without controversy, and the island's religious authorities complained that its enormous size could upset the island's spiritual balance. There were also reservations about its commercial nature. However, reason prevailed. It was decided that it will be a new tourist attraction on the island.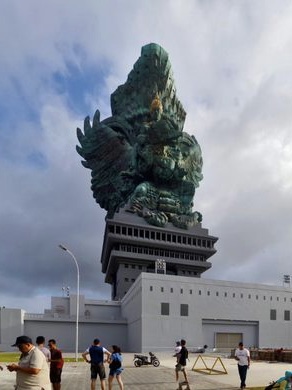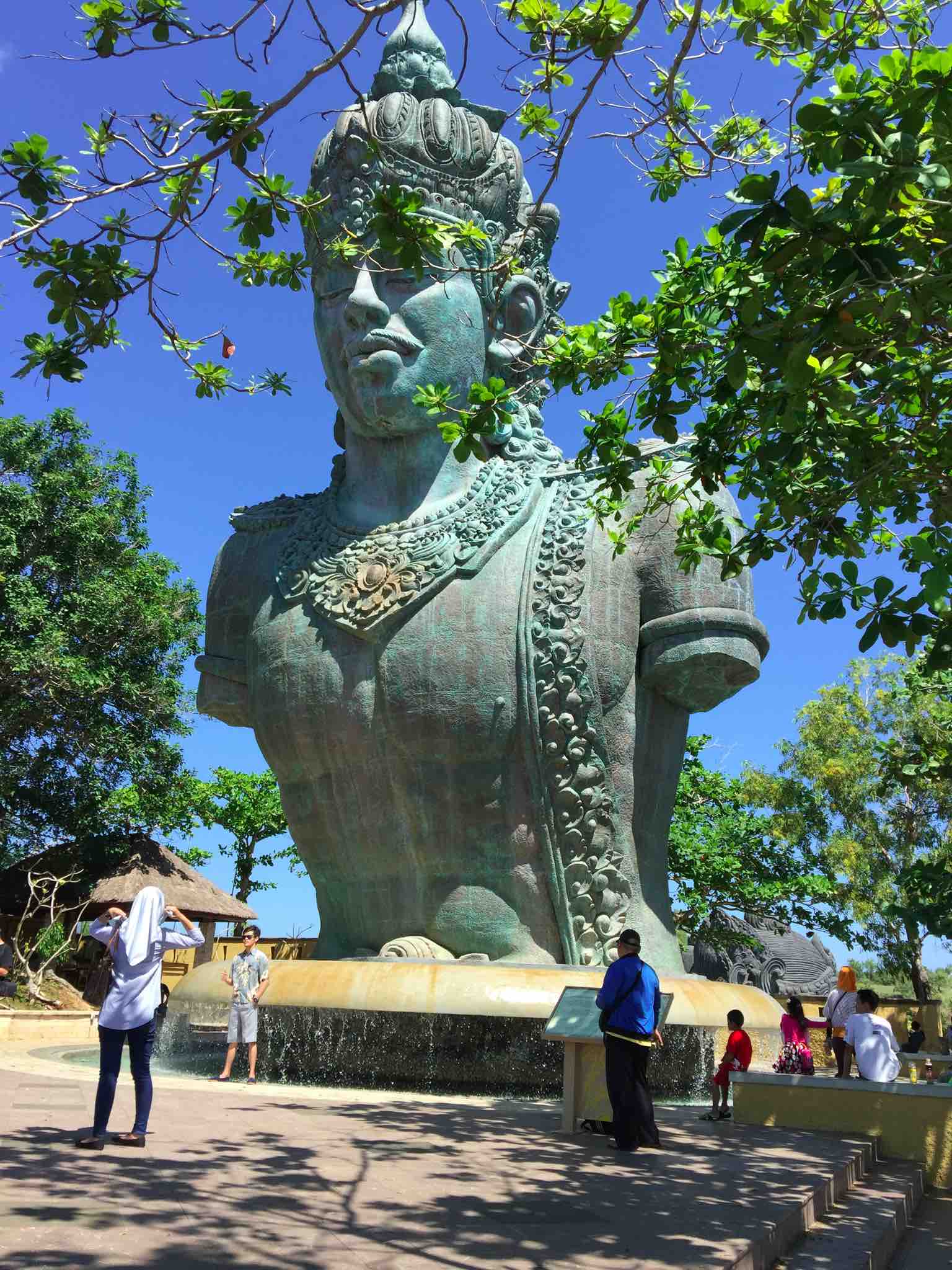 Another known use of the name Garuda?
For example - Garuda Contingent - the peacekeepers of the National Armed Forces of Indonesia.
Also, Airlangga University, one of Indonesia's oldest and leading universities, uses Garuda in its emblem. The emblem, containing Garuda in a blue and yellow circle, is called "Garudamukha" and represents Garuda as the knowledge bearer carrying a jug of Amrita, the water of eternity, symbolizing eternal knowledge.
A stylized brushstroke that resembles Garuda was featured in the 2011 Southeast Asian Games logo, held in Palembang and Jakarta, Indonesia.
Garuda's influence is also evident in a stylized sign that took the form of Garuda Pancasila, and you can see it at any airport in Indonesia. It is part of the logo of the "Wonderful Indonesia" tourism promotion campaign.
In Bali and Java, Garuda has become a cultural symbol. The wooden statue and mask of Garuda are popular pieces of art and memorabilia. Walking through the park, I had the impression of being followed by Garuda - shops with his likeness every 50 meters.
And finally there is, the tallest statue of Garuda, made of copper and brass, 75 meters high (or 122 meters including the pedestal), is right at your fingertips.
It makes an impression.
He looks at the Lotus Pond and the surrounding valleys with concern in his eyes. At least that's how I see it.
Anyway, see for yourself.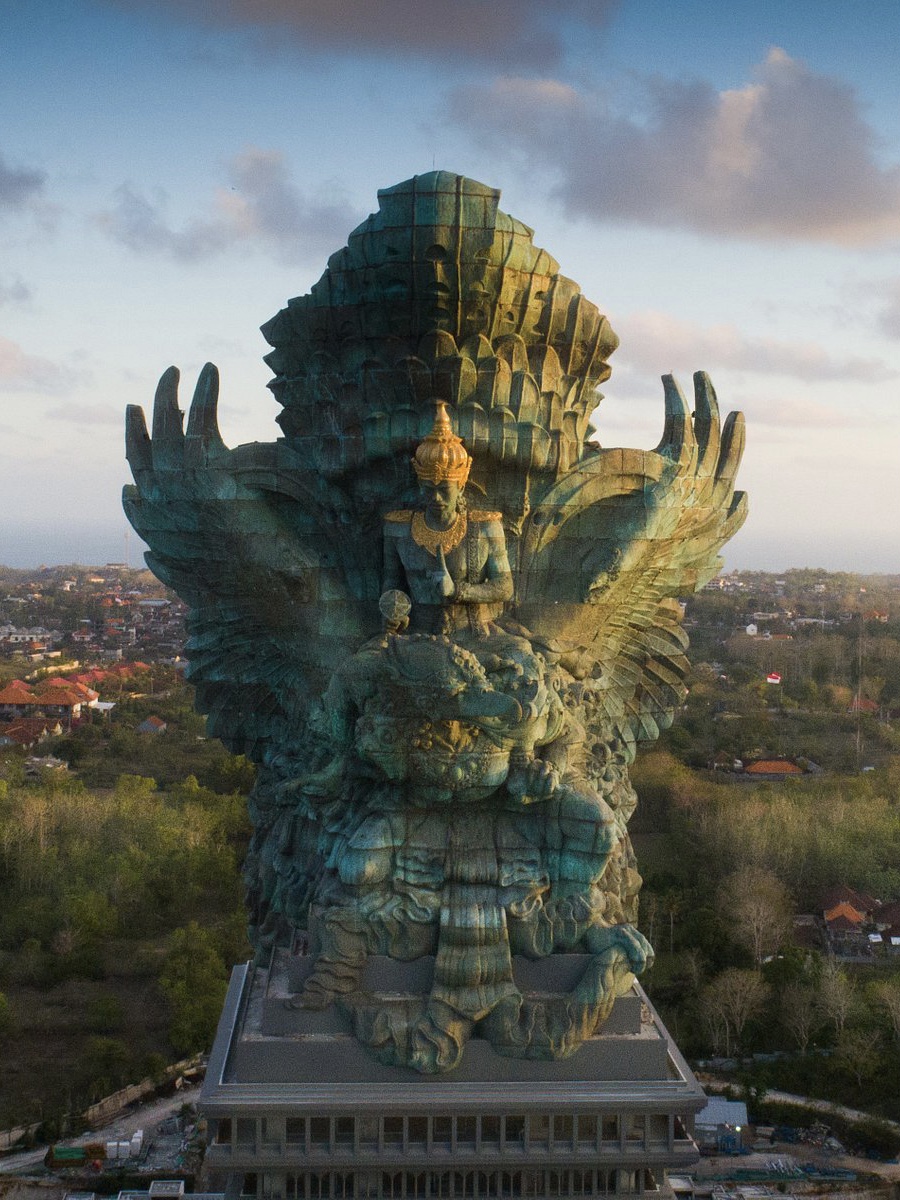 Garuda
It is almost 30 meters taller than the Statue of Liberty in the United States, about 21-story high building. It weighs 4,000 tons, making it the heaviest statue in Indonesia. The statue is made of copper and brass sheet, with a frame and a skeleton made of stainless steel and a steel and concrete column with a core. The outer cover has an area of 22,000 m2. The crown of Vishnu is covered with golden mosaics and the statue has a dedicated lighting arrangement. The monument was completed on July 31, 2018, and was inaugurated by the President of Indonesia, Joko Widodo, on September 22, 2018.
Absolutely fabulous!
A walk in the park and beautiful temple nooks and crannies fill up a few hours of stay.
Time for a show, with which I finish my visit to Garuda Wisnu Kencana Park. Just shopping for souvenirs and you can move on.
Enriched with historical knowledge, relaxed and with a sense of care by Garuda, I leave the park.
It's a good sign.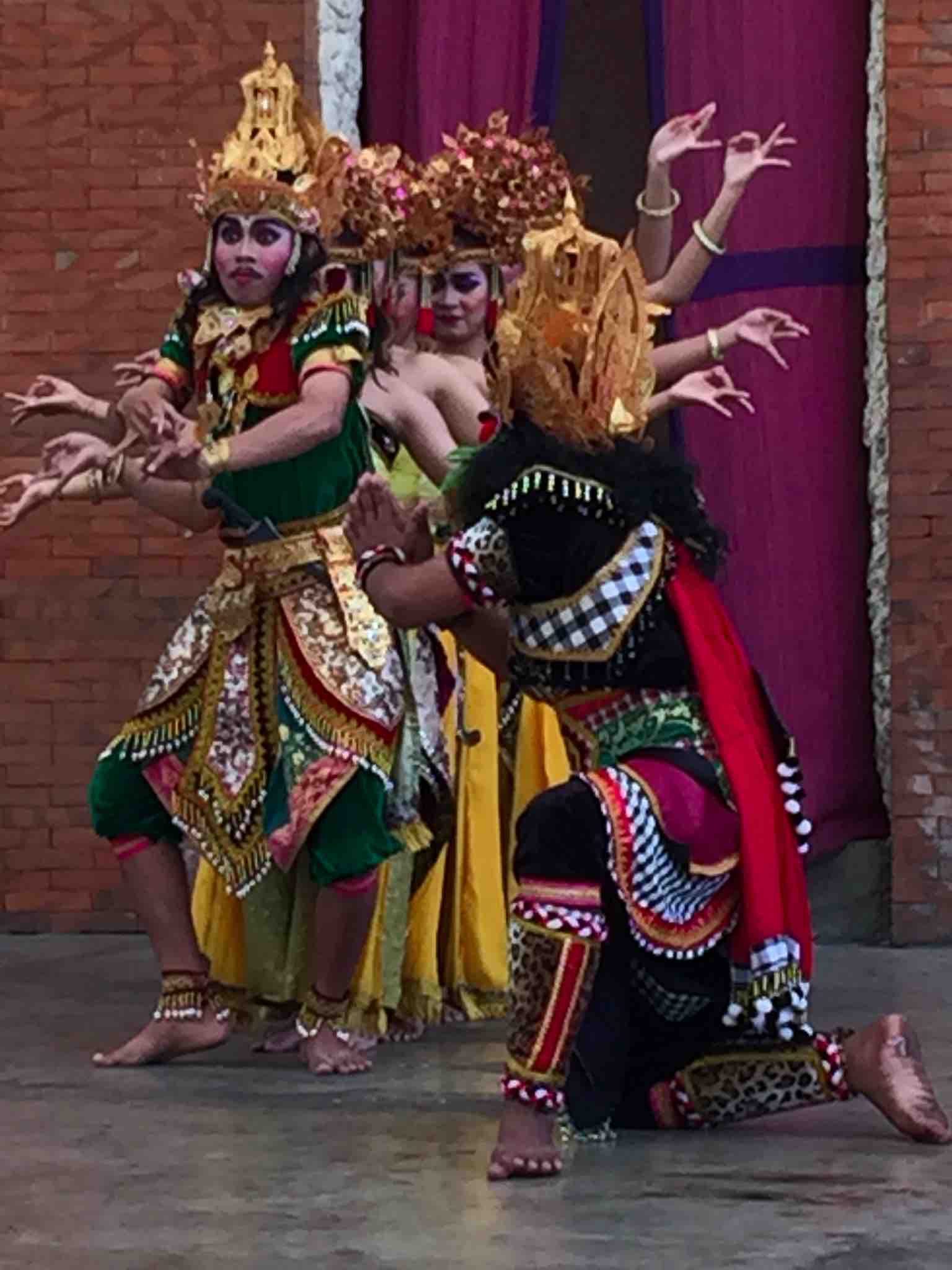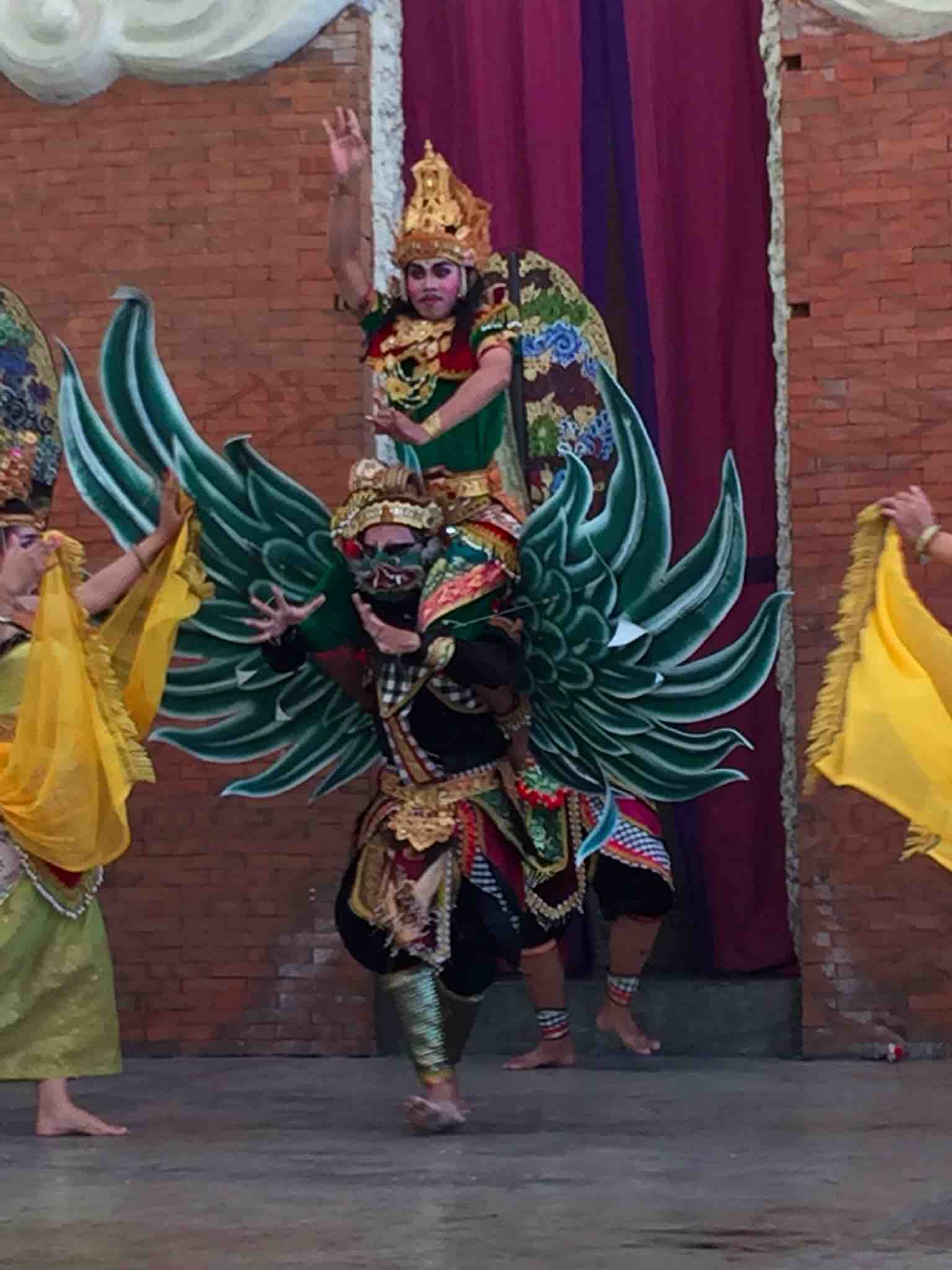 Dance...
I have one more memory.
Entering the Lotus Pond, we don't know why, we felt like dancing. As if some force was moving the legs.
At this point, an old Balinese proverb flashed through my mind:
"If you are happy you can always learn to dance."
Terima kasih pulau tuhan. Thank you, Island of God.