Land of the Rising Sun, home of sushi, origami and Bonzai, remote islands somewhere in the east, where Pokemon and Godzilla come from.
Tokyo, Sapporo, ski jumping, sakura, ramen, Fuji, samurai, karate and sake. These are probably the first words and phrases that everyone associates with Japan.
For me, Japan has always been associated with Toyota, Kaizen and blooming cherry trees.
And a country my son would like to visit.
The truth is that the proximity to China and Japan was one of the main arguments when making the decision to go to Asia. I thought to myself, OK, being in China it's only a few hours to Japan so I'll be able to fulfill my son's dream and take him to the Land of the Rising Sun.
I am aware that Japan is not only the associations mentioned above.
It is also a very organized and law-respecting society, it is also longevity, which I already wrote about in the article about IKAGAI, it is legendary and extraordinary purity, it is diligence but also a life in constant tension in connection with frequent earthquakes and tsunamis.
So it's time to make my son's dreams come true and verify my messages and my perception of Japan in reality.
We're flying to Tokyo.
It's 2015 so I'm still in Qingdao. From here we travel to Tokyo with Korean Air from Qingdao to Seoul in South Korea and then from Seoul to Tokyo.
It was the first trip made with Korean Air, and actually boarding showed the enormous difference of cultures between Chinese and Koreans.
Perfect service at check-in, courtesy of the cabin crew, showed that we are heading towards the part of Asia that has high standards in terms of customer service and social interaction. Our stay in Tokyo only confirmed this belief.
Both segments of flights ran very smoothly for 2 hours to Seoul and then 2 hours to Tokyo, four in total, and with a 1.5-hour transfer, the total journey time was less than 6 hours from China to Tokyo.
And finally it is, we land in Tokyo Narita. Wellcome to Japan!
Landing, getting out of the sleeve and go to passport control.
The first pleasant surprise - a visa to Japan is free, you get it on arrival, but its form is the size of a postage stamp. This is one example of how the Japanese approach some topics practically. Answer the question honestly: do you really need a visa that takes up full pages in your passport?
We got a tiny sticker in the form of a postage stamp for the passport and that's it, everything is clear. We go further. Baggage pick-up. Workers wearing white gloves and gentle handling of suitcases are a rare sight at airports around the world.
Time to check which metro line we are able to get to the hotel.
And here are more surprises.
First of all, it is very easy to get a SUICA reusable card at the airport, thanks to which, after topping up with any amount, you can travel painlessly throughout Tokyo.
The second surprise happened at the information board and the metro map.
Being in Japan for the first time, we just needed a moment to study the metro map and find out which line goes from the airport to the center, to the UENO station, where you can change to many other lines. Or maybe there is a direct line to the hotel?
Less than 2 minutes passed and two people appeared who offered help. One of these two people, a lady around 40, offered her help in finding transport to the hotel. Imagine this lady just took the subway with us and dropped us off directly at the front door of the hotel. Extremely.
It is one of the cultural standards of Japan. A Japanese, seeing a lost foreigner, will try to help at all costs.
Maybe it wasn't a shock for us, as we were forewarned by Arthur who told us about the Japanese community and how it deals with tourists or people who need help or support, but it was really nice.
Since the stay in Tokyo was planned for a week or practically six days, I chose the Sheraton hotel in the Shirokane district, which not only offered quite a good price but also rooms significantly different from the standard of rooms in Japan. We had the opportunity to find out about it during our second visit to Japan, two years later.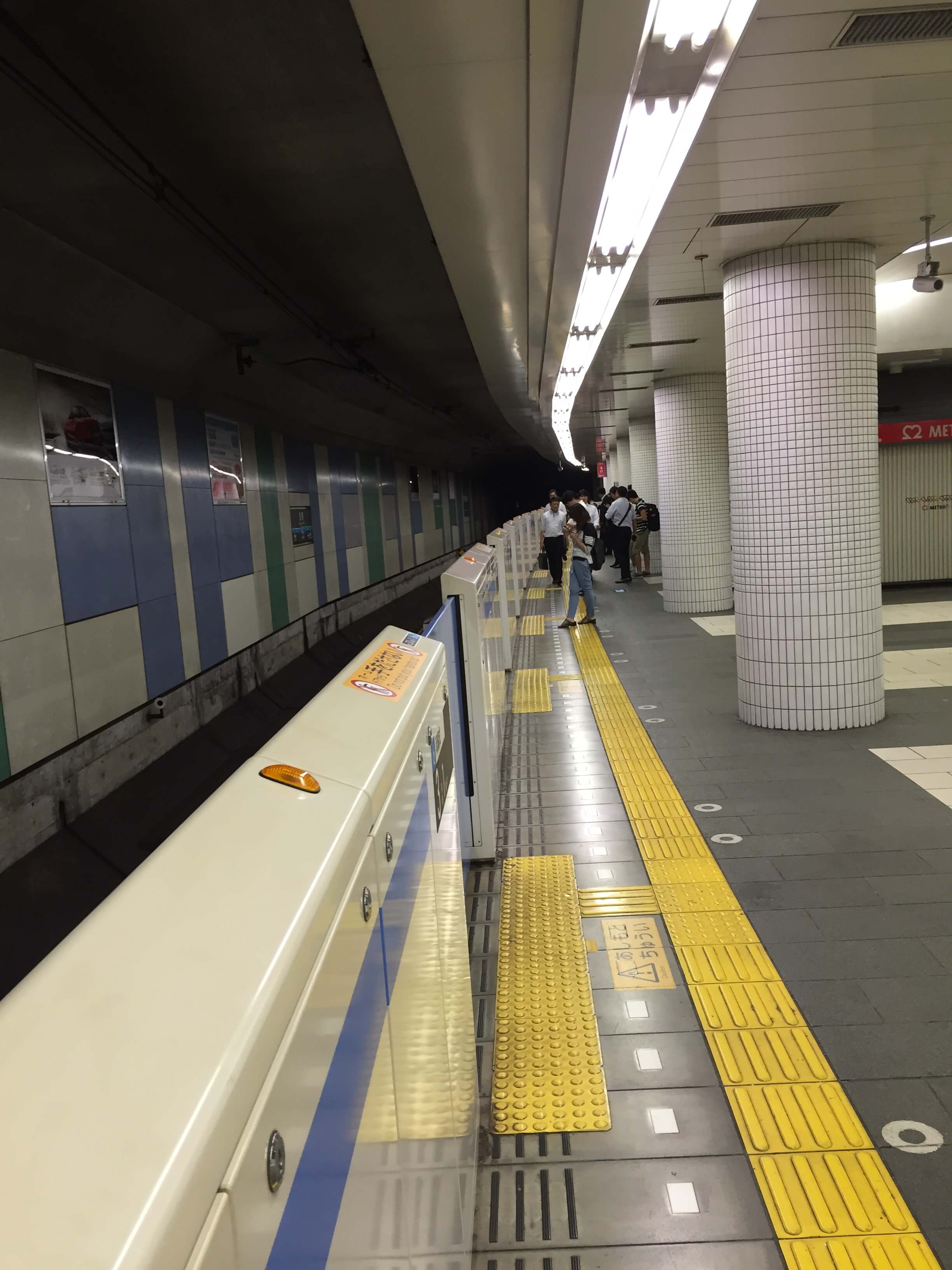 Hello Tokyo!
So we enlisted the help of a lady who really got us to the very door of the Sheraton Hotel. Using two metro lines it took about 30 min. Clean, fragrant and punctual. Metro stations perfectly organized, just like in Japan. The carriages stop exactly where they are supposed to stop, the doors open exactly when they are about to open, and the train staff wearing white gloves helps passengers to enter and exit the carriages.
We traveled during off-peak hours so it wasn't much of a problem, but imagine a daytime situation when 3.5 million people travel by metro. The platform handler then simply has to cram the passengers into the door close. They do it delicately, in a polite way, and as I mentioned, wearing white gloves. Compared to the behavior of the Chinese in the Shanghai subway, it was a kind of culture shock.
July in Tokyo is a hot, hot month with quite a lot of humidity, so getting around the city by metro has one major advantage - you can simply cool down.
The lines themselves are described very well, the connections are visible on the exact timetables, which are at each station in three languages: Japanese, Chinese and English. Therefore, there is no problem to choose the right line and station.
In general, the best way to travel in Asia is by metro or light rail, depending on the country you are in.
One is that it is the cheapest way to travel, two that usually metro lines and stops are located close to tourist attractions or major public buildings. My experience shows that in virtually every Asian metropolis, you are able to reach the selected object in no more than 20 - 30 minutes. Sometimes it's just 5.
Just in Japan, the city travel system is based on the SUICA magnetic card system, which can be bought at every metro station or in one of the hundreds of shops such as "Family Mart" or "7/11 - seven / eleven". At each entrance and exit from the metro, you know exactly how much money is left on the card, what was the cost of a given section, and in the vending machines at the gates, you can top up the card. Additionally, you avoid queues to the machines selling single tickets.
This is a good option when you stay in the city.
In the case of trips outside the city or moving around the islands, JR lanes are a great solution, which can and even should be purchased in the country, via the website, and the voucher received to be exchanged at the office of Japanese JR railway lines at the airport or at the first metro station or at the station interchange.
You will receive a document that allows you to travel unlimitedly, within seven days, both by local and SHINKASEN, i.e. high-speed rail.
Note - JR lanes do not entitle you to arrive by subway, but still, when you buy a JR-pass, you get the right to travel at a price up to 50% lower compared to regular train tickets.
Armed with SUICA cards, we happily arrived at the Sheraton located at the Shirokaneda metro station. After the rest and after collecting our thoughts on what and how to visit, we made a plan for the visit.
But more on that in the next article ...