Welcome to Malaysia!
As I mentioned in a previous article, both KLIA and KLIA2 main terminals are located approximately 47 km from the city. So how do you get to the center?
There are three basic ways to do this.
The first way is to just take a taxi from the airport, the second way is to order Grab and the third way, in my opinion the best and cheapest, is simply to use the queue that connects both terminals with the main station in the city center - KL Sentral
In general, as far as Southeast Asia is concerned, except for Vietnam and Indonesia, taxis are problematic everywhere. Either their counters break and the drivers try to cheat, or they take a detour round the road, filling in kilometers. Cars are usually old, untidy and drivers are poorly educated and do not know the topography of the city. They often use Google maps or Waze. Plus, it costs about MYR 100. For me it is a last resort when I need to take a taxi.
Much better with Grab. Drivers are selected, you buy courses at the price displayed in the application so there is no surprise. Usually, 3 to 7 minutes is enough when a car pulls up to the exit from the terminal and is relatively safe to take to the center. In this case, you can catch a course for 70-78 ringgits.
In my experience, the best and cheapest way to reach downtown Kuala Lumpur is simply by rail.
We have two queues to choose from: KLIA Express and KLIA Rapid. They differ in that KLIA Express is simply a pendulum between the airport and KL Sentral station, i.e. the main station in Kuala Lumpur and KLIA Rapid is a fast train that has several stops along the way. If you care about time KLIA Express will take you from or to the airport in 28 minutes and trains depart every 12 minutes. The price for a KLIA Express journey is 55 MYR one way, 90 MYR for a return ticket. The affordable price, considering that ringgit is almost equivalent to PLN, can be said is around PLN 50-85. KLIA Rapid will take you to MYR 30.
Central Station - KL Sentral - is a transfer station, shopping center and meeting place. Depending on what you have next in your plans, which hotel you ordered, you can use one of the metro, overground or bus lines. You can also simply order Fireplace.
I had a hotel booked near Pasar Seni station, the "red" KJ5 line - Kelana Jay 5, a fast city train, next to the well-known historical central bazaar in Kuala Lumpur.
This hotel was known as the Geo Hotel - its historical name. Today it is already a Travelodge hotel. Very nicely rebuilt some two years ago. It is sensational.
If I have to recommend something as a base in Kuala Lumpur, it is Pasar Seni with the Travelodge hotel, which is located right next to the S-Bahn station.
Why this place?
I will say very briefly. Hotel Travelodge costs MYR 110 per night for 2 people, it is located 10 to 15 min walk to spectacular, interesting places in Kuala Lumpur.
I will mention only a few: Pasar Seni Bazaar, Merdeka Square - Independence Square, Sultan Abdul Samad Palace, Kuala Lumpur City Museum, Masjid Jamek - a historical Muslim mosque or Hindu temple Sri Mahamariamman or Riverside Boulevard. Newly opened, beautifully lit in the evening. TV tower with observation deck? KL Bird Park, the largest bird park in Southeast Asia? Everything within reach.
The metro station will allow you to reach every corner of the city. See the icon of Kuala Lumpur or Petronas Towers? Using this line you have several stops to KL CC, i.e. the Kuala Lumpur Congress Center, which is on the ground floor of the entire Petronas towers complex.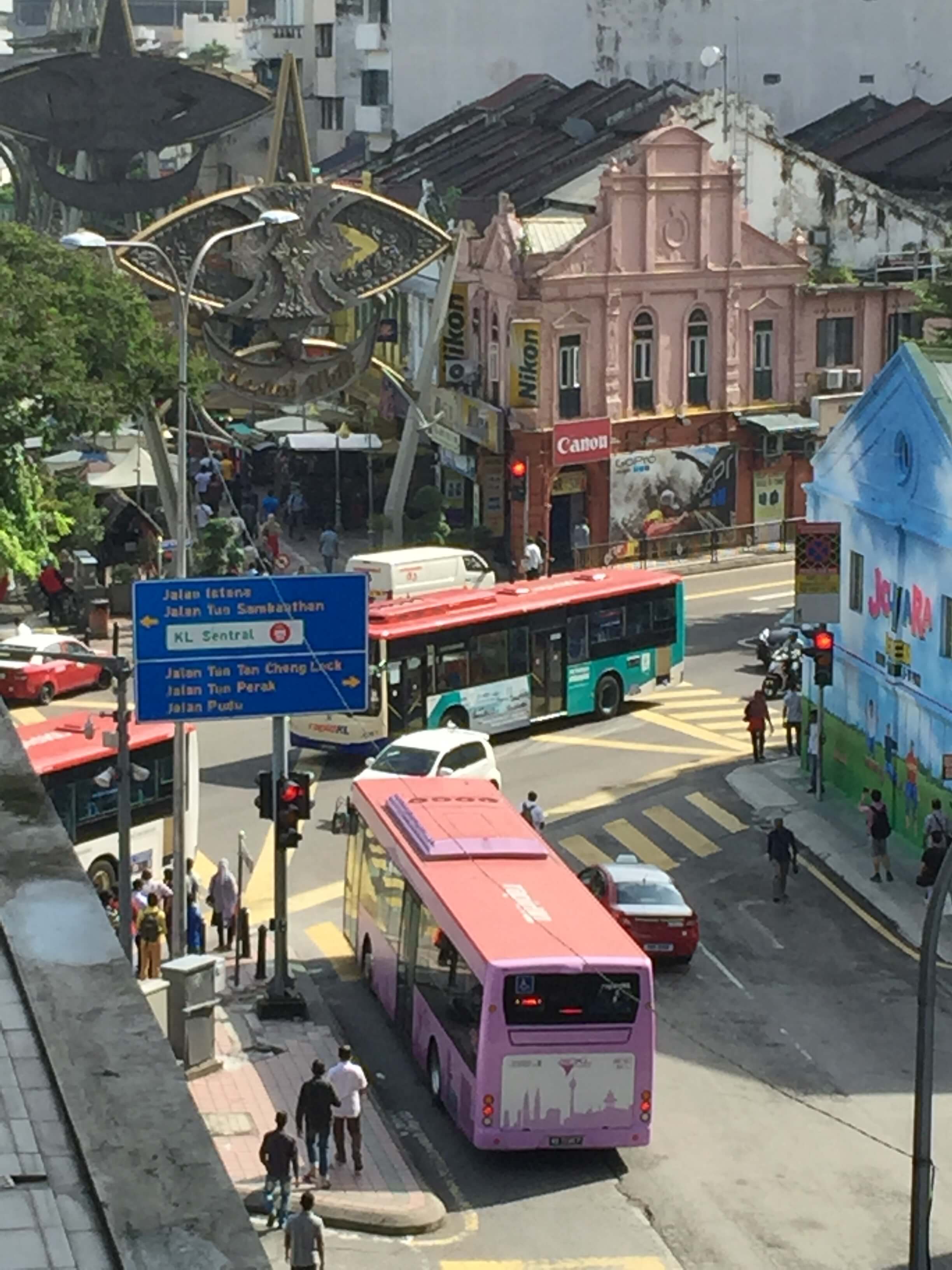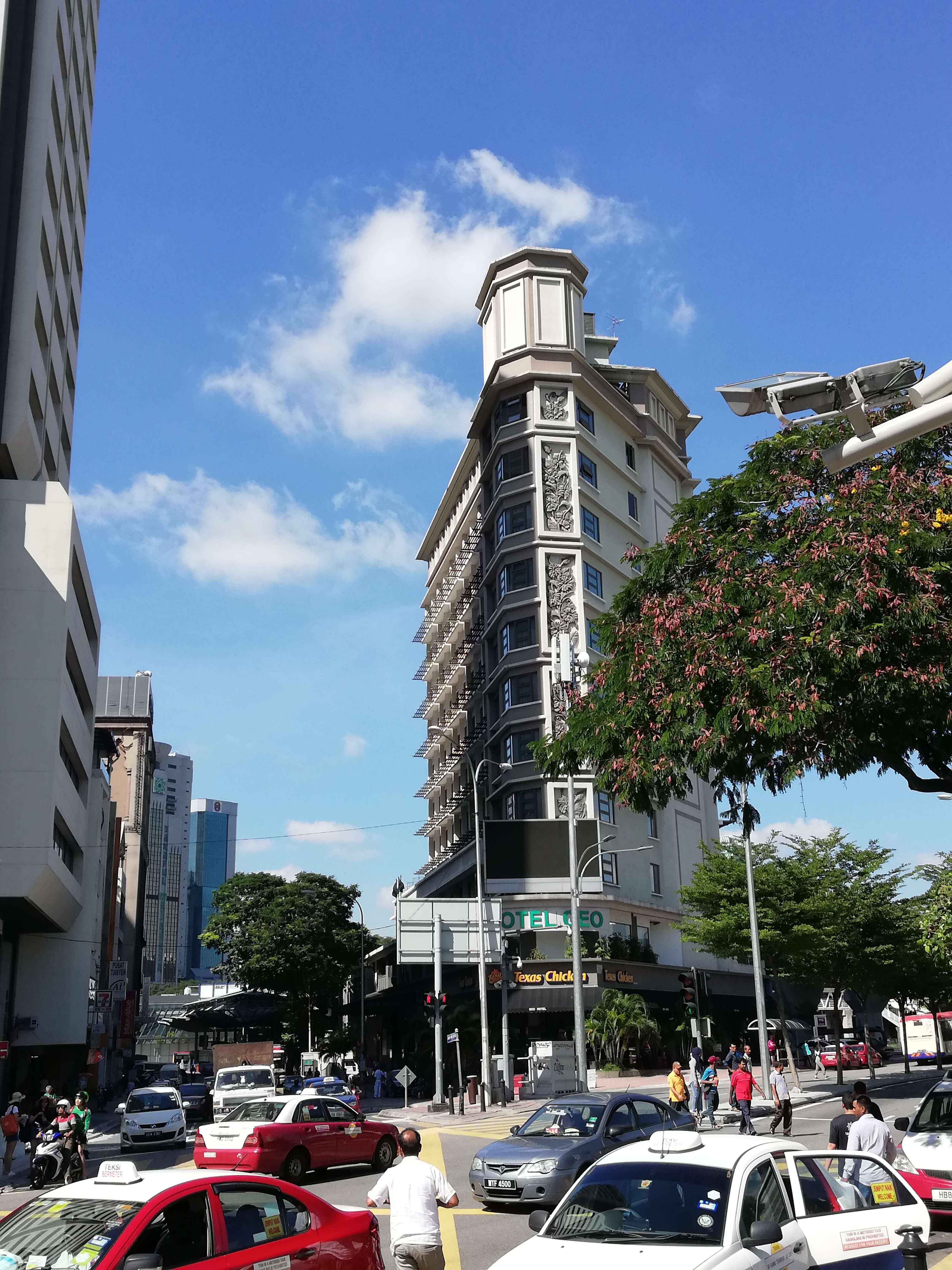 How to spend the time here ?
As you can see, walking only around the hotel, you have a lot to do.
I will add that the hotel is located near Petaling Jaya, the famous Chinese street, the largest street bazaar where you can buy almost anything for little money, where photo roasted chestnuts, drink Chinese tea or finally, eat any dish of Asian cuisine from all parts of Southeast Asia and especially Chinese cuisine.
From this place you can also reach the Hindu temples - Batu Caves. This is a holy place of Hinduism, built in caves.
I will describe all these places later, in extended articles dedicated to each of them, because it's really worth it.
Near the hotel, the construction of the tallest building in Malaysia - Bursa Malaysia - is also going to be one of the tallest buildings in Asia. It is expected to surpass the Petronas towers.
It is currently under construction probably next year or two we will have a new attraction in Kuala Lumpur.
Well, tropical weather, very nice people and unique postcolonial architecture mixed with modern urban district planning, with a decent public transport network made visiting Malaysia and Kuala Lumpur a hobby. I've been there many times. Whether it's weekend getaways or a little longer depending on what was planned.
In addition to Kuala Lumpur itself, there are several other cities and places that are worth visiting in Malaysia. I will only mention the first capital of Malaysia, Malacca, which was and is still a critical point on the shipping chart. The owner of the strait between Sumatra and the Malay Peninsula controls (and earns) freight traffic between China, Europe and India.
I also recommend Johor Bahru, a city at the eastern end of the Malay Peninsula, as it borders Singapore. So being in Johor Bahru you can easily get a taxi to Singapore.
Besides, let's call it, the continental part of the Peninsula, where Malaysia borders Thailand, the other Malaysian territories are located on the island of Borneo. You can get there by plane or ferry and they are still on my list of points to visit in Malaysia.
Visiting Kuala Lumpur is good to agree in a sense with the calendar of events in the city. As I mentioned, it is a Mixture of Culture, a cosmopolitan city inhabited by Malays, Chinese, Indians and other Southeast Asian inhabitants.
The cultural and religious melting pot makes the number of holidays shocking. In Malaysia, all Muslim holidays are celebrated, Buddhism is celebrated, including Dragon Boat races and the most boastfully Chinese New Year. Hindu holidays are celebrated too.
Regardless of the time of year or month, you'll always be able to find one day or weekend where the most beautiful events take place in the city.
I assure you that two or three days in Kuala Lumpur is definitely not enough. If you decide to stay short, the iron points you must see, and about which I will write in separate articles are Batu caves, Petronas towers and park with fountains, Merdeka Square, visit to Petaling Jaya or Chinese street. You must see the city museum and the nearby Sultan's Palace. Using the Hop-in / Hop-off bus route, you can immediately drive to the bird park and the TV tower. The Sri Mahamariamman Shrine and Masjid Jamek Mosque will complete the program on an evening stroll in the vicinity of the hotel.
In my opinion this is the basic tourist set in Kuala Lumpur and you need two or even three days for it.
Kuala Lumpur will welcome you with heat, sometimes a storm, regardless of the season.
The unique blaze of smells emanating from every corner of the street, plenty of street bars and small restaurants will allow you to get acquainted with all types of Malay, Indonesian, Chinese or Indian cuisine. All this is within your reach when walking and walking around the city.
Terima kasih Kuala Lumpur!