Hello Folks ✌️
I hope that, encouraged by my invitation, you are just starting to read this article ...
Half of the summer is behind us, at least in Europe. In Asia, the rainy season, although unusual, will slowly end.
I must admit that this year summer is unusual. The spring wave of infections and the partial closure of Saigon has barely ended, giving us about three months of breathing, and we already have another.
The number of infections with the virus, the Delta version, which you know is more infectious but reportedly less harmful, is growing. It is not dramatic yet, but this time the authorities took the situation quite seriously. For three weeks we have been completely locked in houses with the option of going out only to do shopping. For several days we also have a curfew from 6pm to 6am and limited shopping trips to three days a week.
Each neighborhood in the district has different days of the week and different times throughout the week. In this way, local authorities are trying to limit the number of people in stores. We'll see what comes out soon. The situation looks quite serious as indicated by the number of ambulances passing by my house. Previously, it was one and today it is a dozen or so a day, bringing people with confirmed virus infections to a nearby quarantine center.
As I mentioned, we had several months of relative peace and freedom to travel around Việt Nam. Thanks to this, I was able to jump from Sài Gòn a bit north, to Mũi Né which is about 140 km away, for a short break.
I decided to share my impressions from this stay with you today.
Mũi Né in the province of Phan Thiết, is known for its nice beaches, although not as beautiful as in Đà Nẵng. In addition, in the area, there are beautiful dunes and even a piece of desert that are worth seeing and taking advantage of the sand sledges. If I add to it a very nice Pagoda and the picturesque Fairy Stream, which you can walk to the Angel's waterfall and the ruins of the Cham temples, you understand ... you have to see it.
It was mainly the Fairy Stream, Angel's Waterfall and the Cham temples that dominated the trip to this place.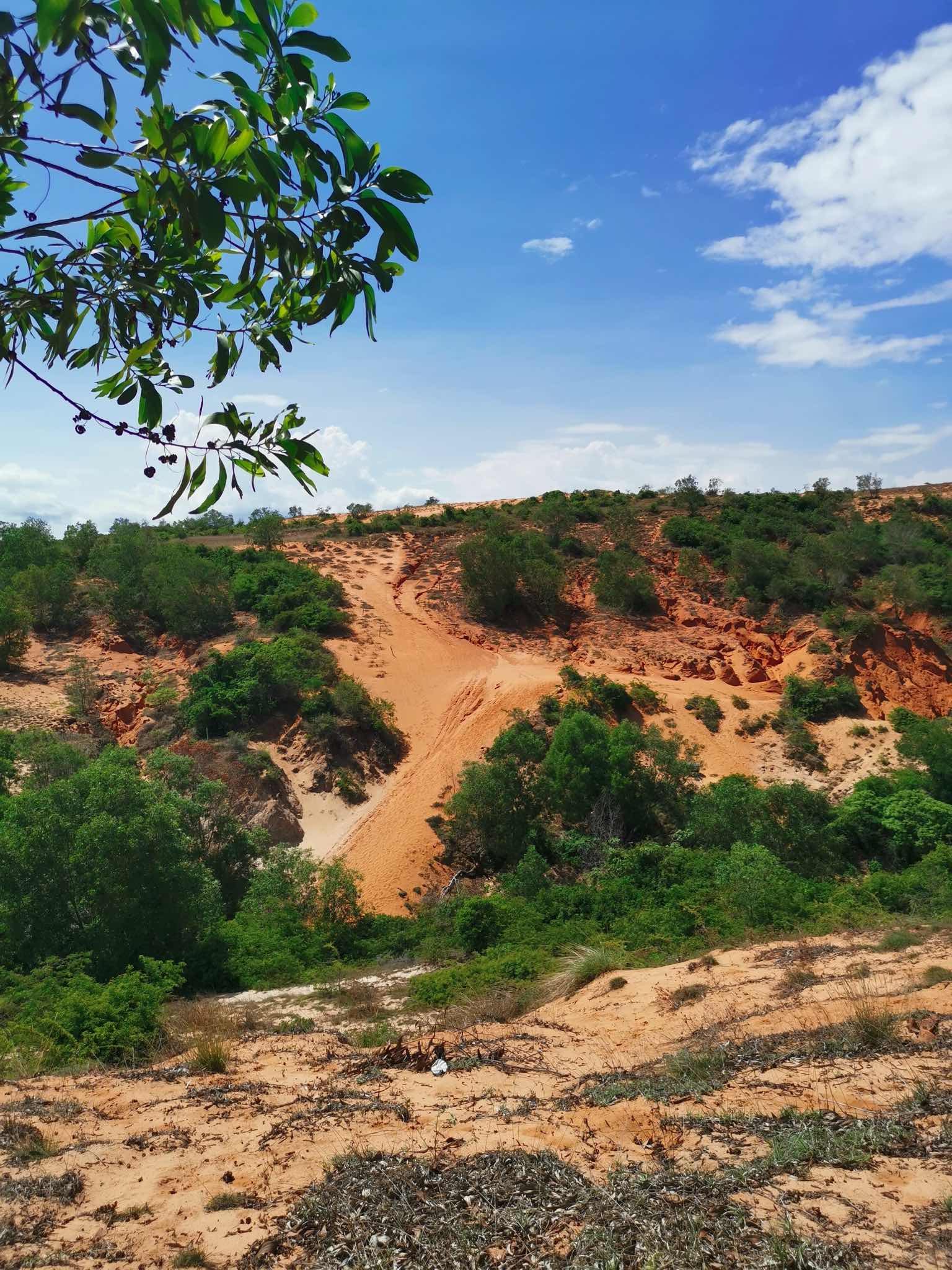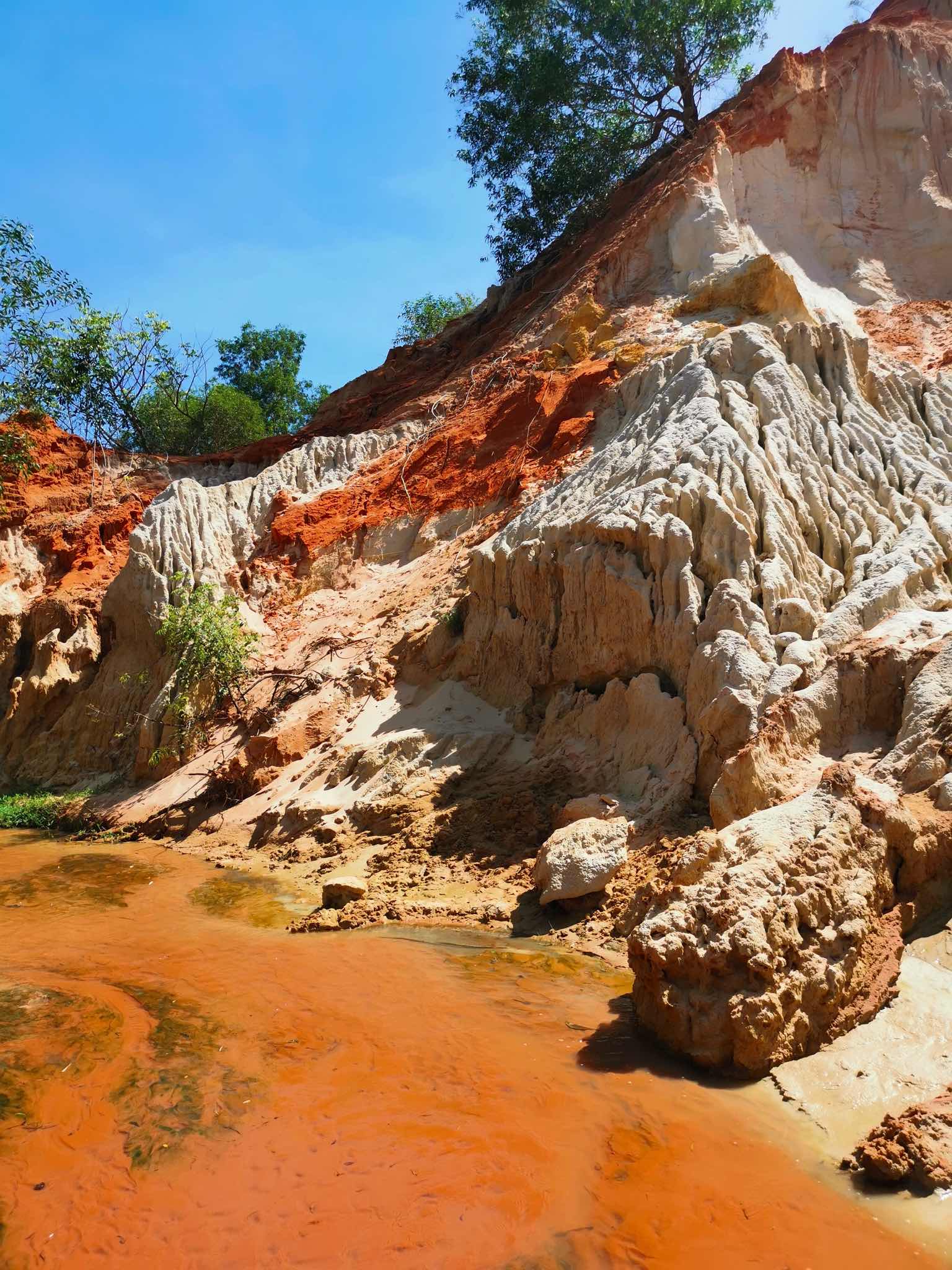 Bus - sleeper?
Reaching Mũi Né poses virtually no problem. This town is about 140 km away from Sài Gòn and very well connected thanks to the running buses.
Allow me to pause for a moment on the directions. It is worth saying in a few words about a very interesting solution used by FUTA, which supports bus traffic throughout Việt Nam. It is one of many, but I liked the service they offer so much that I choose them as soon as I can.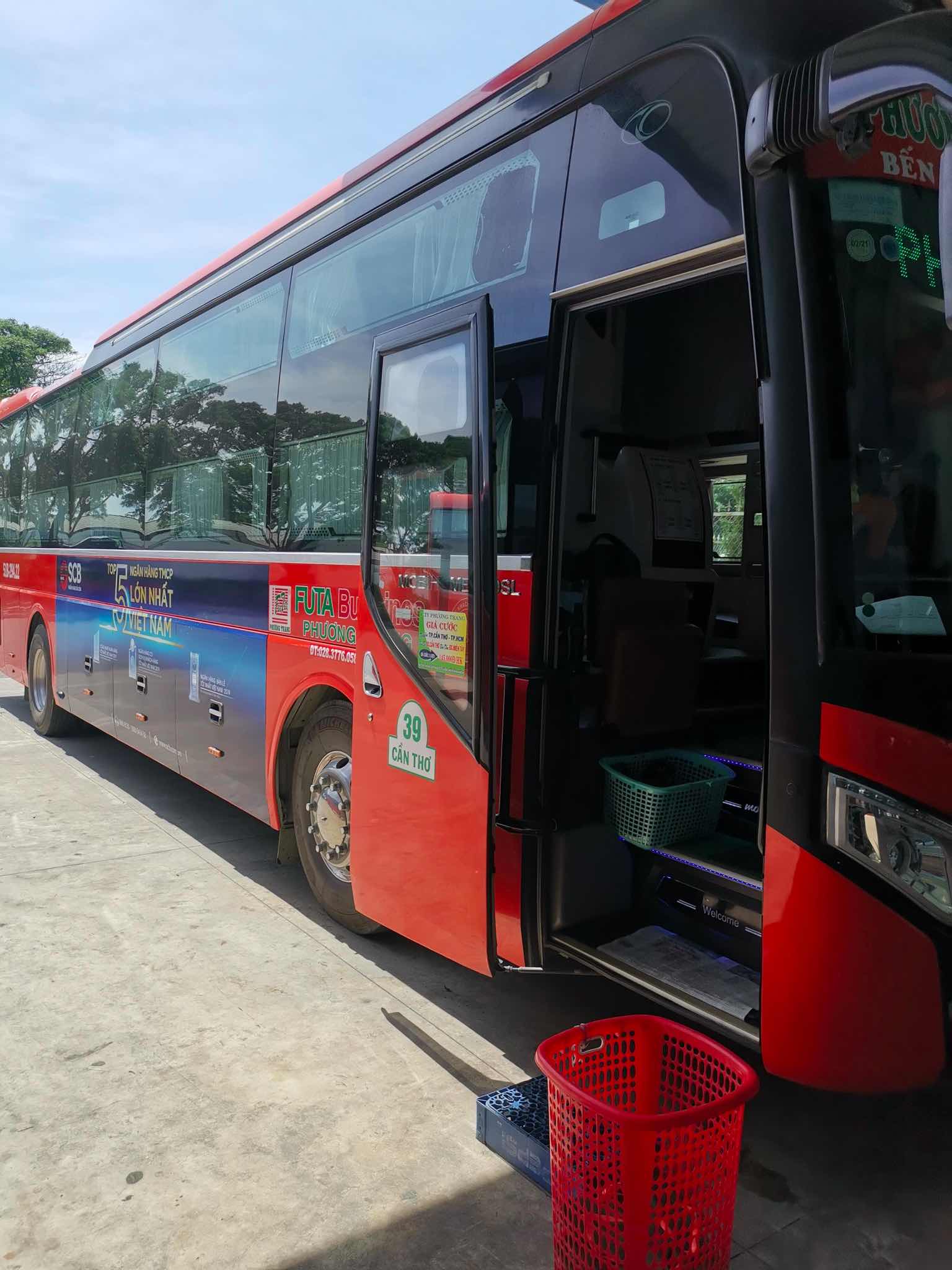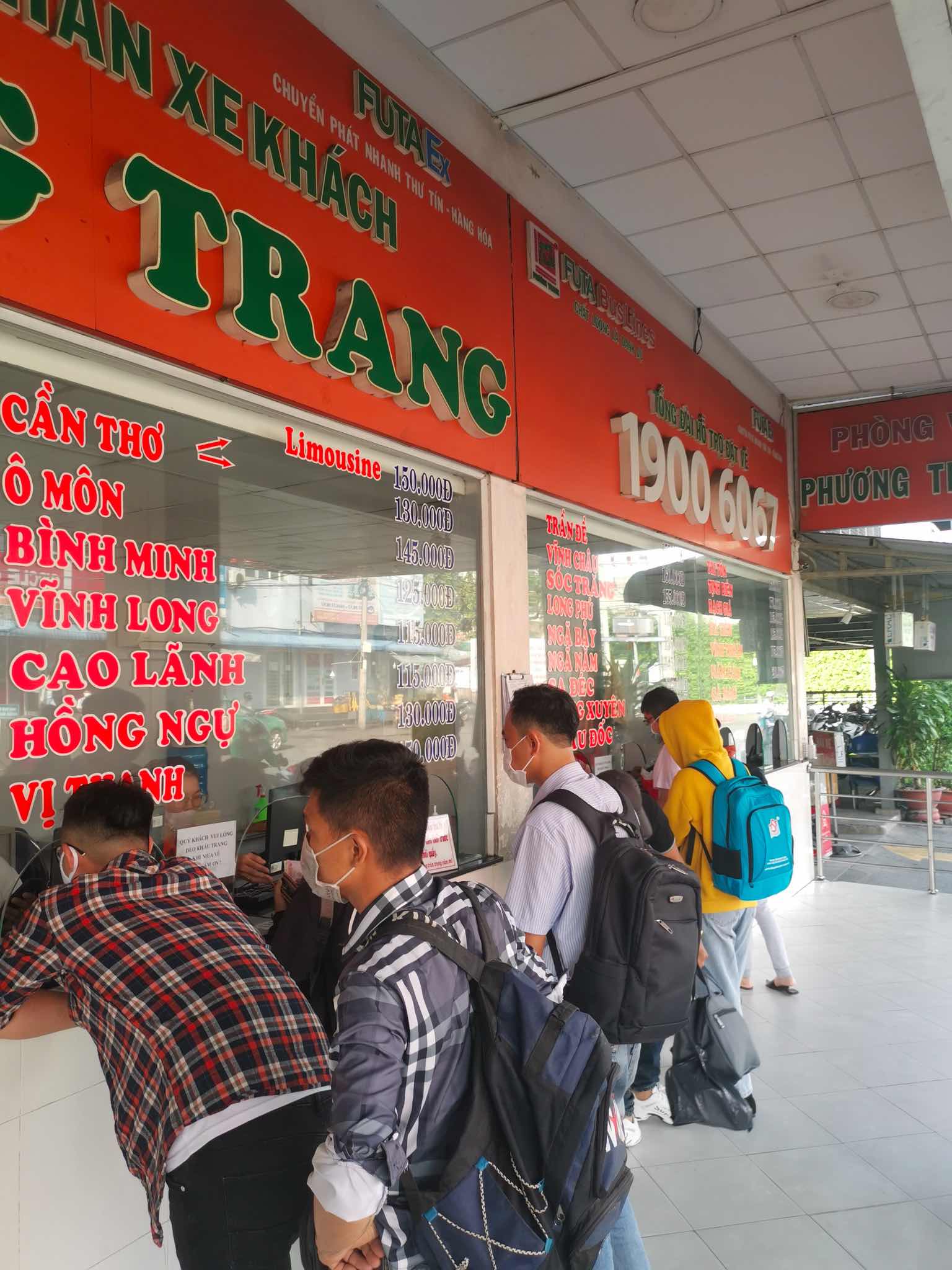 Sleeper...
What distinguishes this company and why would I want to draw your attention to it?
Firstly, these lines run on the basis of a fleet of sleeper buses. It is a very comfortable solution. When buying a ticket, you keep a lying place, a bit reminiscent of a railways couchette, but with a higher comfort. Thanks to this, even a journey lasting several hours is not a big problem.
The buses have a characteristic red color, they offer 40 lying places in 3 rows. I recommend A10 or 11 seat - it doesn't shake that much on rough Vietnamese roads.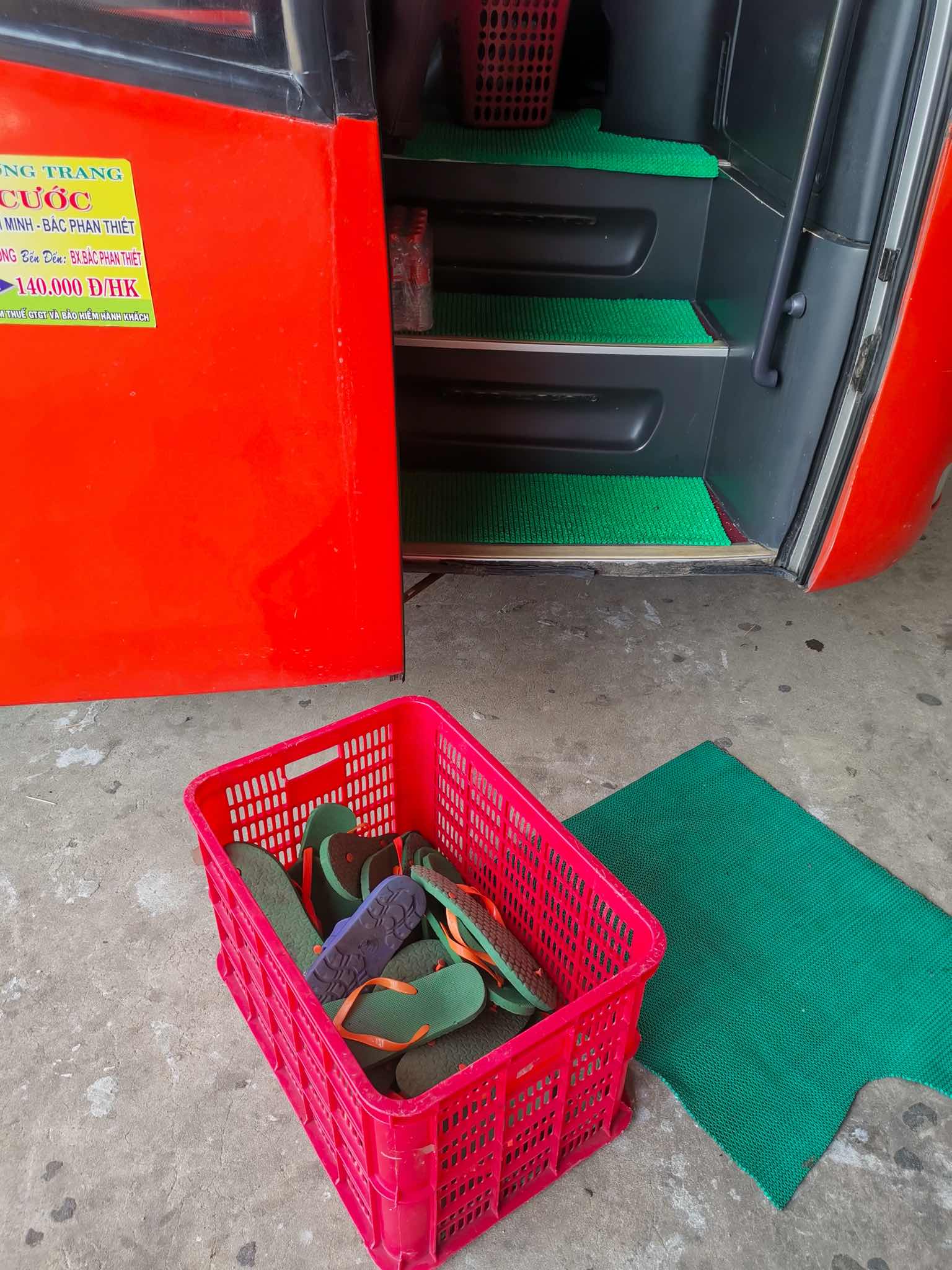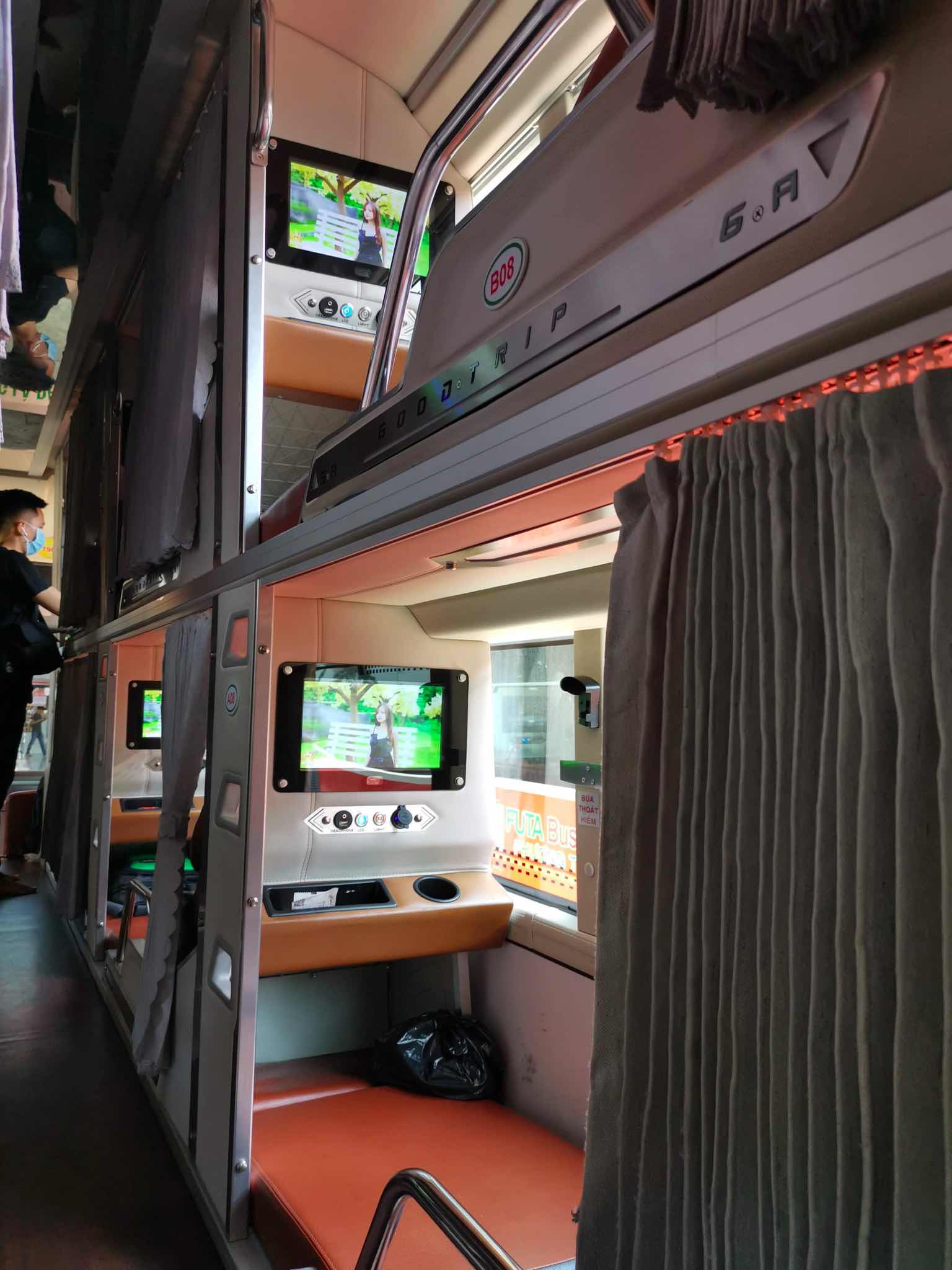 Service "prima sort"... 
The couches have a pillow, a blanket and are equipped with USB sockets for powering phones. The passenger receives a bottle of water and the luggage is placed in the luggage compartment. Each bag receives a traveler ID, so it's easy to pick up your luggage later.
When I left Sài Gòn, I used this line. The bus station is big but easy to get around.
Tickets can be purchased in the application on phones by paying with a credit card. The only snag is that you must replace such a ticket bought online at the cash register for a paper one. Here, mobile solutions are not in common use yet. Interestingly, when getting on the bus at one of the numerous stops along the way, just show the ticket in the application. It is good to be at the bus station at least  30 minutes before the bus departs. Mainly in order to be able to perform the ticket exchange operation. It takes a few minutes and there are no space lines. The bus is provided about 10 minutes before departure. The platforms and buses are very well marked, they have a board or a display showing the destination place. What's more, there is also a printed vehicle license plate on the ticket, so you can easily identify your bus, even though the announcements are only in the local language.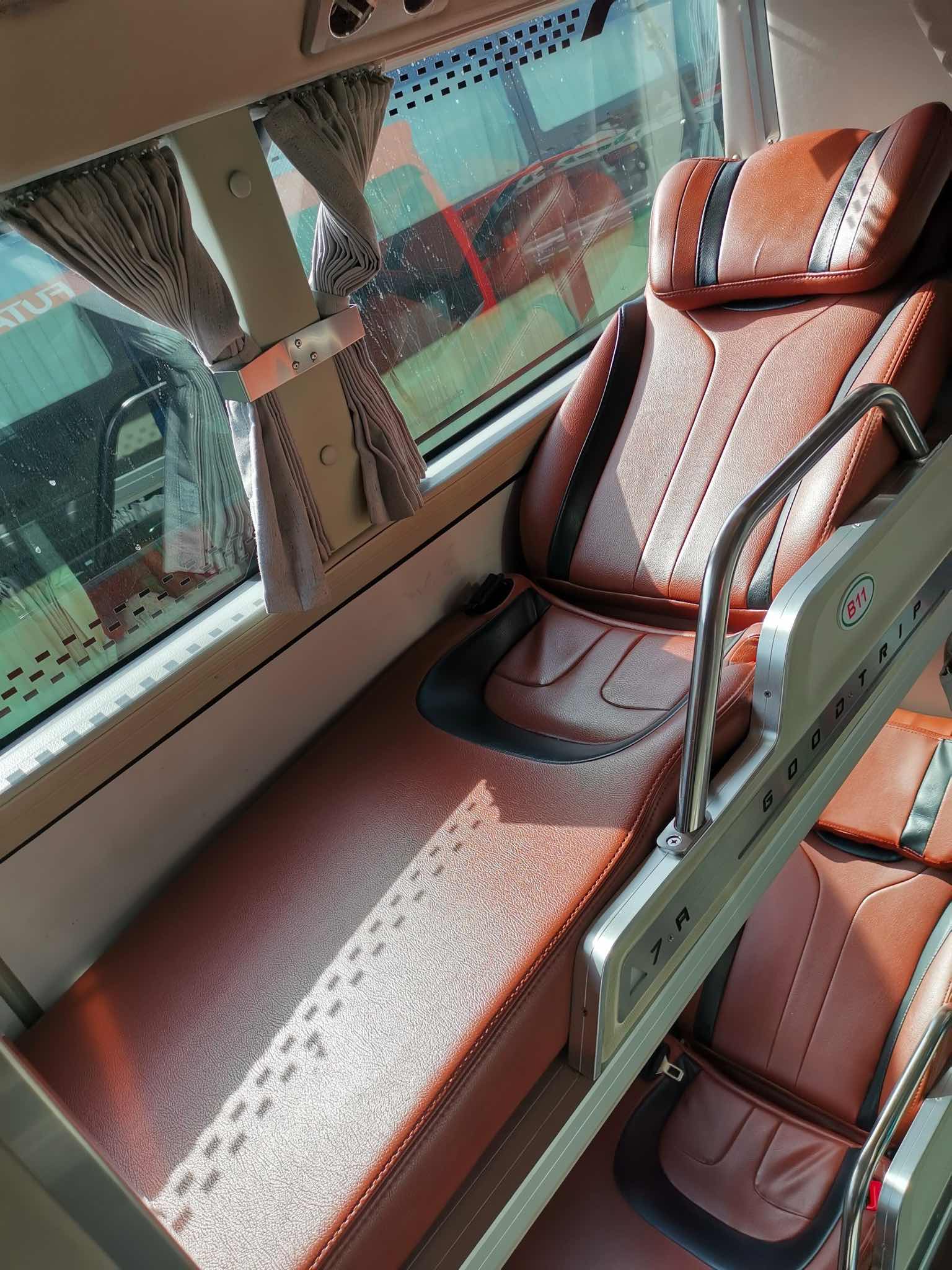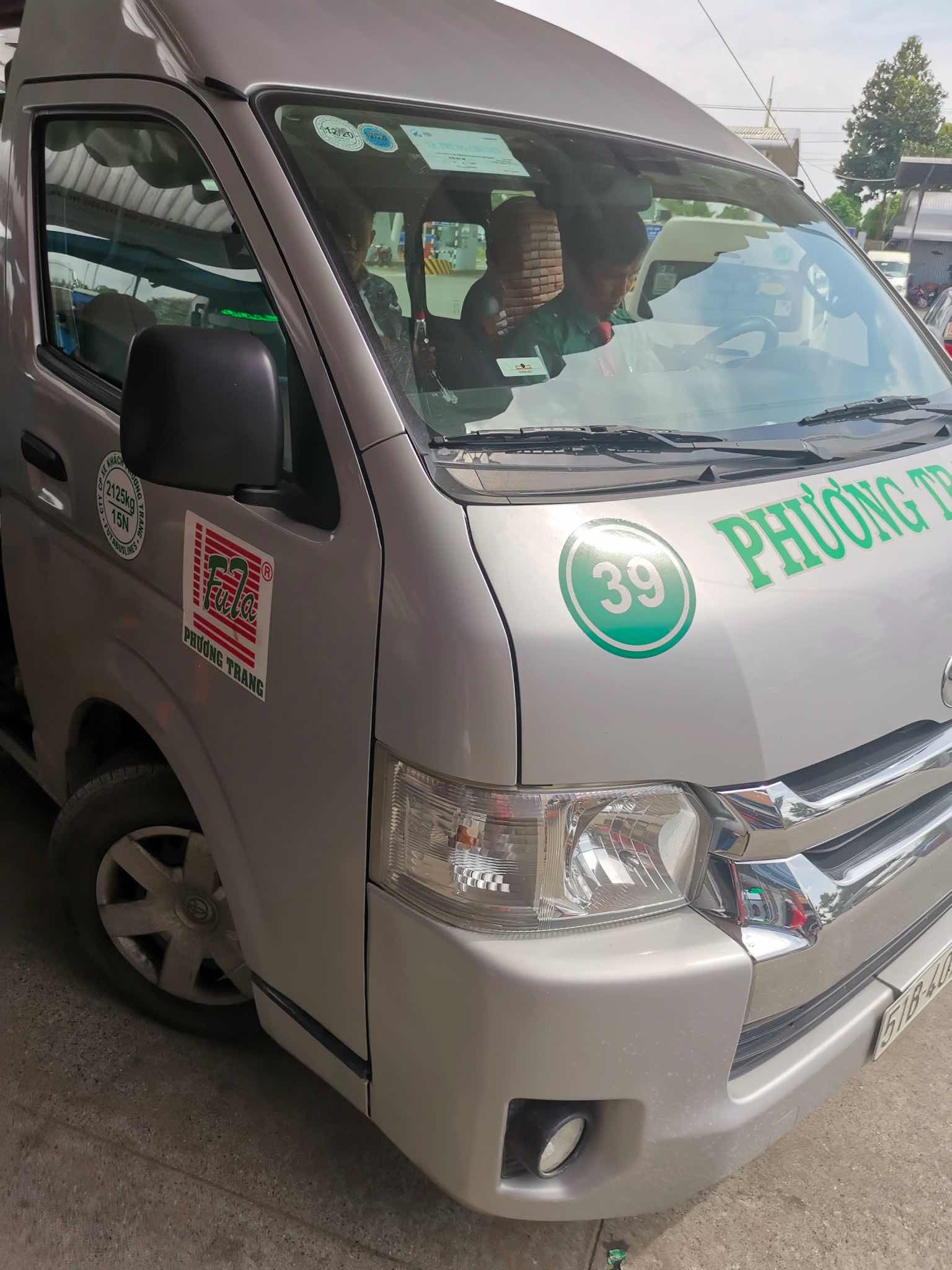 I got to the seaside...
An interesting fact about the FUTA service is that at the destination stops, a small bus is waiting for passengers, which will take travellers to their home addresses. Brilliantly simple and very comfortable. The advantage of these buses is also that in holiday villages you can ask the driver to stop the bus right in front of the gate of your holiday resort.
I did just that. There was no problem. Personally, I was very pleased.
Anyway, I already used this bus line for my trip to Cần Thơ, which you can read about in this article.
The journey took 5 hours, we had two stops along the way in travelers' rest centers where you could eat, drink coffee and use the toilet. An interesting fact is that you have to take off your shoes when entering the bus. You get a bag for your shoes and put it in a niche next to your place. During the stop, however, you get "service" slippers.
The whole trip was easy and fun.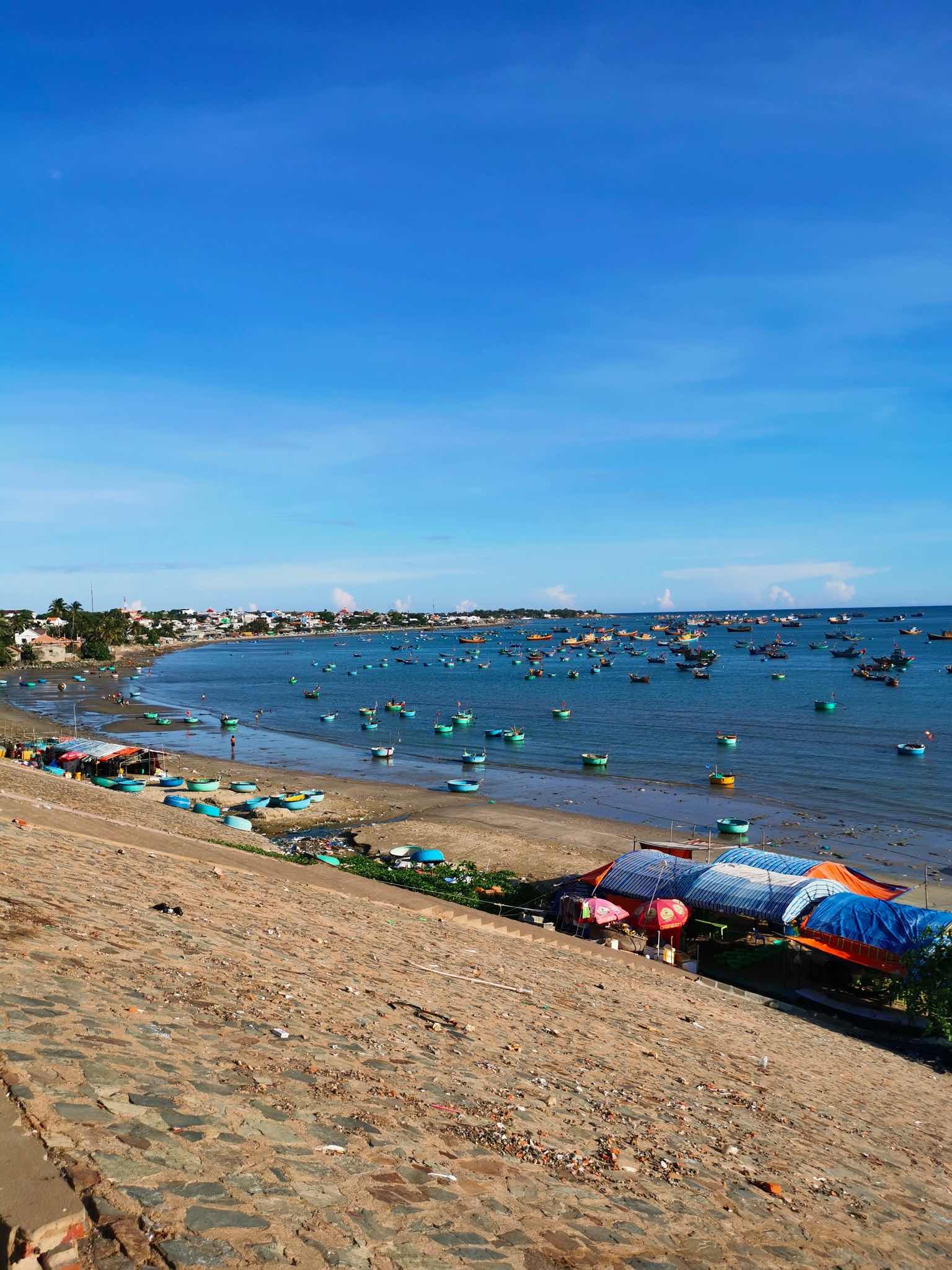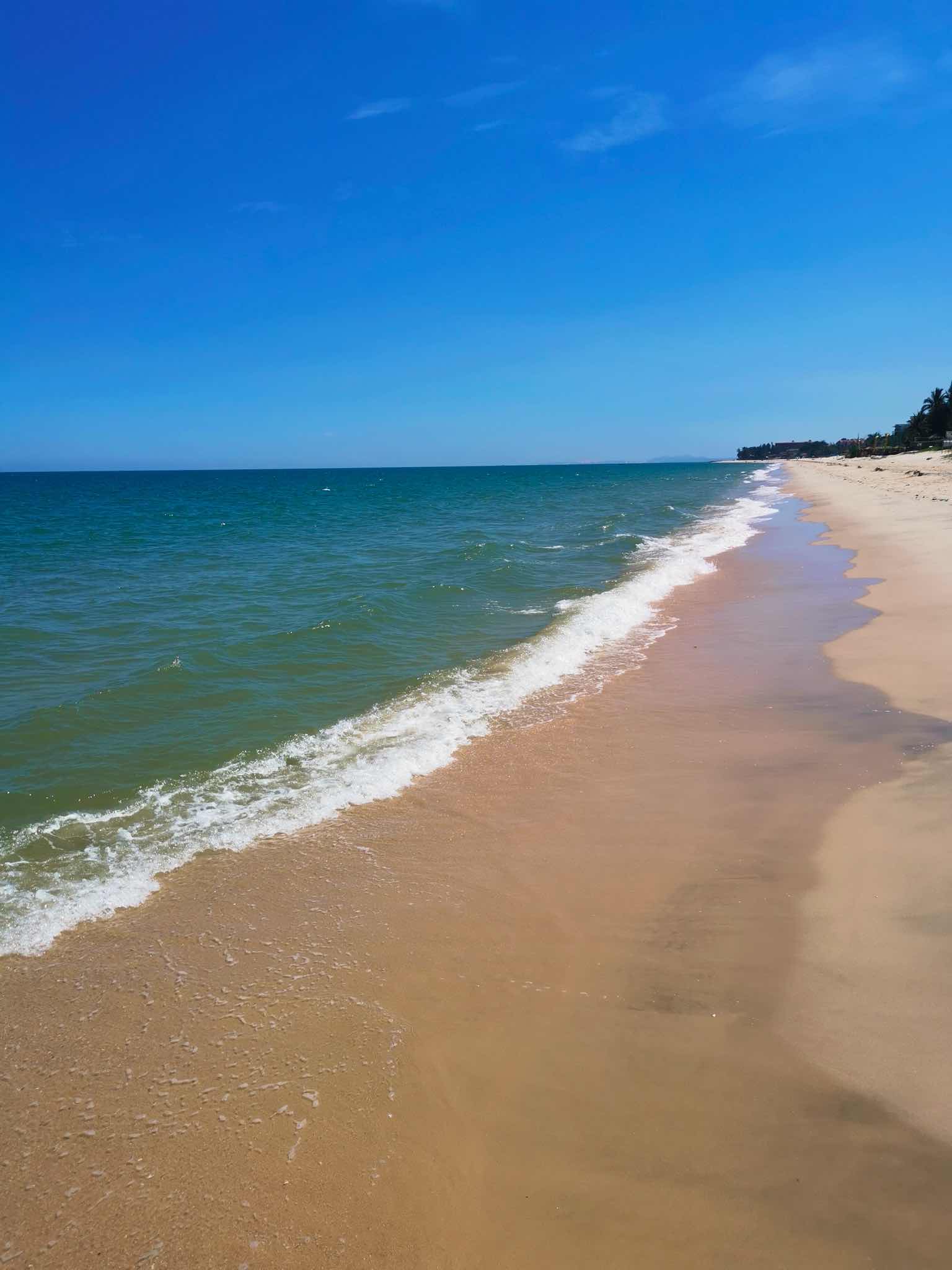 Mũi Né
I chose Ananda Resort, which is a bit further from the city center. The bus driver allowed me to get off right in front of the center.
Mũi Né itself resembles our Polish coast from Mrzeżyno to Wolin. Endless seafront with resorts, B & Bs and small hotels. Everyone will find something for himself.
The resort itself offers bungalows, some of which are directly on the beach, others a little deeper into the entire area. Everything is very well maintained. Vegetation, alleys and houses.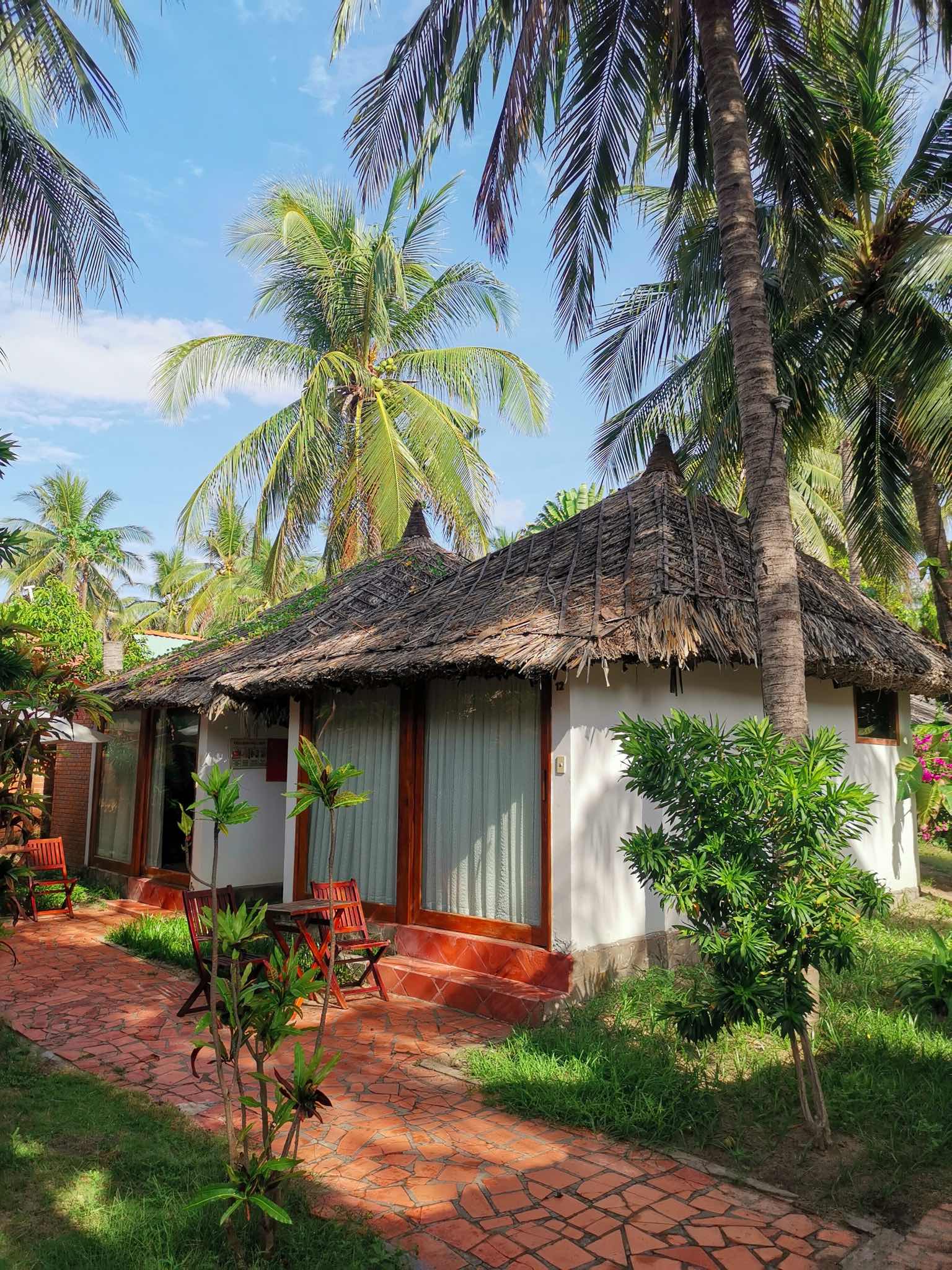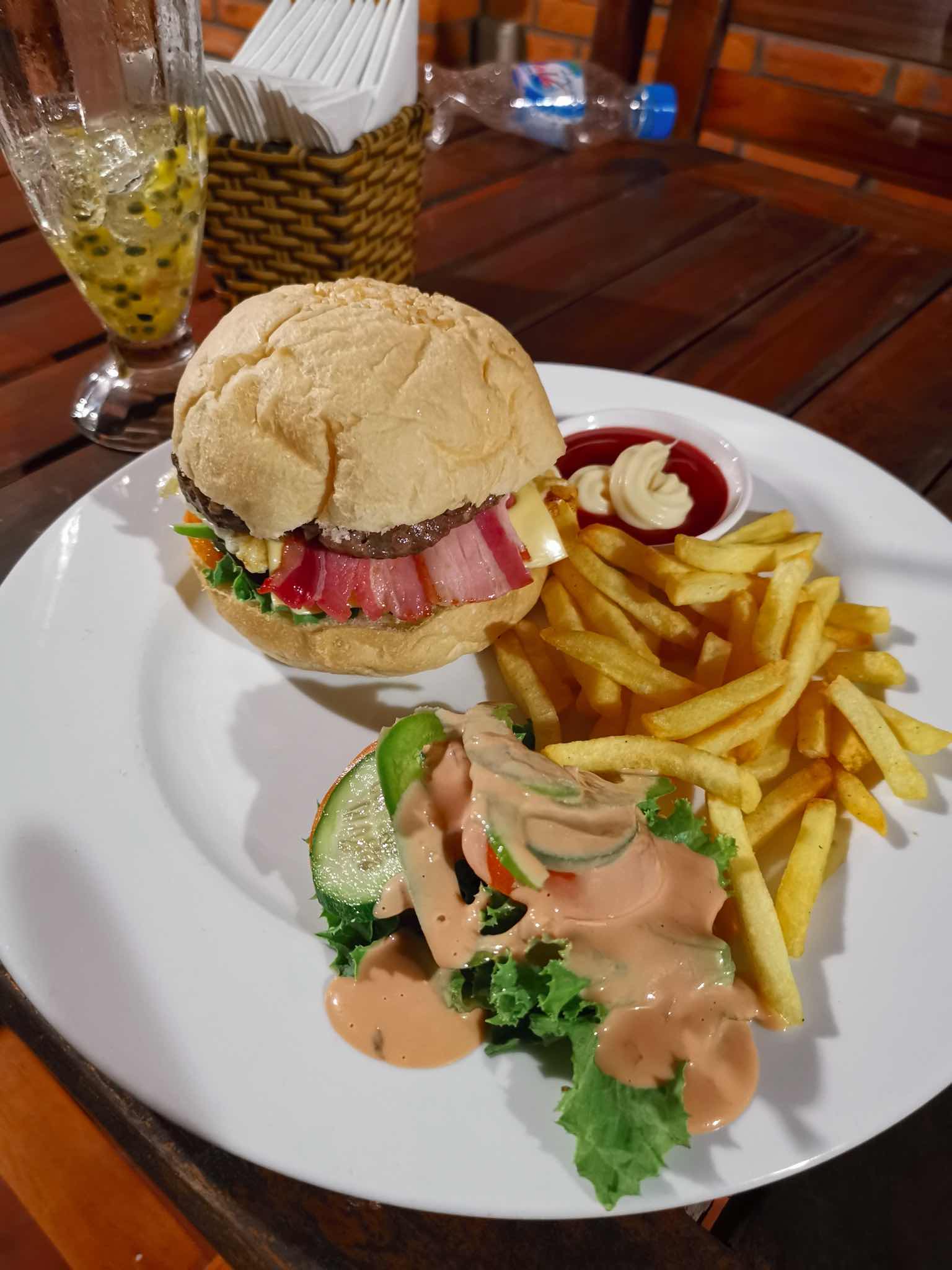 I made the booking via booking.com. The price of the stay is VND 860,000 per night. The entire 3-day stay cost me about $ 115.
There is a direct access to the beach from either the bar or the swimming pool - this resort also has a swimming pool.
I recommend dining on the spot. There are some restaurants and bars around, but most of them are closed due to the pandemic. The prices are the same as in the city and the kitchen offers a very wide menu. On top of that, everything is fresh and made to order. I also recommend juices. They are squeezed from fresh fruit at the bar. In my opinion, it is worth dining on the spot.
You can also order a motorcycle for 160,000 VND per day. Thanks to this, you can be mobile and explore the area a bit.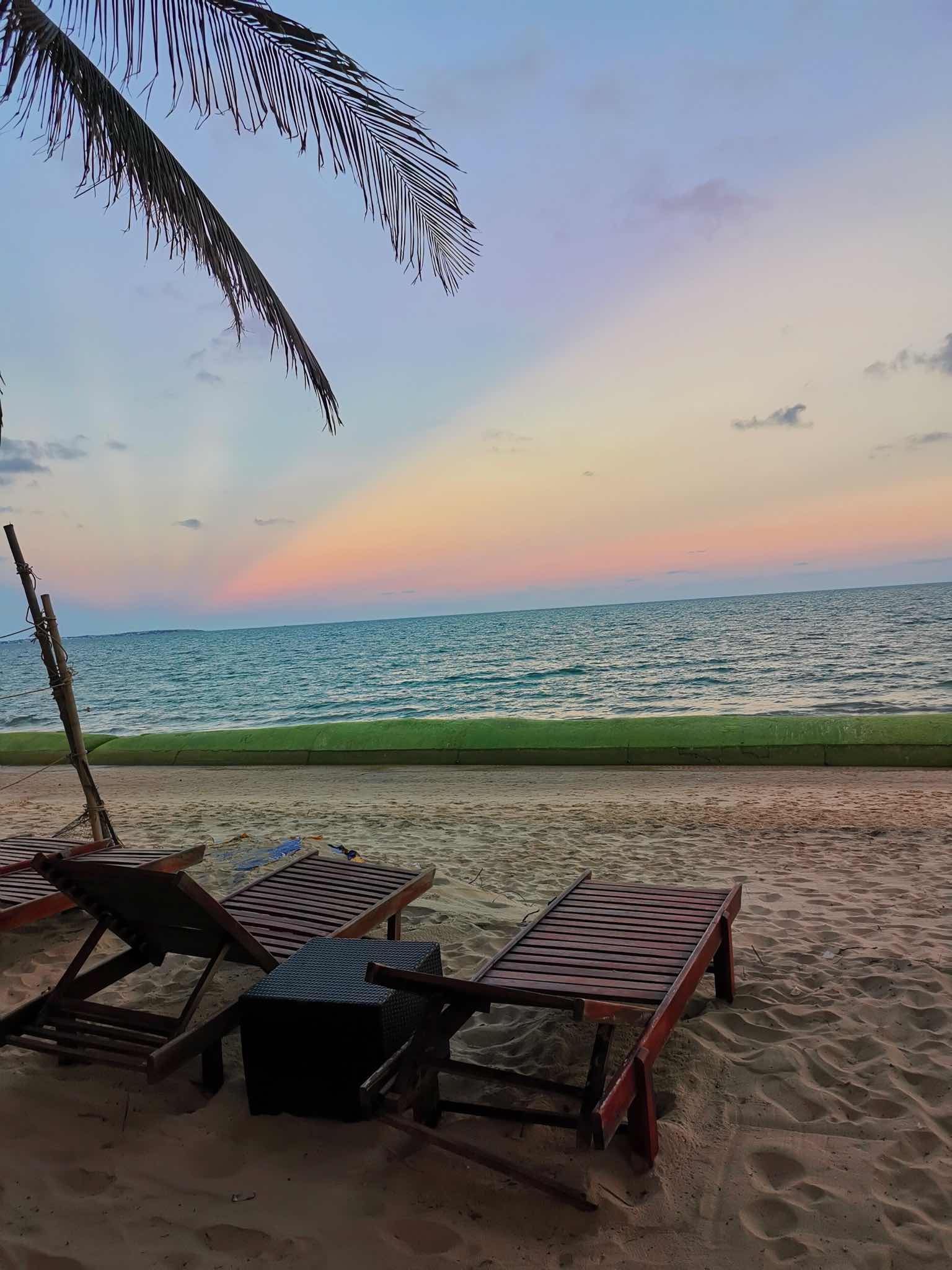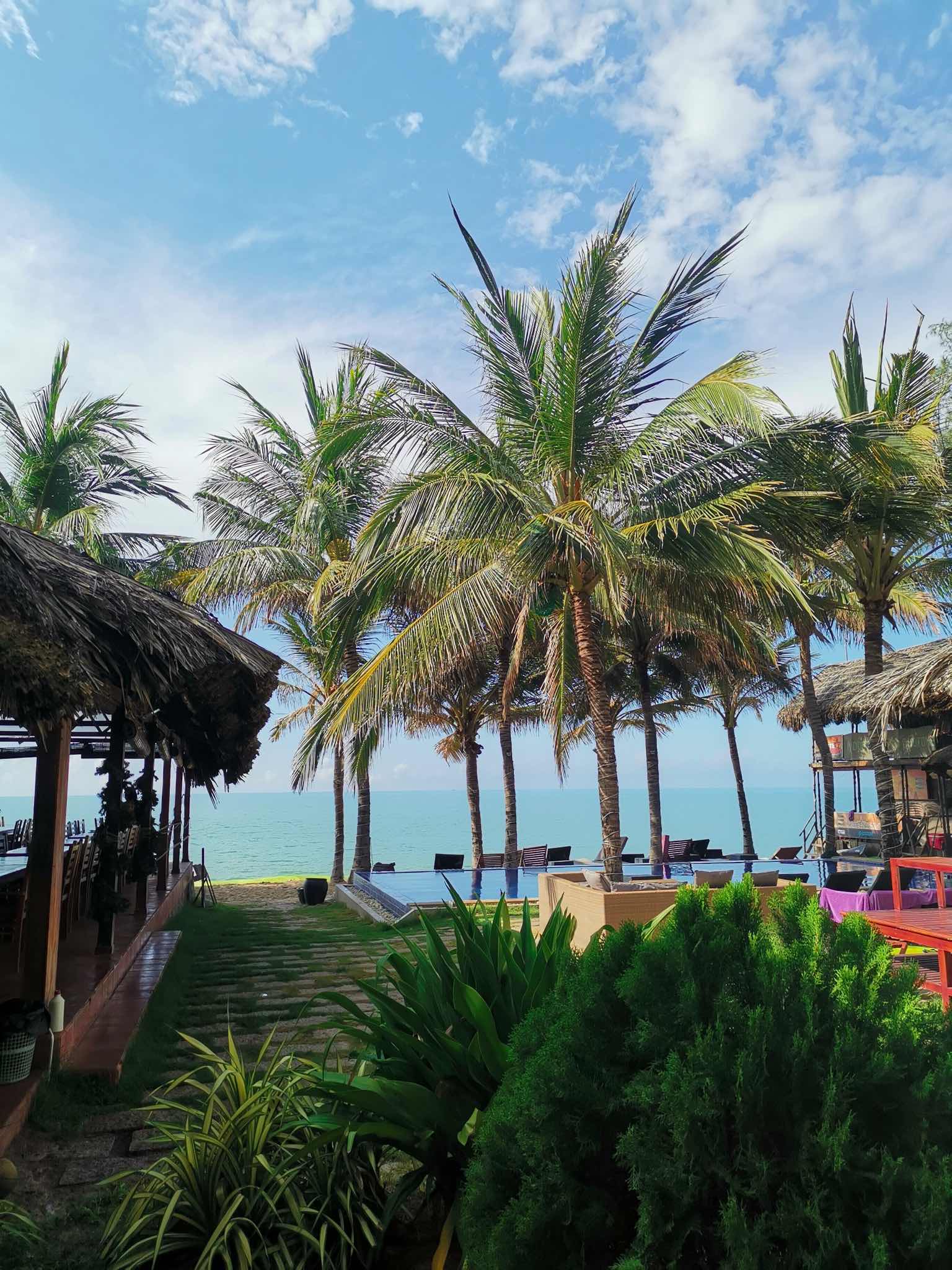 Interestingly, there are a lot of businesses in the area that are run by Russians, and those run by the Vietnamese are focused on serving tourists from Russia. Therefore, Russian is common there. Menus and signs at the centers are often in Russian. If you know Russian, this is a very good place to stay.
Encouraged by my friends, I got there thanks to FUTA buses, rented a motorbike and lived in a beautiful bungalow. I used the restaurant, the swimming pool and the very warm sea, burning a bit in the sun. You really have to be careful. Half an hour of exposure to the sun will basically burn you lightly unless you have anti-sun cream.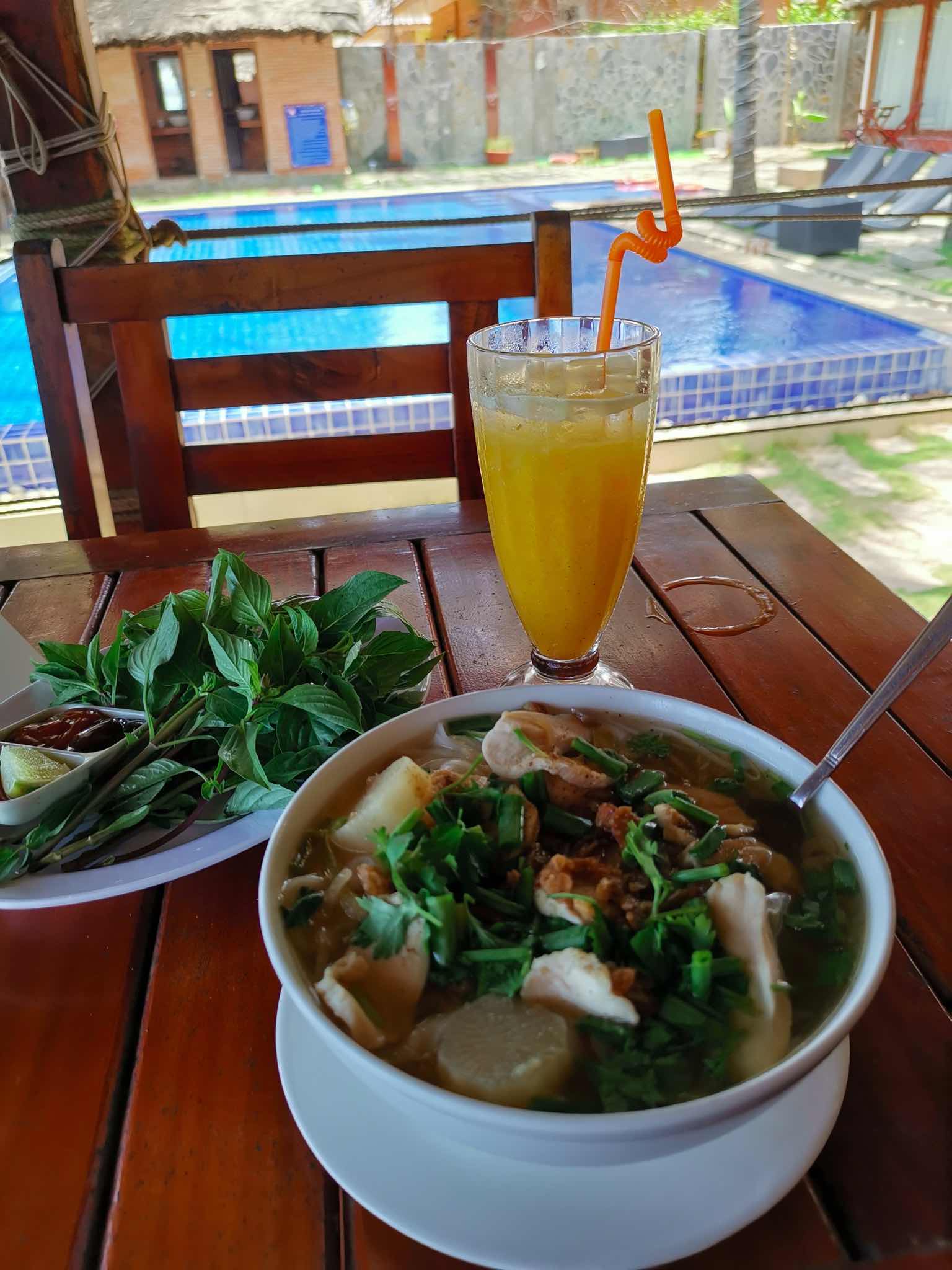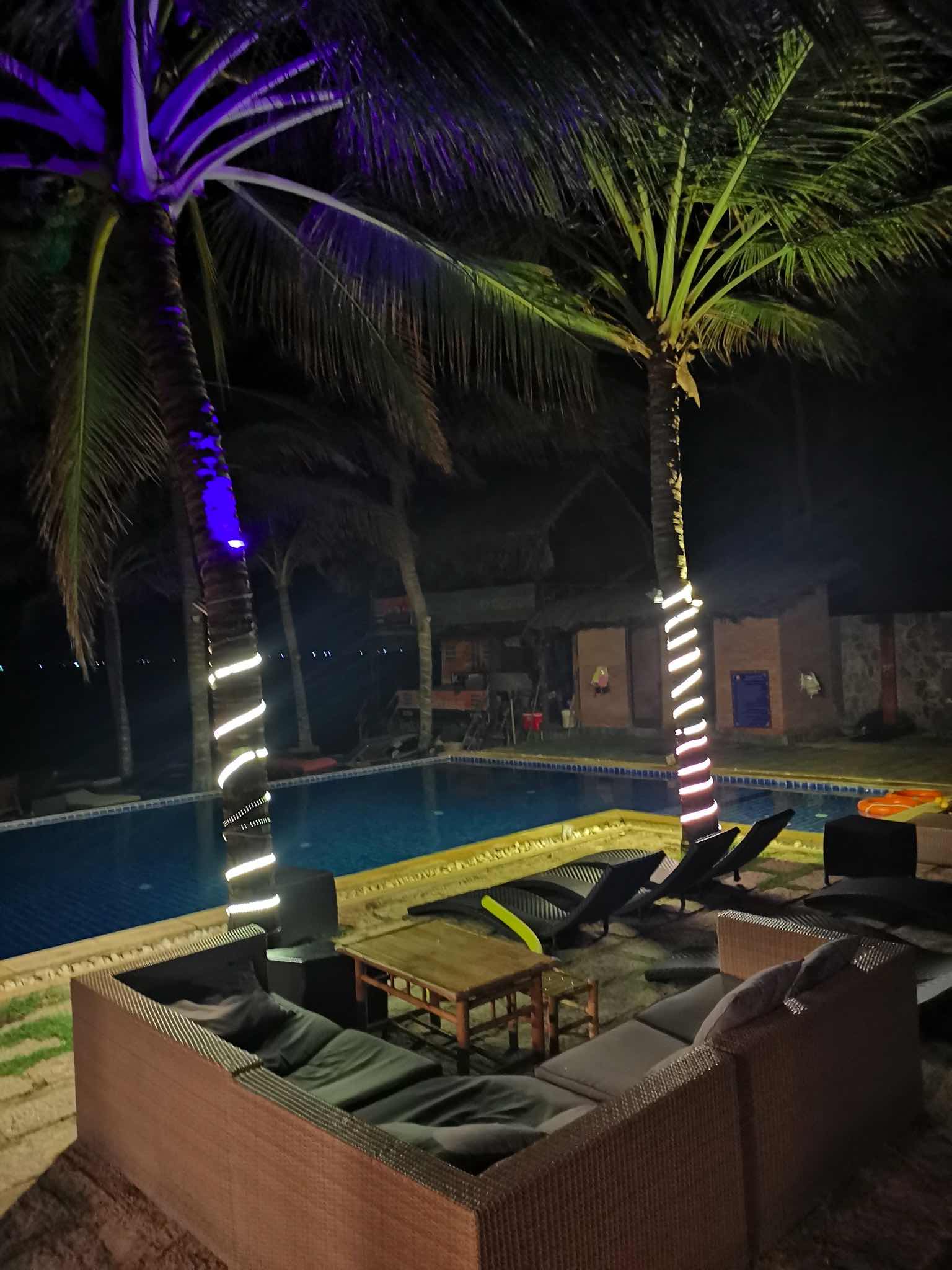 "Red Canyon" - Fairy Stream
As I mentioned at the beginning, there are several attractions in Mũi Né. I was primarily interested in the attractions of the Fairy Stream and Angel's Waterfall. I will return to the Chama temples in a separate article.
What is this canyon and waterfall about?
I leave the resort on a motorbike. You have to turn right, then walk about 3 km along Nguyễn Đình Chiểu Street, turn left into Hồ Quang Cảnh, then right into Đường Võ Nguyên Giáp and after approx. 10 minutes drive, you will see advertisements encouraging you to visit the gorge that you can see on the on your right side. Turn right again onto a side road that seems to lead nowhere. It is a straight path made of concrete slabs. If not for roadside advertisements, I would consider it a road on a construction site.
As you drive on, on your right you will see a range of hills and the reddish slope of the gorge. It seems quite large.
It is this ravine that hides a small river, or rather a brook, and this is where we are going now.
The red gorge looks majestic from a distance. You have to go down one of the streets leading to the bottom of the ravine. The slope of the terrain is quite significant, so if you are not experienced in driving a scooter, be careful because you can get a bit rough. When you go downstairs, you come across the area of ​​local residents who run numerous businesses here focused on servicing tourists. They run small restaurants or bars and earn a living. We can park our motorcycle here and we see a brook.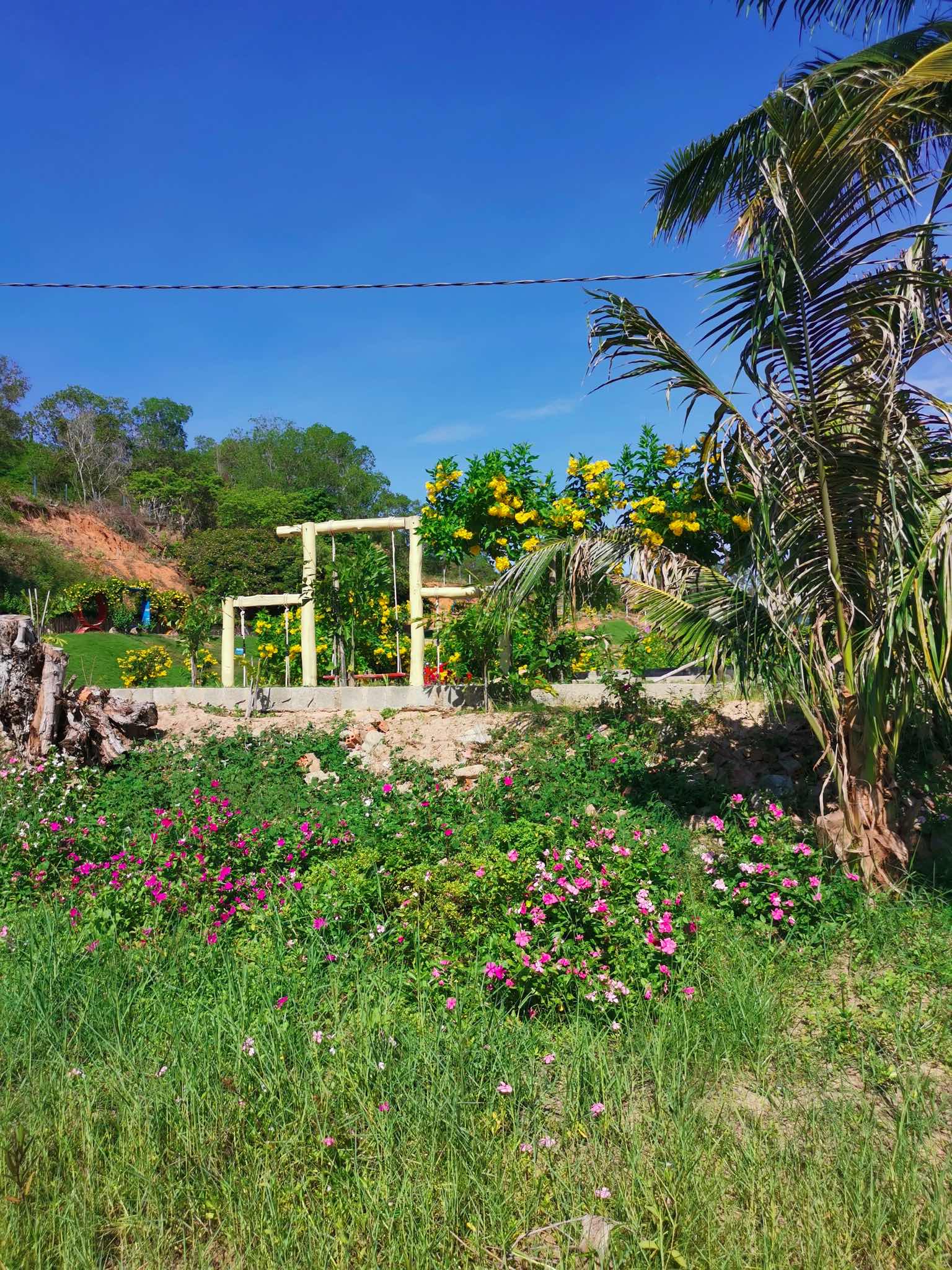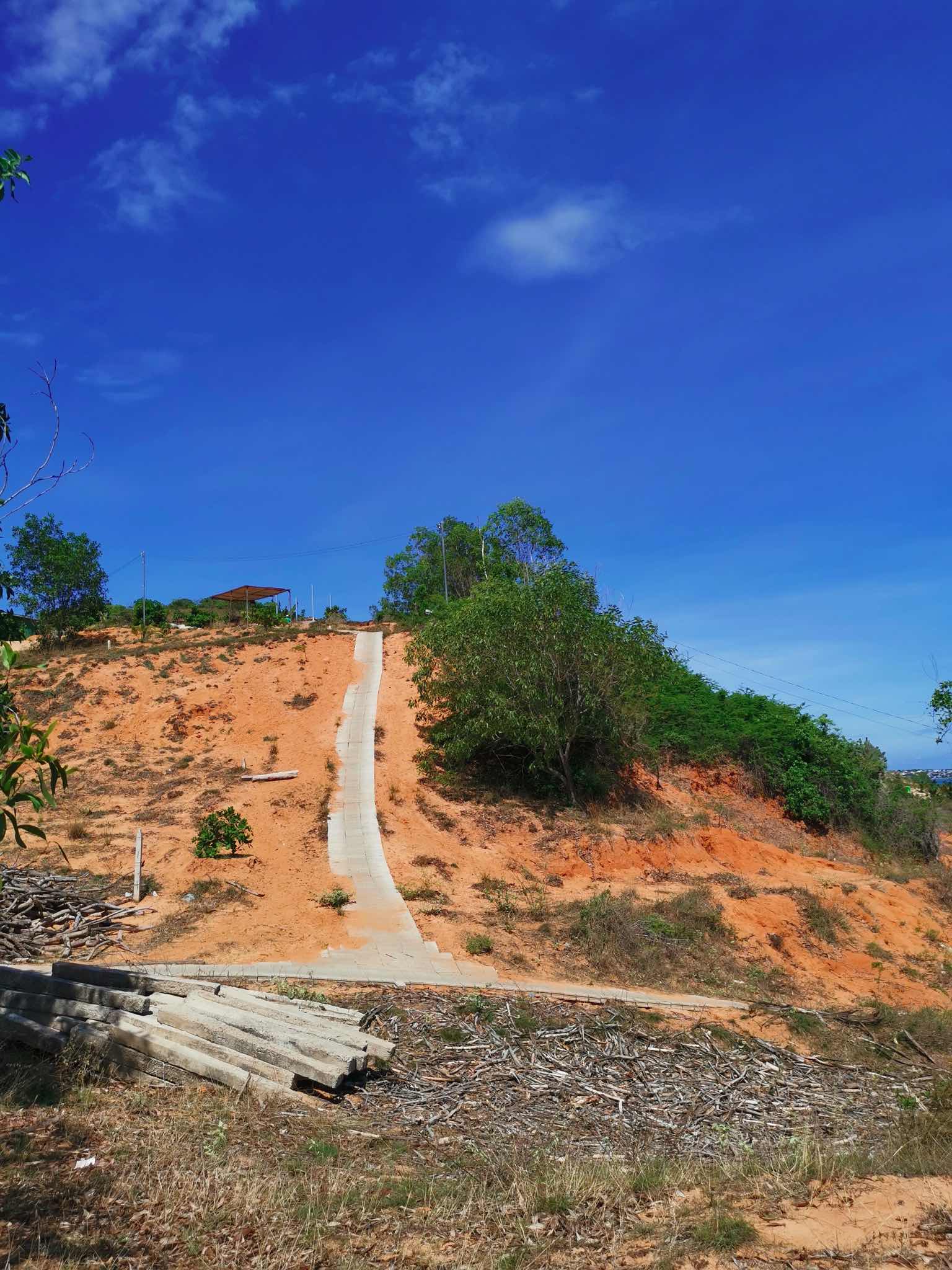 We are at the very bottom of the gorge.
The brook that flows lazily here creates a small waterfall. We take off our shoes and enter a stream which is 1 to 3 meters wide. It is very shallow at most runs, barely covering your ankles. The water is extremely warm, the bottom very pleasant. Hard but velvety in perception through the skin of the feet. It is an extremely pleasant walk. Most of the ravine is shaded by trees and the walk is very pleasant.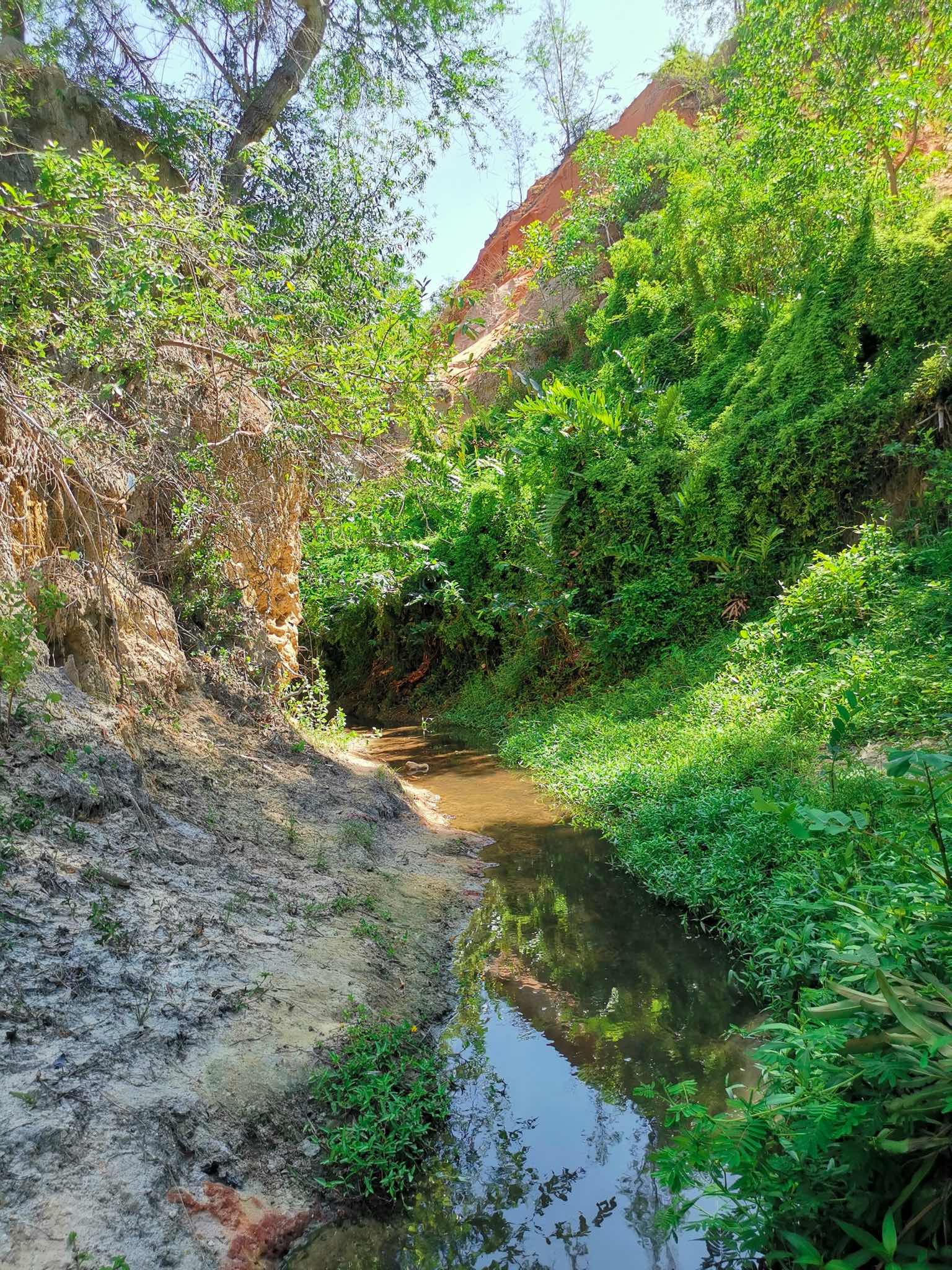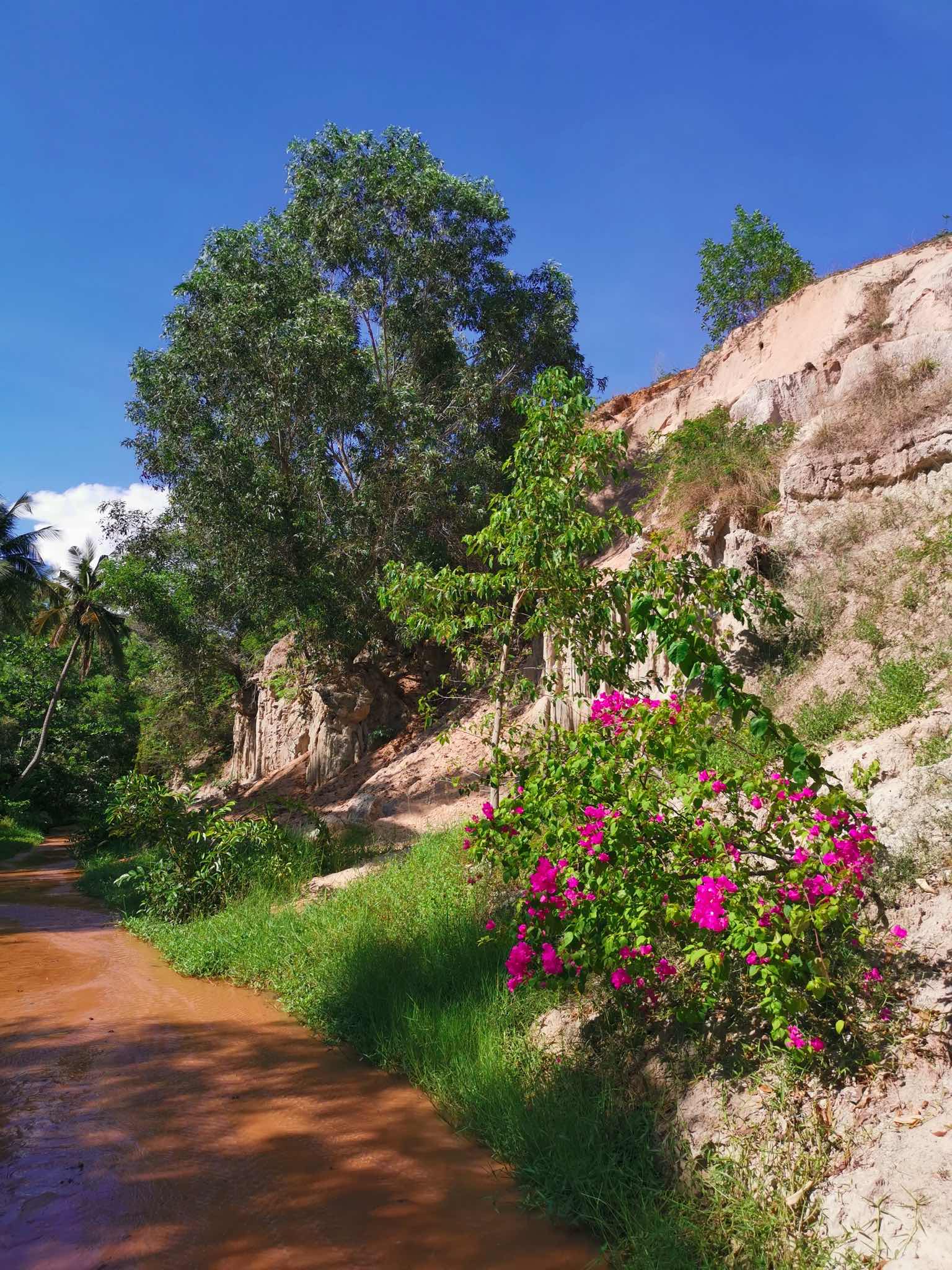 You can go both sides of the gorge from anywhere. You will either reach the beginning of the ravine or its end, where the Angel's waterfall is located.
Just walking with your legs immersed in warm, calmly flowing water is a pleasure. But the views you see there are fantastic.
Anyway, see the photos.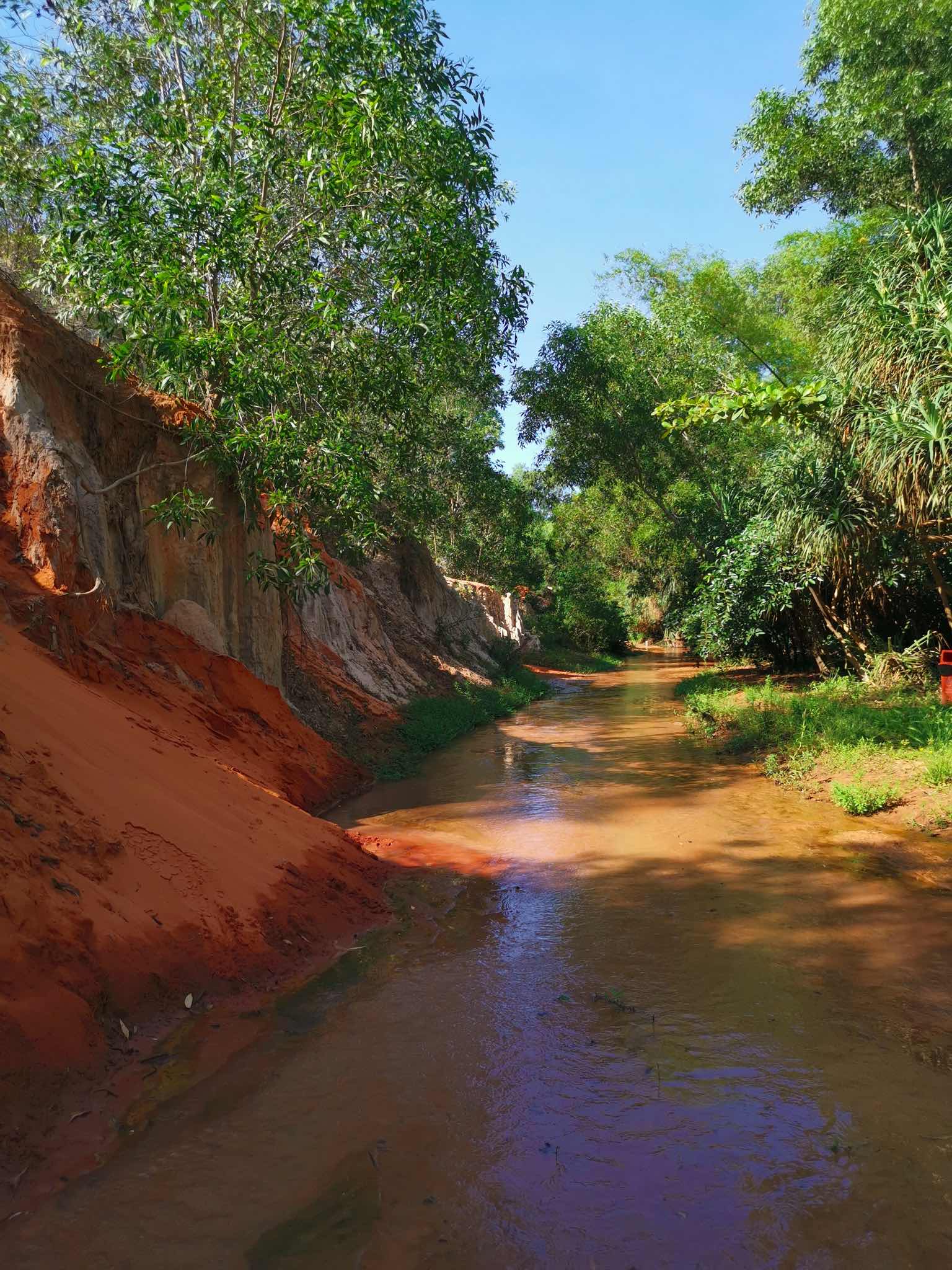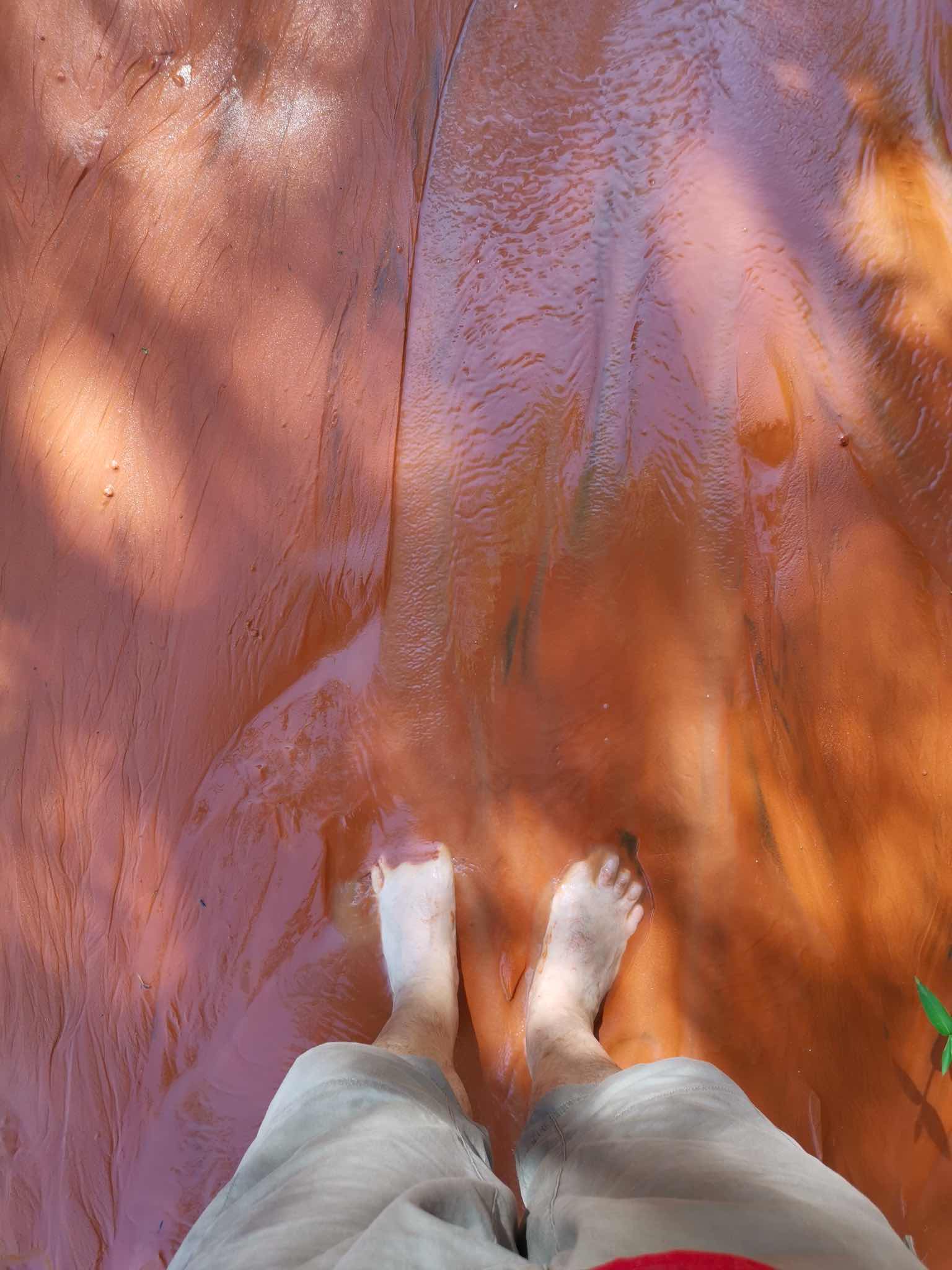 The color of the ravine's soil ranges from straw, almost white, to blood red. It has organic infiltrates. The sides of the canyon are wonderfully carved by the water. The limestone rocks appear to you from behind the bend in ever different colors. It all makes the landscape around you fabulously colorful. Add to this juicy, contrasting tropical green, fiery red of the earth and rocks and we will get a fairy-tale landscape.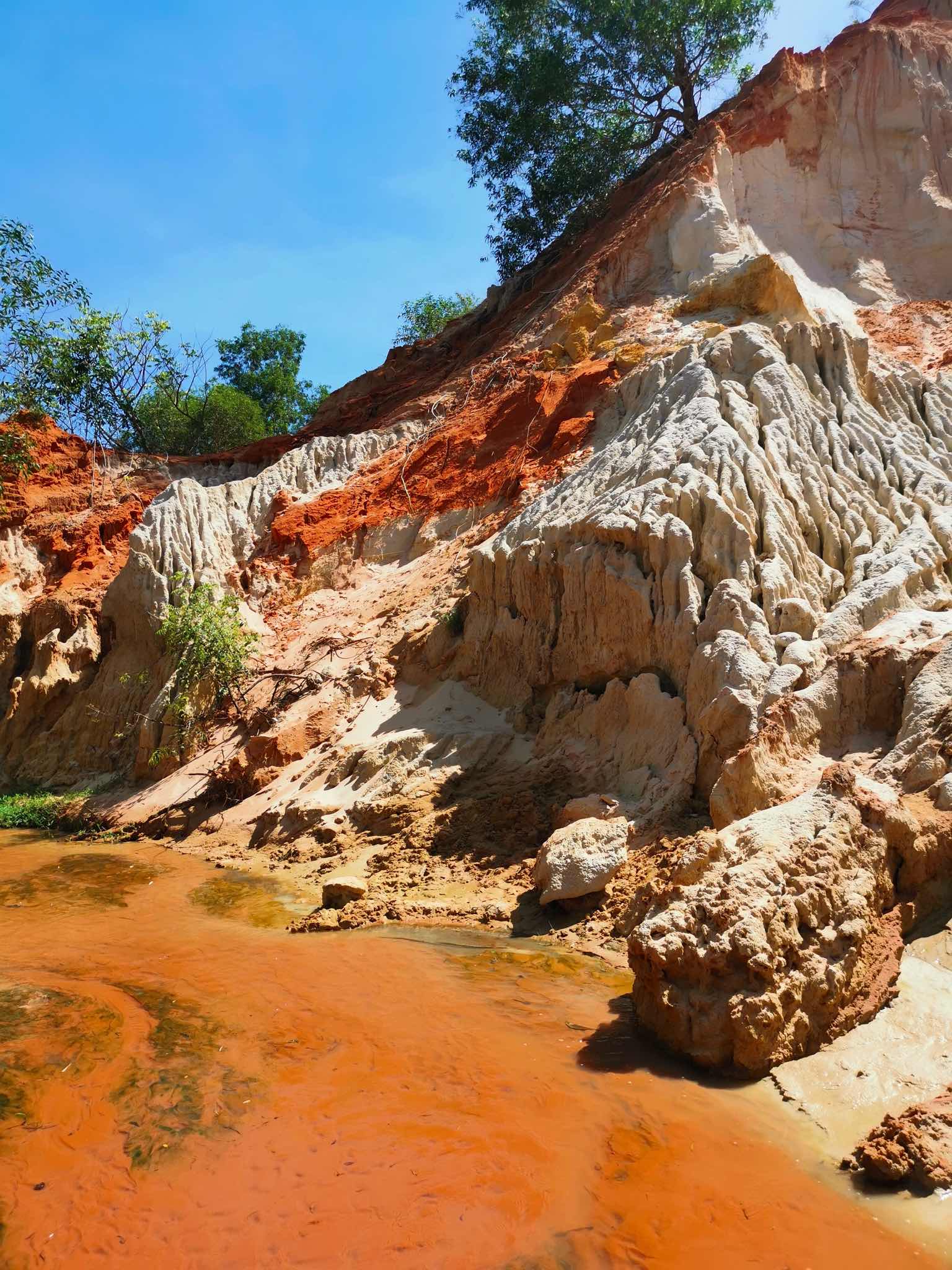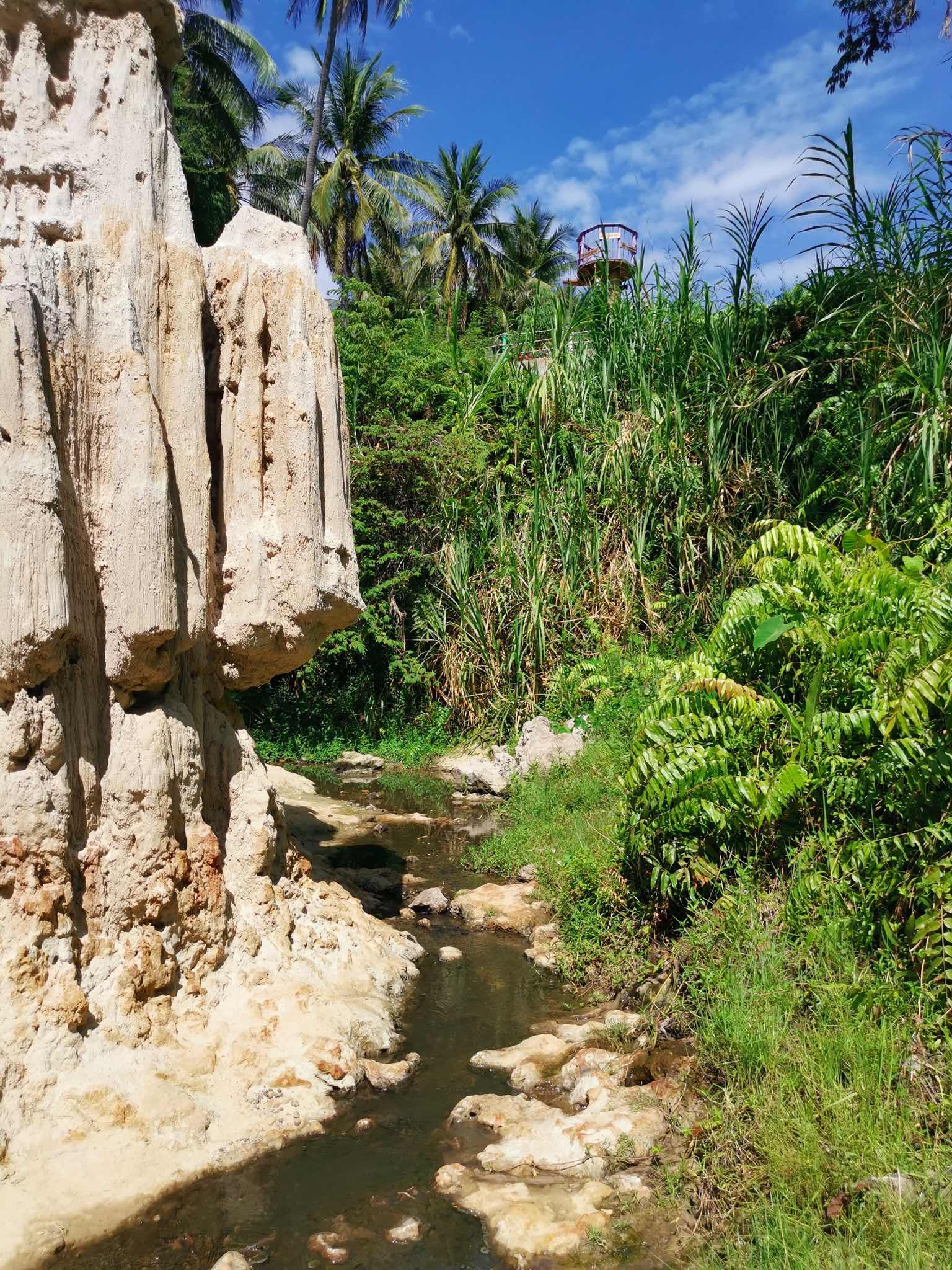 Sometimes the stream is blocked by a fallen palm tree and you have to make some effort to overcome such obstacles. Nevertheless, the whole walk, which takes about an hour both ways, is a very pleasant experience. Sometimes you have to watch out for quite sharp limestone rocks protruding from the bottom.
Wading in the water while walking, you will meet the tributaries of the brook, which are also picturesque. They carry red sediments from the top of the ravine, right into the canyon. Finally, after 30 minutes, you come to the Angel's Waterfall.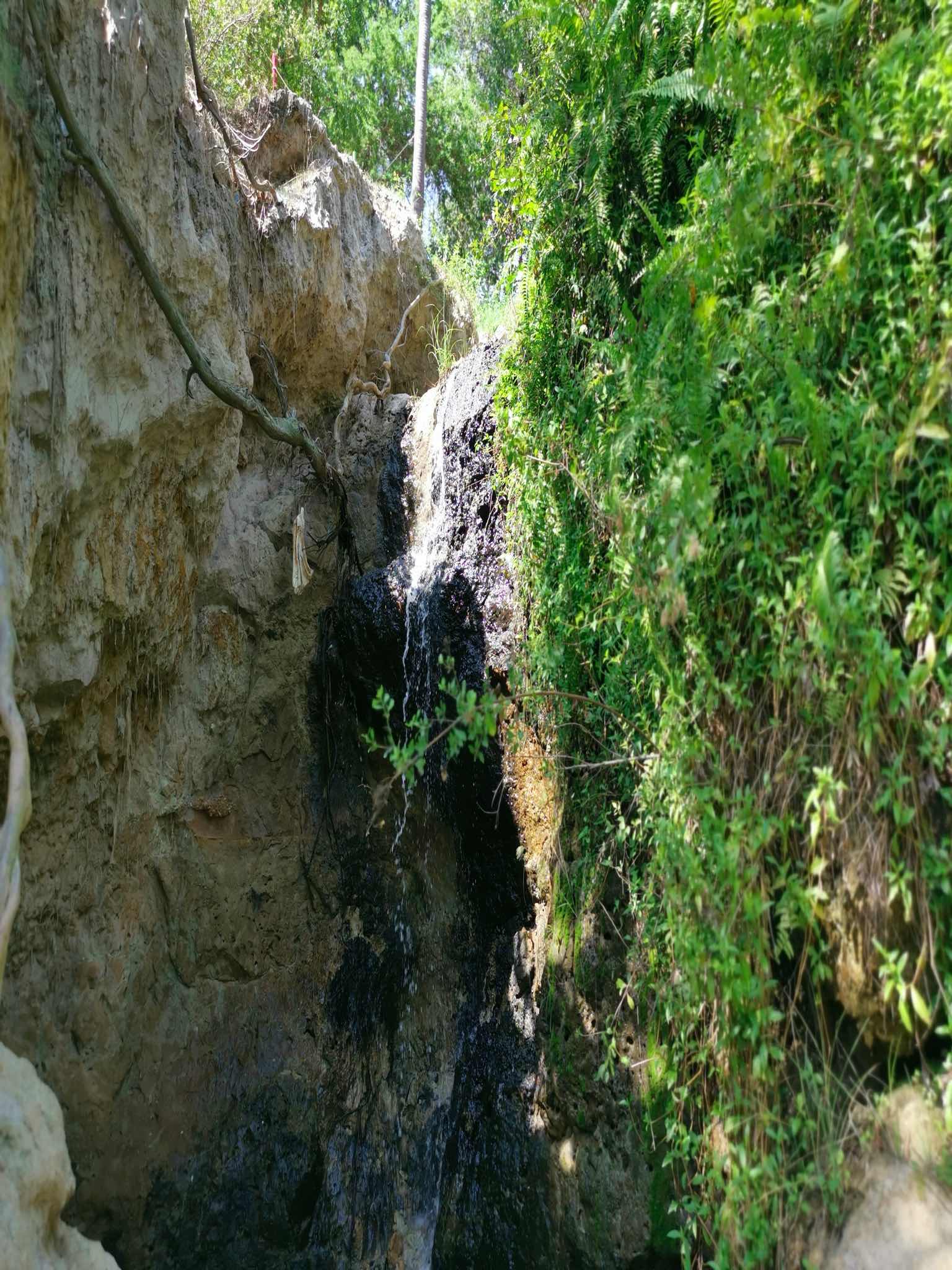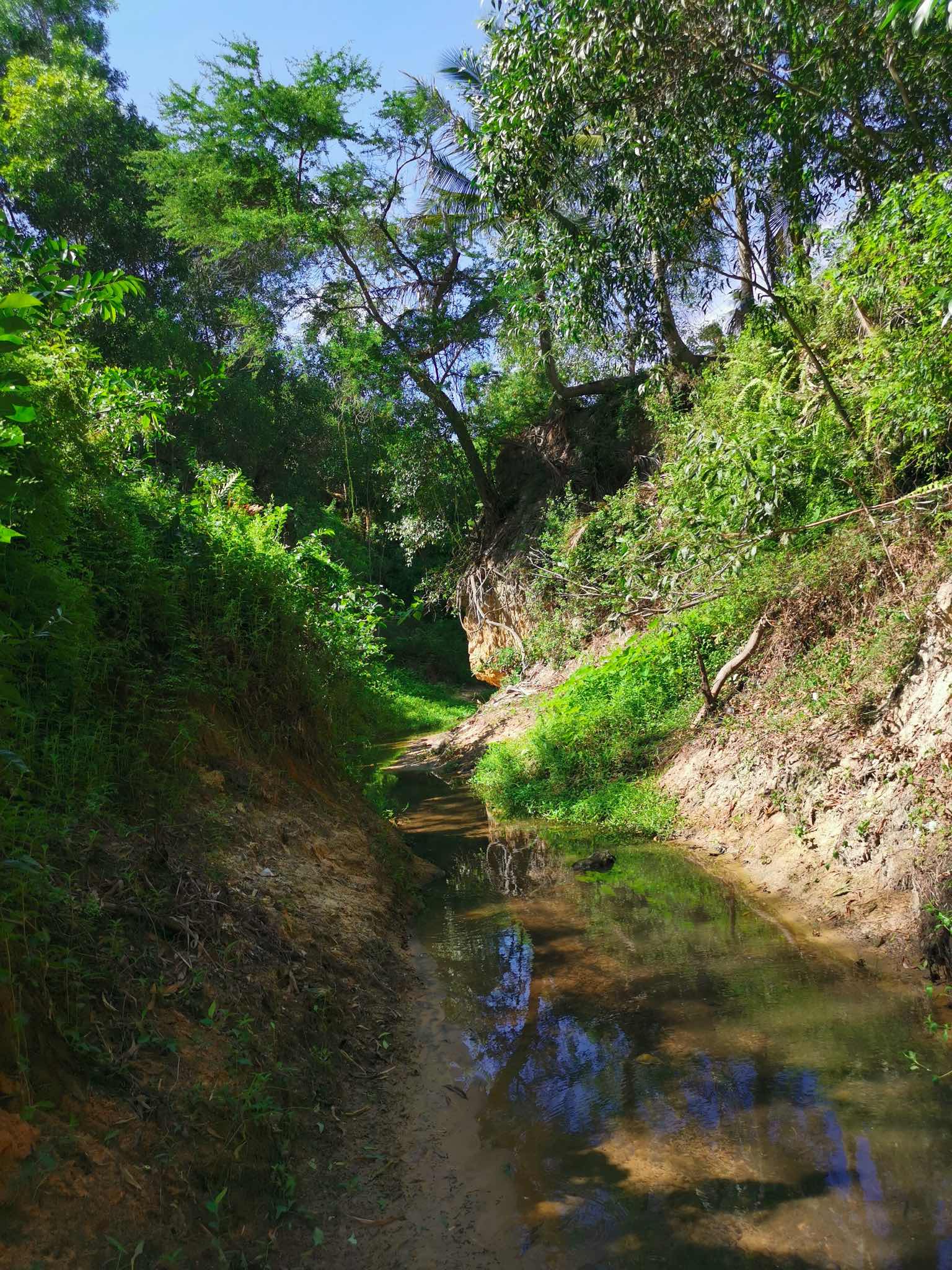 Angel's waterfall?
Waterfall itself, well, it is not Niagara Falls. It is rather a small stream oozing from a height of several meters. Nevertheless, it is a pleasure to walk and the fact of reaching it.
The colors of this place made the biggest impression on me.
The photos that I took about a hundred confirm that this is a fabulous place in Mũi Né.
In addition, you can use the many bars that are located along the stream, where you can drink freshly squeezed juice or coconut juice. You can also eat a light meal or stock up on drinks.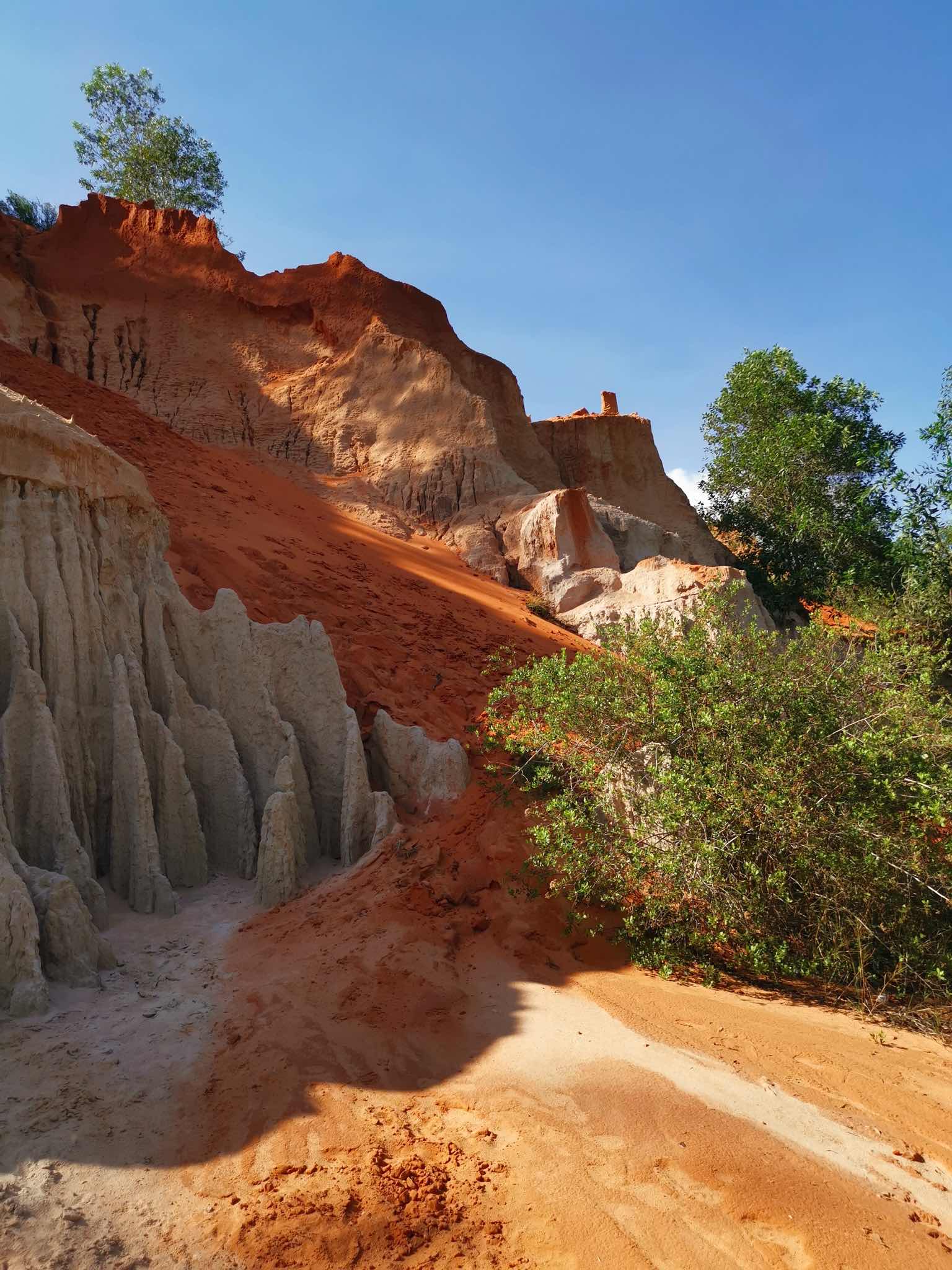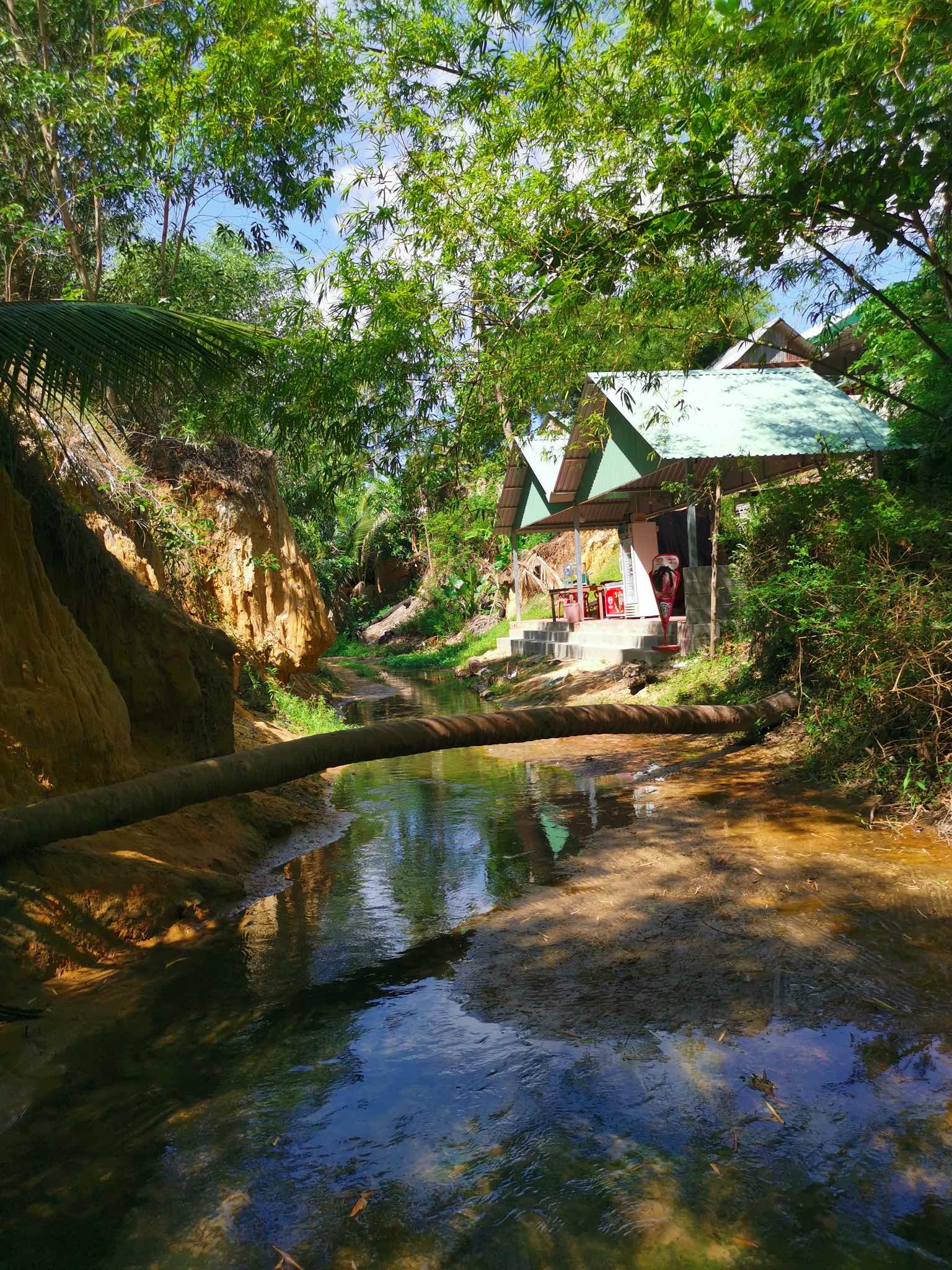 The whole trip to the Fairy Stream in the canyon took me more than half a day.
I wanted to spend as much time as possible in such a picturesque place, which I strongly encourage you to visit.
If you have the opportunity to visit Việt Nam, one of the points on your map should be the famous Red Canyon which is located 30 km far from Mũi Né and Fairy Stream with Angel's Waterfall in the Phan Thiết province.
This area offers two more interesting attractions that I have already mentioned.
Red dunes, where one of the attractions is sliding on a plastic sand sled, and a well-kept Cham temple.
If I add a Buddhist pagoda to them and the possibility of a trip to the sea on circular fishing boats, the whole stay will be rich in extraordinary experiences.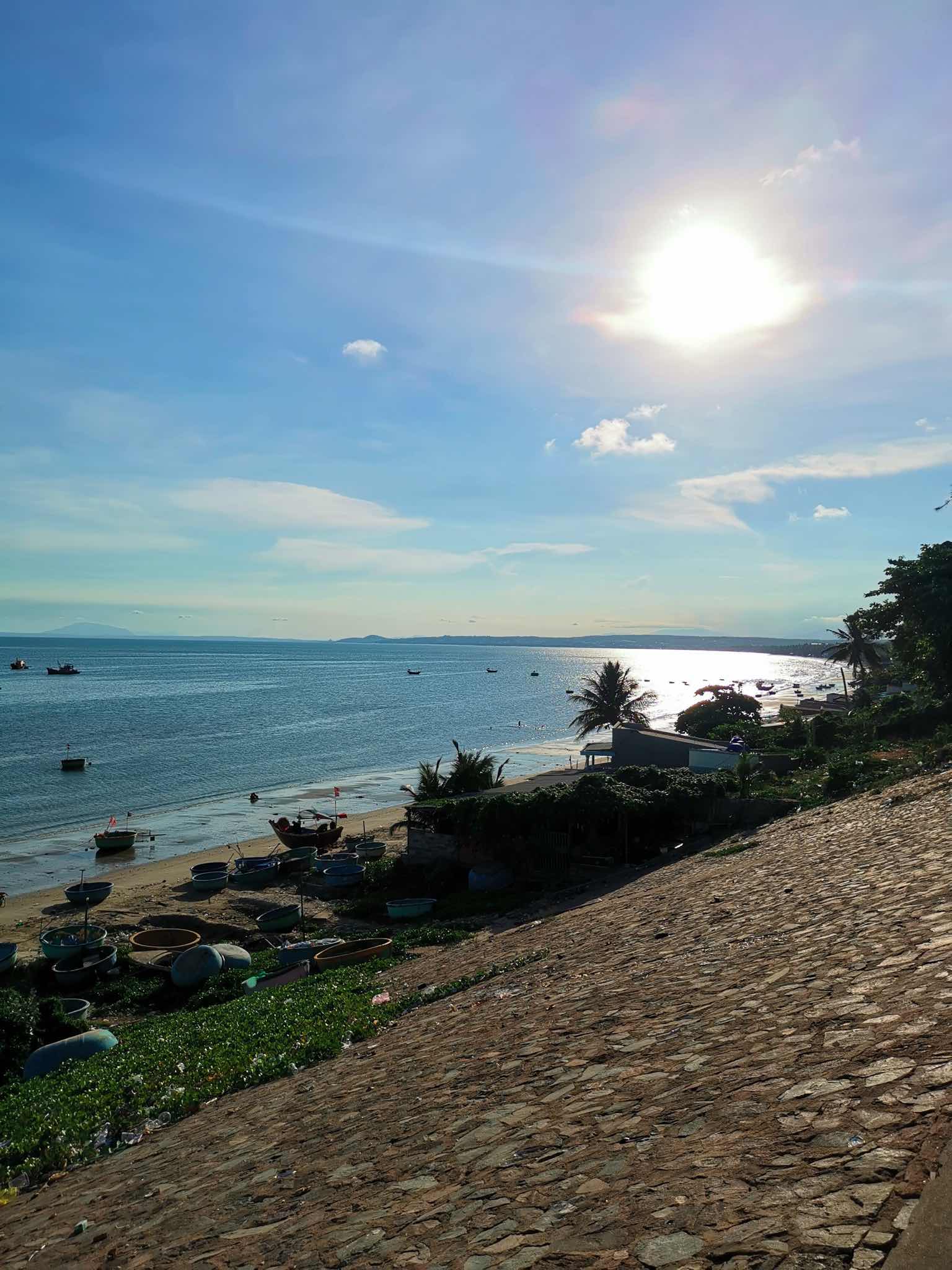 And that was it...
That's it for today, Folks.
We'll see what happens next in Sài Gòn. For now, we must survive the hard lockdown and the curfew.
I wish you rest and beautiful sunny weather.
I hope you won't fall into the delta wave ...
Stay safe and sound.