Whenever I heard about trips to Asia, usually all stories ended with the conclusion that Asia is the best place to eat seafood. One because it's fresh, two because it's culture in Asia, three because it's something exotic enough to try.
So you will not be surprised that as soon as I came to Asia, of course the first thing I started to look for where and what to eat in Asia, to enjoy the best taste.
I must admit that the opportunity to come to Asia, to China and specifically to Qingdao was probably the best way to learn what good seafood means.
This, just like in Poland, when we say - ok, if you want to try a "Kolacz"cake, you have to go to Podlasie, if you want to eat good fish, the West Pomeranian or Central Pomeranian coast or the Vistula Spit.
In China, if you want to taste good seafood, then Qingdao is the best place to do it. This is Sopot for the Chinese.
As I mentioned, Qingdao is located on the Yellow Sea, in the north of the east coast of China. It is not only one of the largest ports in this part of the world, but also a huge fishing base.
I would like to emphasize the fact that such a base and intensive exploitation of surrounding fisheries leads directly to overfishing of the Yellow Sea and, consequently, also the South China Sea. So this is not a direction that professionals recommend, no less in fact around the Qingdao water in the Yellow Sea is actually clean and provides countless seafood species.
What's more, walking every day along the promenade along the coast, you can see dozens of people who at low tide simply collect mussels, collect oysters, catch small squids hidden between the stones. In a sense, of course, they also hunt for all kinds of molluscs, starfish and crabs. Usually successfully in the form of a bucket full of prey. This promises a good dinner.
I have tried most seafood, which I will write about, while probably the most tasty dish or the best seafood, if I can say so, is a squid for me. So prepared in a few minutes in front of my eyes.
And the way it is prepared in China is really fantastic, I encourage you to watch a short video that shows how to prepare squid in a few minutes. Simply put, on the promenade, on the mobile grill.
Excellent taste!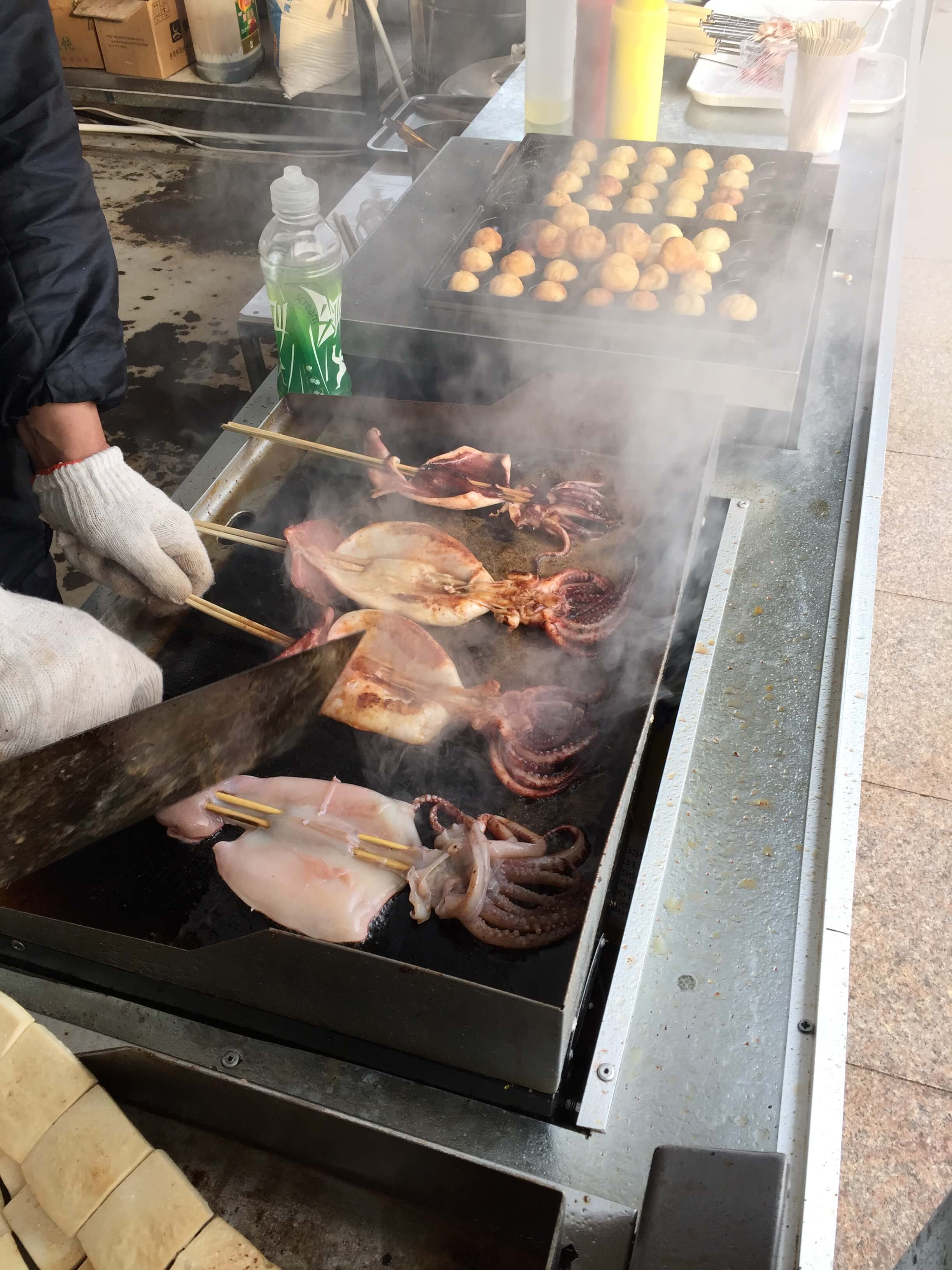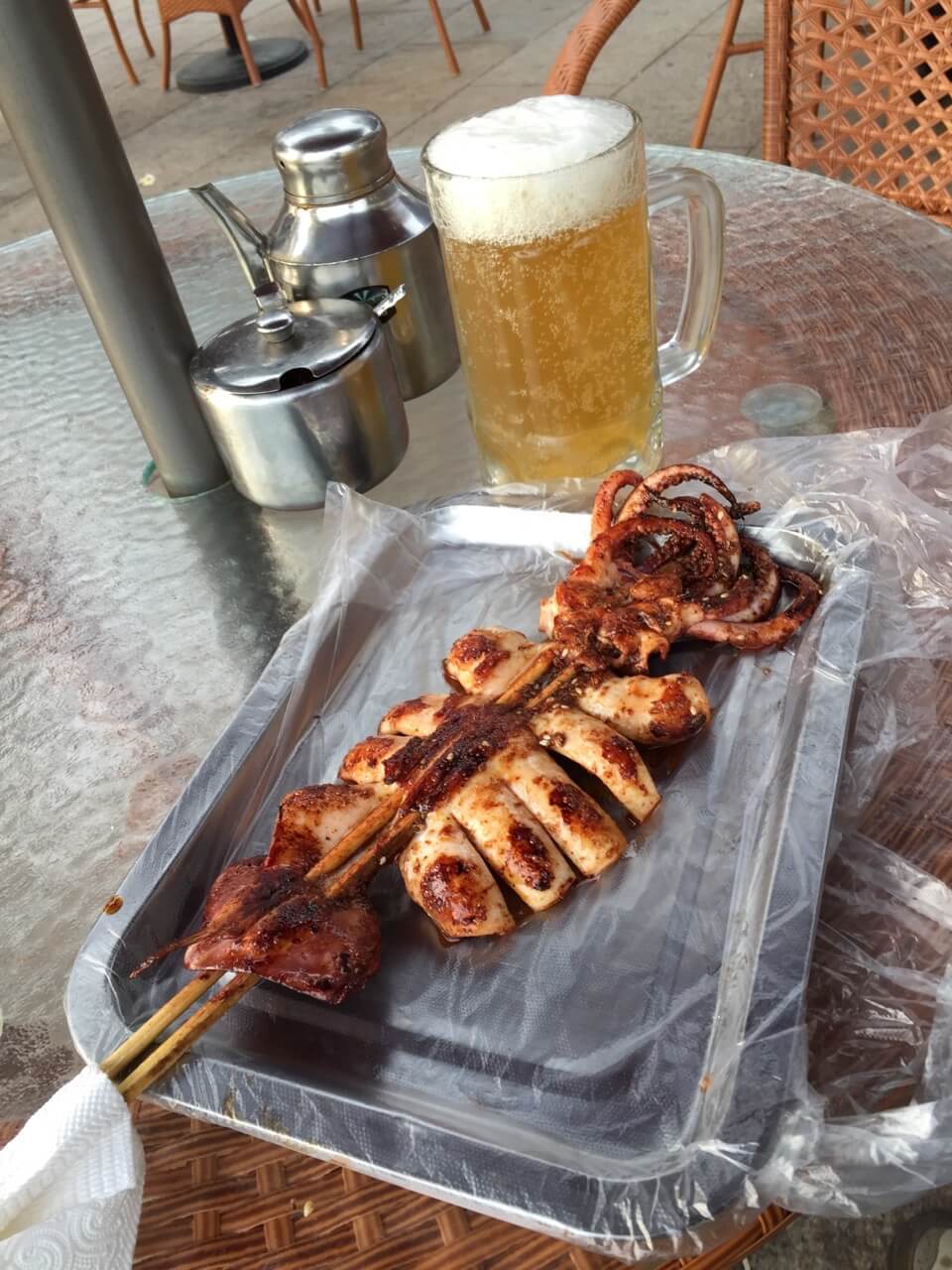 Squid?
The squid fishing itself is very interesting. Small fishing boats, adapted for fishing for squid, go to the sea usually in the early evening. They have dozens of sodium lamps, which spread like wings, on both sides. Thanks to this, they attract squid to the cutter area and then a massive catch occurs.
Squid or squid are cephalopods that live mainly in the depths. That is why, when fishing boats come out to catch squid, they need to lure them out of the deep into the surface. Lamps are used for this. Such a curiosity - flying from China to Malaysia or Indonesia you can see hundreds of strong sources of light through the window of the plane - these are squid fishing boats. It's impressive.
The squid has 10 arms, two of which are a little longer, all generally contractile, have suction cups and chitin hooks. They are also sea predators. Calamari caught in this way are delivered to the shore in the morning and then to restaurants, bars or street stalls with seafood.
Such fresh squid are really great, I recommend it to everyone. Straight from the grill, sprinkled with spices, which are a mixture of pepper, chili pepper, oregano and coriander.
The whole is neatly processed by a person who grills these squid on a stick so that it can be enjoyed immediately after preparation.
A well-fried and well-seasoned squid is crunchy, in a way juicy and, of course, provides a whole bouquet of flavors associated with spices. This gives a really fantastic end result. Anyway, riding a bike along the coast, I had my favorite place and in total even two where, almost every weekend, I could enjoy a freshly cooked squid, sipping local Tsingtao beer.
A trip to private fishing for squid is also a tourist attraction, especially for example Viet Nam on Ha Long Bay where, when going on a cruise, you can simply try to fish for squid with a fishing lure. You just have to be careful because the squid caught just ejects the ink and indeed, the stains are very difficult to remove. I was on such a trip a year ago and I have stained T-shirts to this day. I tried all the stain removers. Nothing works. So, be careful playing squid hunter.
The pleasure of eating a fresh squid, prepared directly in front of your eyes by a seller on the street or on the promenade, in China, an expenditure of 10-15 yuan or about 5-7 zlotys. While in Viet Nam, on cruises to Ha Long Bay, this attraction is included in the cost of staying on the ship. Of course, there are also special offers, where for a few dozen zlotys per person, you can go with the fishermen and simply have fun from squid fishing at night.
Another source of culinary experience associated with eating squids is of course buying at one of the local markets and then cooking yourself on the electric grill or in the pan.
Nevertheless, nothing can replace the taste of the squid made by a specialist on the Qingdao seafront promenade.
Bon appetite!