Today, a bit about the culinary phenomenon of Viet Nam.
Usually, if you are going abroad, after a long time you feel like something that reminds you of Polish homemade food right?
While in China or India it is difficult to find hits of Polish cuisine, in Viet Nam there is just such a local dish that makes you feel like in Poland. And no, I'm not talking about spring rolls, which thanks to the numerous Vietnamese diaspora are widely available in the country.
So what is this dish?
Many of you probably remember and recall childhood times and great dinners at your grandmother (in my case, grandmother Jasia, in Nurzec, far East part of the Poland ) ...
Well, who doesn't remember Grandma's Sunday broth? Cooked with chicken, many hours, with fat eyes, with homemade noodles etc.
To my surprise, in Viet Nam, I discovered one of the local curiosities, Pho soup.
I remember my first visit to Viet Nam, in Sai Gon (it was still when I lived and worked in Shanghai) and the moment when my friends invited me for lunch. How did I ask what you propose? What dish is very local and characteristic of Viet Nam, they responded with two dishes. The first is of course the so-called spring rolls, obviously. And second, I asked?
The second is the Pho soup, which is the basis of Vietnamese cuisine, commonly cooked for breakfast, lunch or dinner. And sometimes for all three meals of the day.
It's one of the cheaper options and it's ... just a chicken soup. Slightly different than Polish, however, Pho soup is simply cooked in three different flavors.
The first taste is the basic Pho soup based on beef broth, the second version is mixed soup where we have beef, pork and slightly more vegetables. The third version of the Pho soup is chicken soup and this type resembles Polish chicken soup the most.
Pho soup is a bit different from Polish broth because it contains rice noodles but it tastes really delicious and almost identical to Polish chicken broth.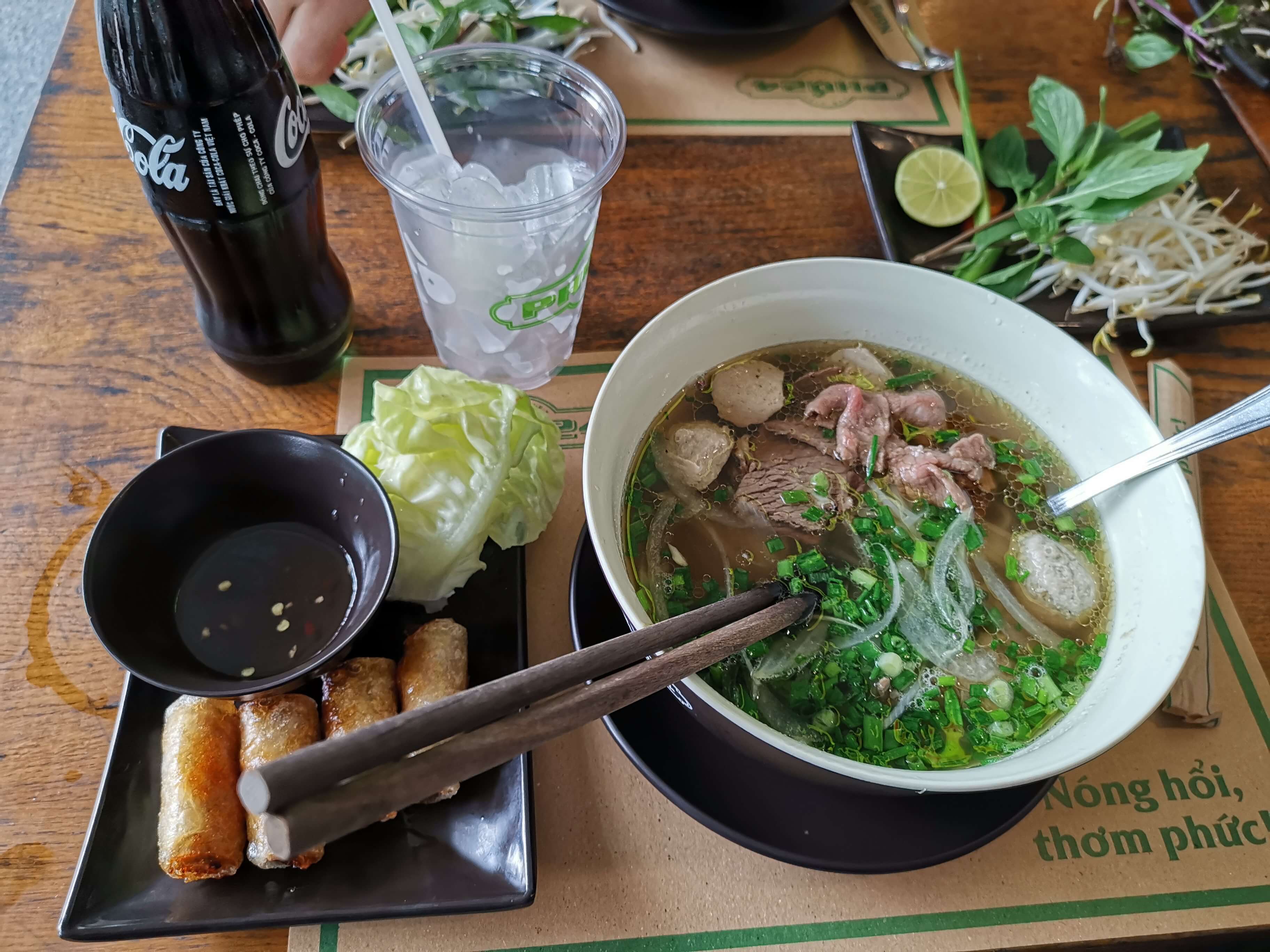 Be ready for Pho soup!
Depending on the version of the soup, cooked on the basis of poultry, beef or a mixture of meat, we get rice noodles (white), plus vegetables, namely Vietnamese mint and a type of spinach. As if that wasn't enough, we'll still get fresh sprouts.
Either way, leave this one really attractive when it comes to price and taste.
This is one of those dishes that I really like and can eat almost every day. It actually resembles the taste of Polish broth and is cooked similarly - in large quantities, for long hours.
So where can you satisfy your culinary longing for Poland?
The network that I personally recommend as the best to try the Pho soup is "Pho 24" - common everywhere, in every city of Viet Nam, whether it be northern Ha Noi, southern Sai Gon or the center of the country - Hoi An, Da Nang, indifferently. You will get delicious Pho soup everywhere. What's more, Pho soup is cooked and sold by women on street stalls.
Roadside places with really tasty and freshly cooked Pho soup are available every few hundred meters on city exit routes and every few kilometers on inter-city routes. These stalls are well prepared to serve dozens of customers in a short time. Pasta and additions are already in portions, just pour in the decoction and ready to quickly serve a meal to a motorcyclist or car driver.
The price for soup depends on which set you choose and where you buy it.
Generally, it can be said that the price ranges from 30,000 to 69,000 dongs (i.e. from 5 to 12 PLN) for a serving of soup. The sets are a bit more expensive but the set also includes two three dishes so generally pay 79,000 dong and have a drink set is a pretty good solution.
Anyway, Vietnamese's favorite soup has also become my favorite.
I practically eat it for lunch two to three times a week. I love to tell you honestly. The best, in my opinion, is poultry, although beef also has many tasty additions in the bowl.
Soup bars "Pho 24" are available everywhere. It is very easy to find a characteristic yellow logo with a smoking bowl. You'll notice them in virtually every city, on every major street.
When to eat Pho soup?
It depends on your preference. The Vietnamese eat Pho soup for breakfast, eat for lunch and eat for dinner. So you can basically eat it all day.
Taking into account three flavors in this configuration, it is not boring at all.
What's more, the perfect soup is when you put vegetables, Vietnamese mint and sprouts into it and you all sour it slightly with lemon or lime which is usually added in the set.
Two chopsticks, a spoon and basically we have ready, tasty, great-looking lunch, breakfast or dinner.
I will add that you can order this soup in three sizes - small, regular and large. It all depends on your appetite and stomach capacity :).
Regardless of the size, I guarantee that you can really eat your fill.
So if I had to mention one dish that I remember and which I can honestly recommend to someone to satisfy the longing for Poland, I will say that it is a chicken version of Pho soup!
Bon appetite!