Hello Folks✌️
Emotions related to the Mid Autumn Festival - the Mid Autumn Festival have already subsided. This year, the celebration went slightly unnoticed. The pandemic shutdown at home in Saigon prevented you from watching the dragon dance, visiting your neighbors, and sharing a mooncake. A bit sad for Asia, it's a holiday this year.
In some districts, children tried a little jogging with lanterns, but in the place where I live, it was not possible to see such beautiful views this time. Nothing, there are more years ahead of us, so it will be time for a happy celebration.
Let's break away a bit from spiritual experiences. Today I would like to share the adventure that happened to me during the trip to the island of Palawan - I talk about the island and its attractions in this article about Puerto Princessa National Park and the trip to the tallest tree on the island.
Traveling around Asia, visiting many large and small cities, provinces and villages, you can clearly see how urbanization is changing the face of many parts of the continent.
You can also experience the contrast between large agglomerations and provincial areas. Also in the cities themselves, changes have been clearly visible over the course of several years.
Regardless of the country, their capitals have neighborhoods with a special atmosphere.
This place is usually the business heart of the capital, usually called the "business center" or CBD - Central Business District for short.
This is usually a place that stands out clearly from the rest of the city. It is here that the first residential and office buildings are most often built. The average quality of life is also much higher than in the rest of the city.
If I recall all the capitals I have visited, it is exactly the same everywhere.
No matter if it's Tokyo or Shanghai, Bangkok or Jakarta, Saigon or Metro Manila.
In all these cities, you can clearly delimit an area that belongs to the business center, i.e. CBD, and it is about the adventure in such a center that I would like to tell you today. By the way, we will get to know Makati - Metro Manila business center in the Philippines.
But I will not be reporting on the number of buildings or companies based in Makati.
However, I do have a memory that may constitute a clamp between my first and last stay in Manila.
The first time I visited the Philippines, it was in January 2016, I had a transfer planned on my way to Palawan Island. The so-called "overnight". So I spent one night in Manila ...
At that time, I did not realize that Manila is a conglomerate of many cities that together formed an administrative area in 1975 under the name Metro Manila.
I found out about it later, when I was already visiting Manila on a regular basis.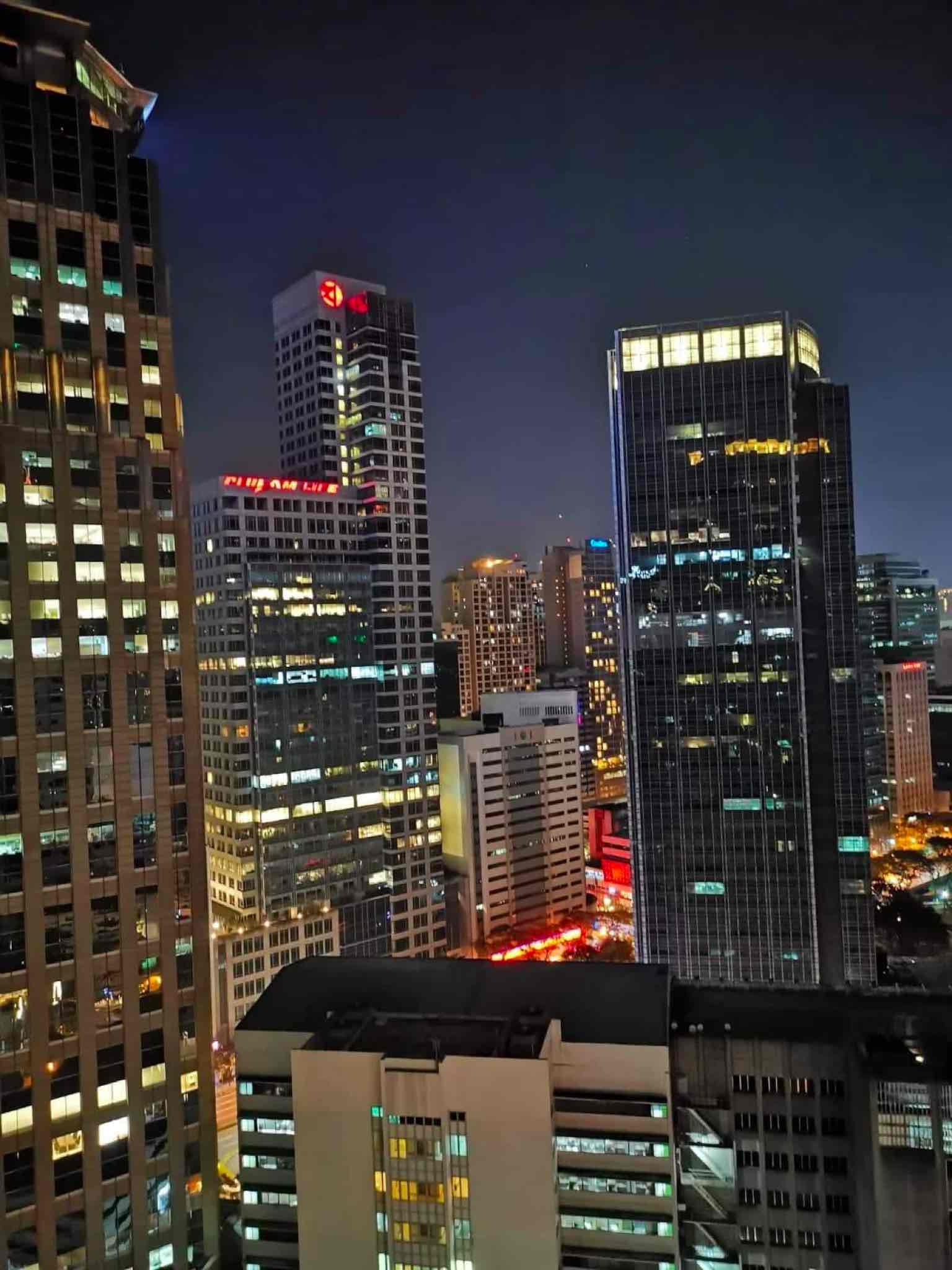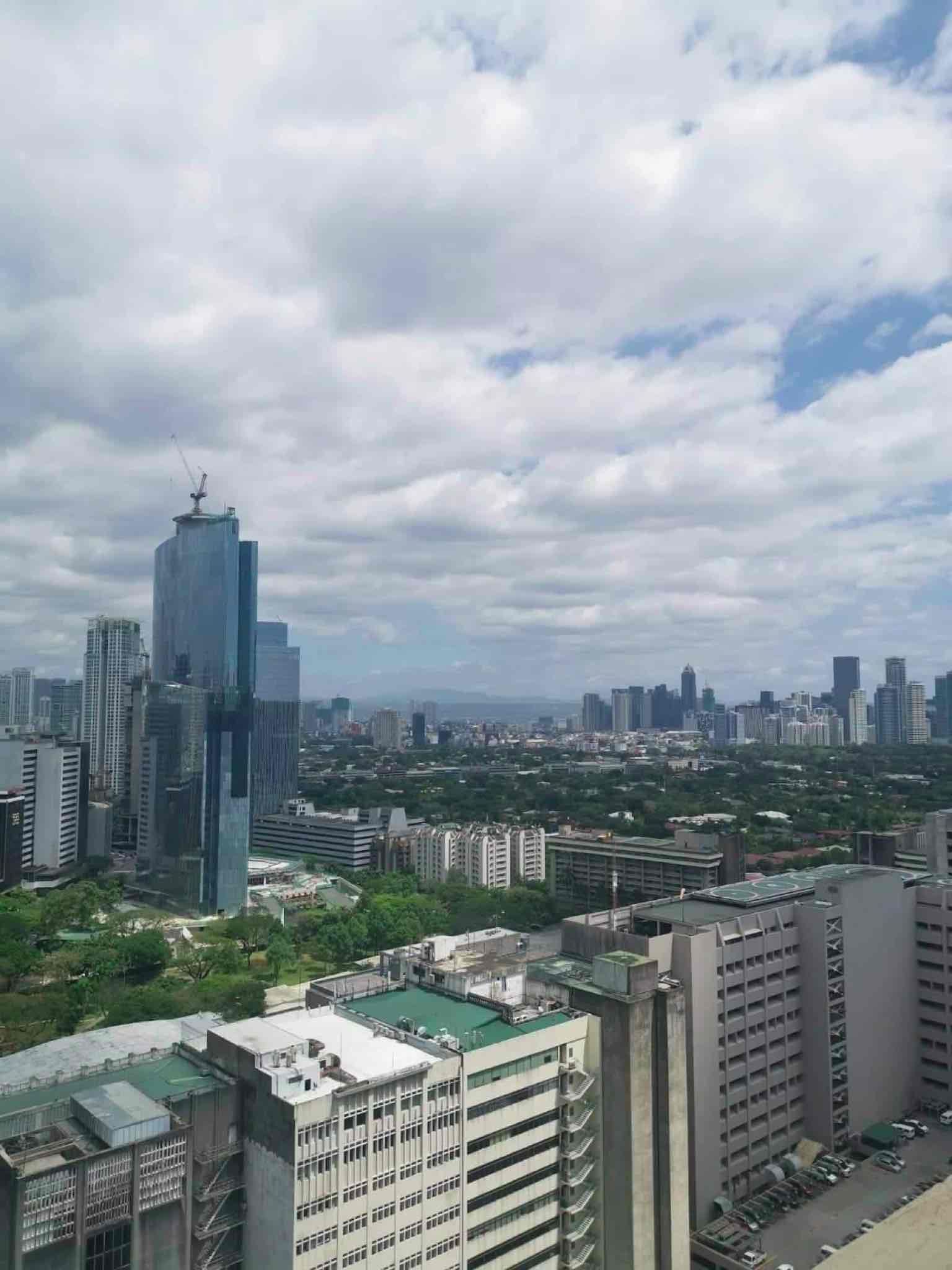 Adventure
During this first trip, we had an interesting adventure.
Leaving Shanghai, I made an overnight reservation at a recommended hotel, 3 stars, 20 minutes from the airport. Everything looked fine in the photos. I did not check the district, assuming that we would get there by taxi without any problems. At least I thought so.
Equipped with airline tickets, hotel reservations in Manila and a beach house on Palawan Island, I set off on my tropical vacation.
Until landing, everything was going well.
The first surprise was waiting at the airport. After smooth passport clearance and collecting my luggage, I went to the exit. As it was not possible to pay by card on the island, I had to withdraw the appropriate amount at an ATM.
I can see a wall of ATMs by the main exit. However, when my Chinese ATM card failed at any of the ATMs, anxiety ensued. It should work, but it doesn't. I'll try around the hotel, I thought and headed to the taxi rank.
No problem, taxis are waiting. The driver requests a predetermined amount for the journey, even though he has a taximeter. Strange but acceptable. I have already encountered this in Indonesia and Malaysia.
Surprise and fear came when the driver announced that the payment was only in cash.
It's 9:00 PM, a foreign city, the ATM is down. I'm beginning to seriously fear what to do next.
But the idea came to mind after a short conversation with the other driver.
He offered to drive to the taxi center, where there is a payment terminal, and then to the hotel. Managed to. We got to the hotel after 10pm.
There were no more payment problems in the hotel.
From this incident, I learned an important lesson that allowed me to travel in Asia without the stress of paying. First, I have never moved outside of China again without cash in my wallet. This is my advice to anyone traveling in Asia.
Be prepared and have some cash in your local currency. ATMs like to play a trick and not accept your card, have no cash (especially on Sunday evening), may have a service break (usually 45 minutes from midnight) and sometimes even "swallow" your card. From this comes another lesson - apart from cash in local currency, it is worth having some international currency - in this case, in Asia, the US dollar is the best. For this, it is worth having a second card, preferably a different system, such as Visa and MasterCard. This will save you from a situation where you stay somewhere in Asia without cash and without an ATM card.
After consulting with one of my friends, it turned out that Union Pay cards, which is common in China, are supported by only one bank in the Philippines - BDO. Fortunately, there was a bank branch and an active ATM near the hotel, which allowed me to withdraw the required amount of Philippine pesos without any problems. Hurrah.
When I was looking at photos from this first trip, I came to the conclusion that I ended up in the district I wanted to present to you today. It was Makati City, Metro Manila's business and cultural center.
Arriving at the hotel around 11:00 PM, after a few hours traveling from Shanghai, it turned out that this was not the end of the adventure.
The choice of the hotel was not right. Our room all "smelled" of fungus, blue foil on the windows that you can not see anything through the window, cockroaches in the room, stained sheets ... some poplin.
As there was no chance to change this hotel at this late hour, there was only one decision - we will spend the night outside. The plane is in the morning, a few hours left, we'll sleep on the island.
It turned out that there is some, now quite decent, bar near the hotel where you could anchor. We ordered KFC styled chicken and by 5am we sat drinking San Miguel Light beer watching the local folklore.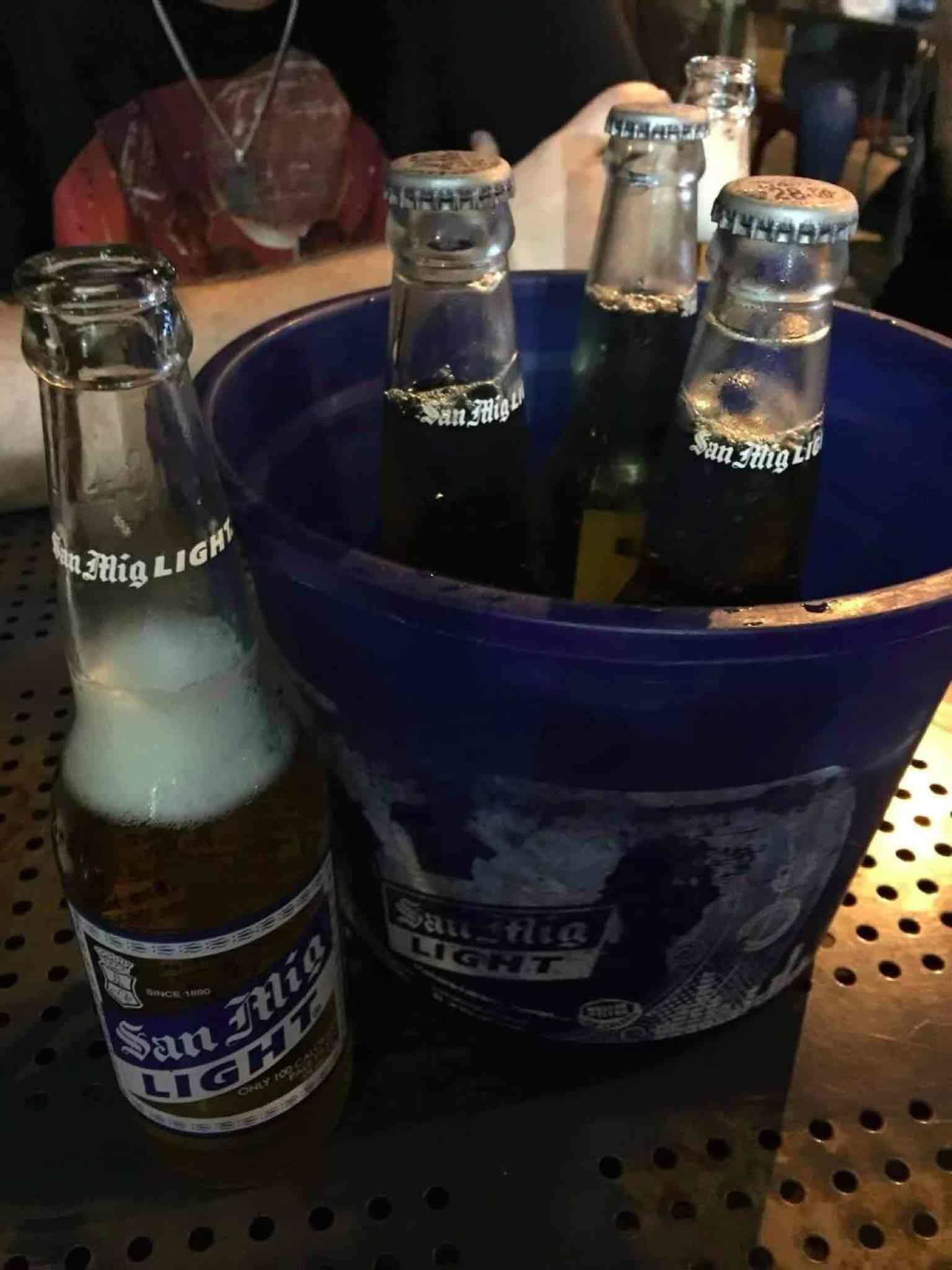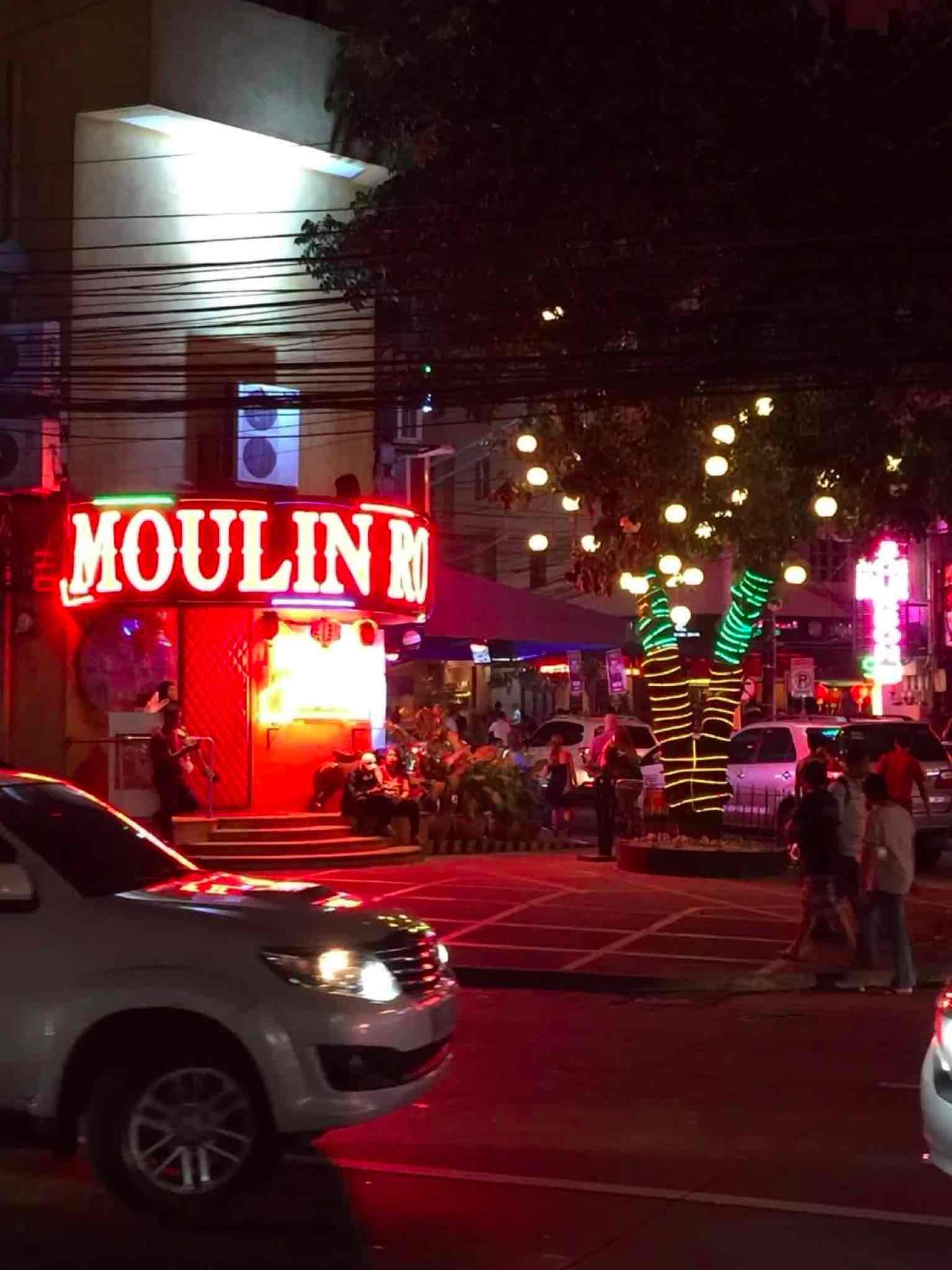 San Miguel & Moulin Rouge
And there was a lot to see.
Now I know it, but at that time it was not known that we "landed" in the part of Makati that is considered to be the so-called "red light district" ...
Hence, in front of the bar, there is a place called Moulin Rouge, where limousines or exclusive cars were coming up every now and then, from which elegantly dressed people got out.
The Jeepney's - a remnant of the American army massively converted in the Philippines into public transport buses - rushed along the street itself. Hot, exotic and spectacular.
The bar is also noisy. Lots of customers and… lots of little kids. Grimy, barefoot, asking for money. Interestingly, in the nearby shop "7Eleven", where the children were also asking for money, there was a policeman who tried to chase them away.
At first, there was only one reaction - we gave them a few coins worth 1 and 5 Philippine pesos. However, the children grimaced a bit and definitely asked for banknotes that start at 20 pesos. We realized that they were trained to do so.
What's more, there was also a lady with a little kitten. The lady tried to perform various tricks. As you can imagine, you also asked for financial support.
But it was fun, so we had no qualms about supporting the local community with several dozen pesos.
Generally, we spent the night before flying to the island of Palawan on the street, in a bar in front of the hotel, because in the hotel itself, unfortunately, it was impossible to sleep. It wasn't until just before departure, a quick shower and we headed to the airport.
And another surprise. We ordered 2 taxis. Unfortunately, one confused the terminals. So it was nervous again. We flew with Philippine Airlines, which has two terminals - international and domestic separately. The driver asked which lines we were flying with, and seeing "white faces" he automatically chose the international terminal. Luckily, both terminals are close to each other and it was possible to be together again in 20 minutes. Finally, we flew to Palawan to rest under the palm trees.
This was my first encounter with the Philippines and the city of Metro Manila.
You will admit that it was interesting.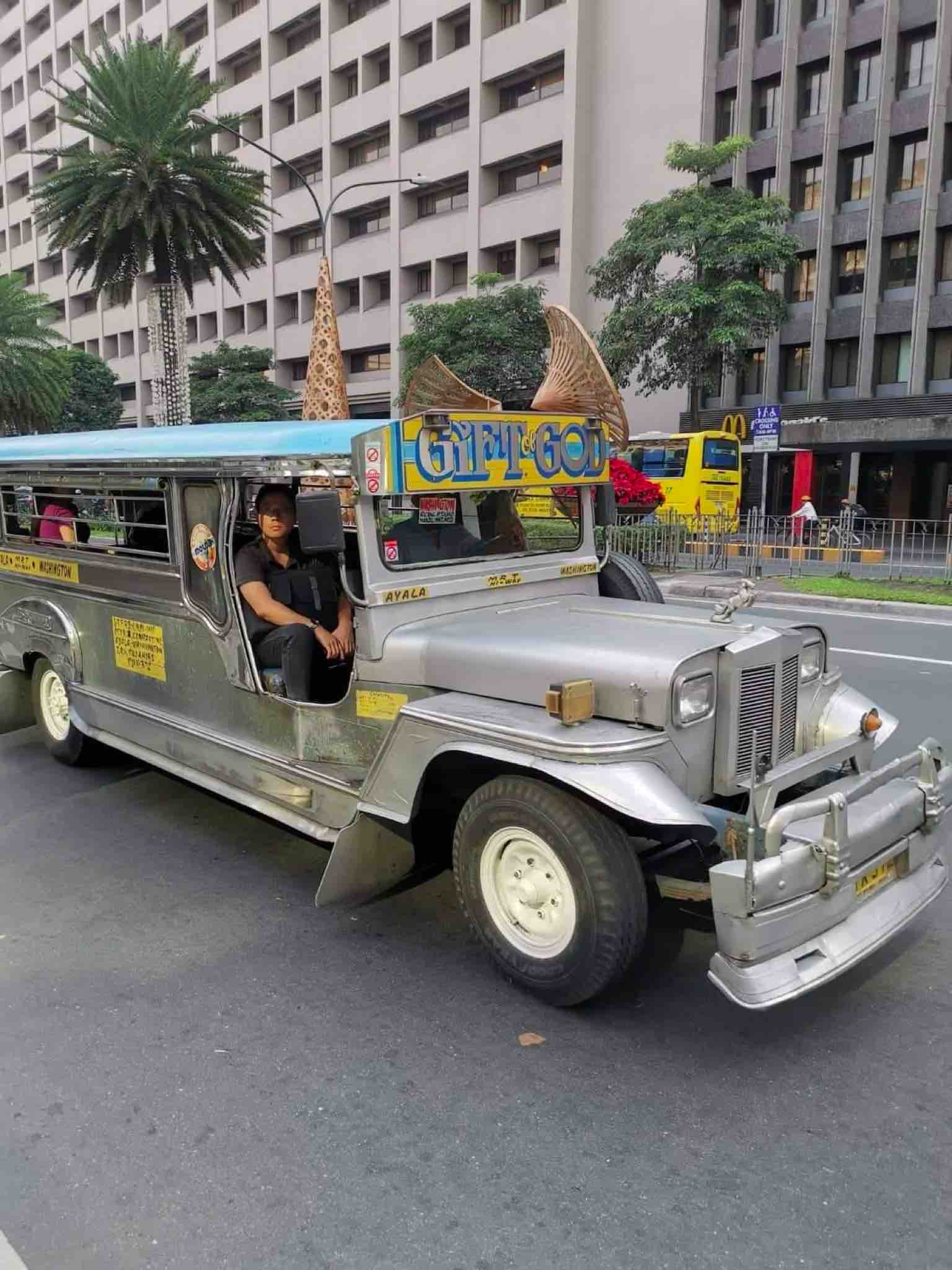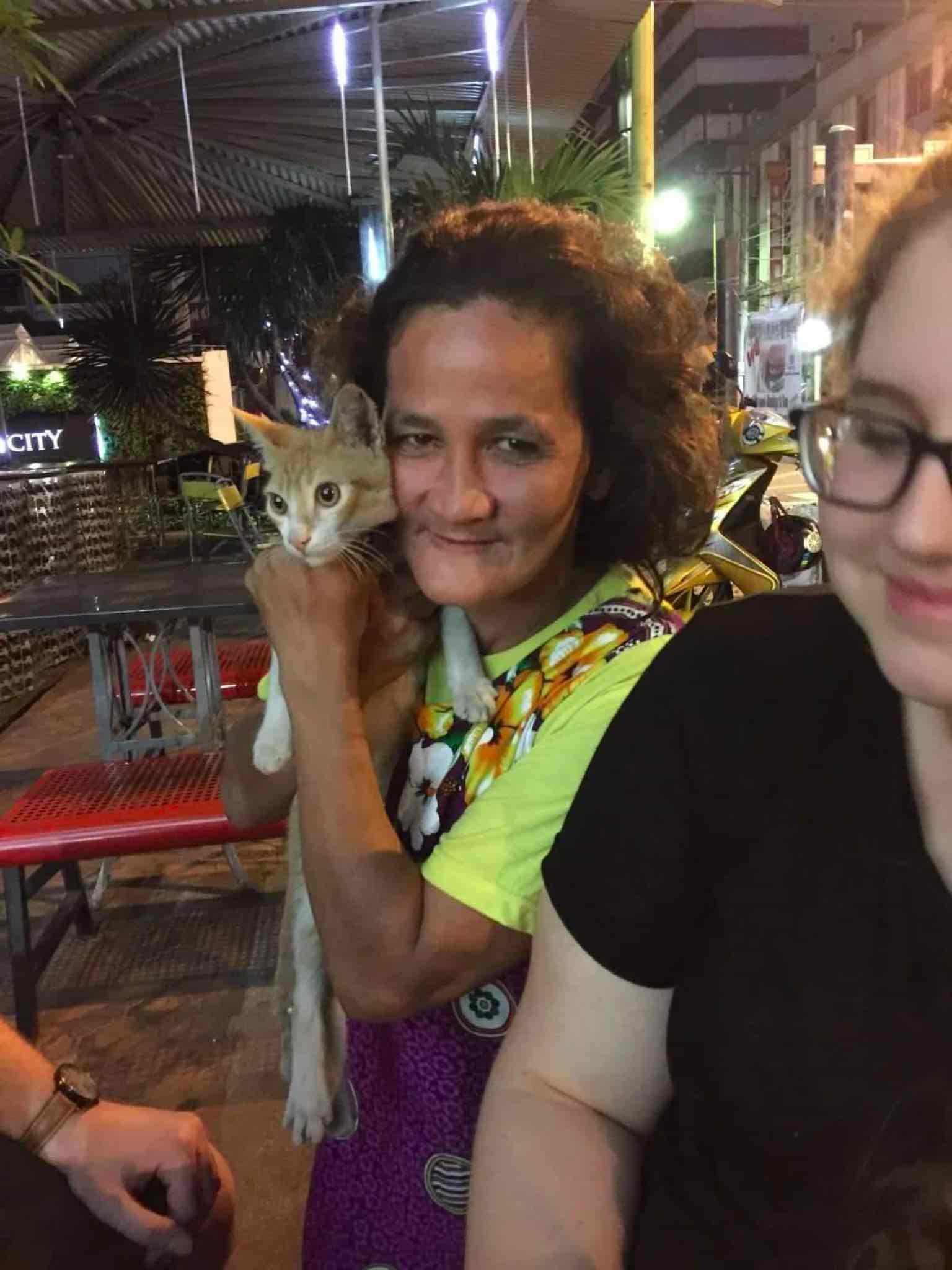 Back after years
Later, almost 2 years later, when I was exploring the city anew, visiting Makati, I was quite shocked. The view I found had nothing to do with my stay in January. It was a completely different city.
Beautiful, wide streets, boulevards, nice skyscrapers. Everything is modern, covered with glass and aluminum. There are several nice parks in the area, including the famous Ayala Triangle Park.
Plus shopping centers, plenty of restaurants, bars and places where you can relax for a while.
Subsequent stays in Manila brought only nice memories.
First of all, it is very fun to visit Makati in the pre-Christmas period. One of the attractions of this place is the Festival of Lights. From the beginning of November to the very Christmas, every evening, there are performances "light and sound" where the music is synchronized with the lighting of the trees, giving a beautiful spectacle.
Second, the main thoroughfares of Makati - Ayala Avenue, Paseo de Roxas and Makati Avenue - pass in the area of ​​Ayala Triangle Park.
These streets are beautifully decorated for the Christmas period - trees and infrastructure elements are covered with Christmas decorations. At the beginning of November, just after Halloween, there is a ceremony in the park in which the mayor, with the participation of invited guests and city residents, solemnly turn on all the beautiful decorations. A spectacle worth seeing.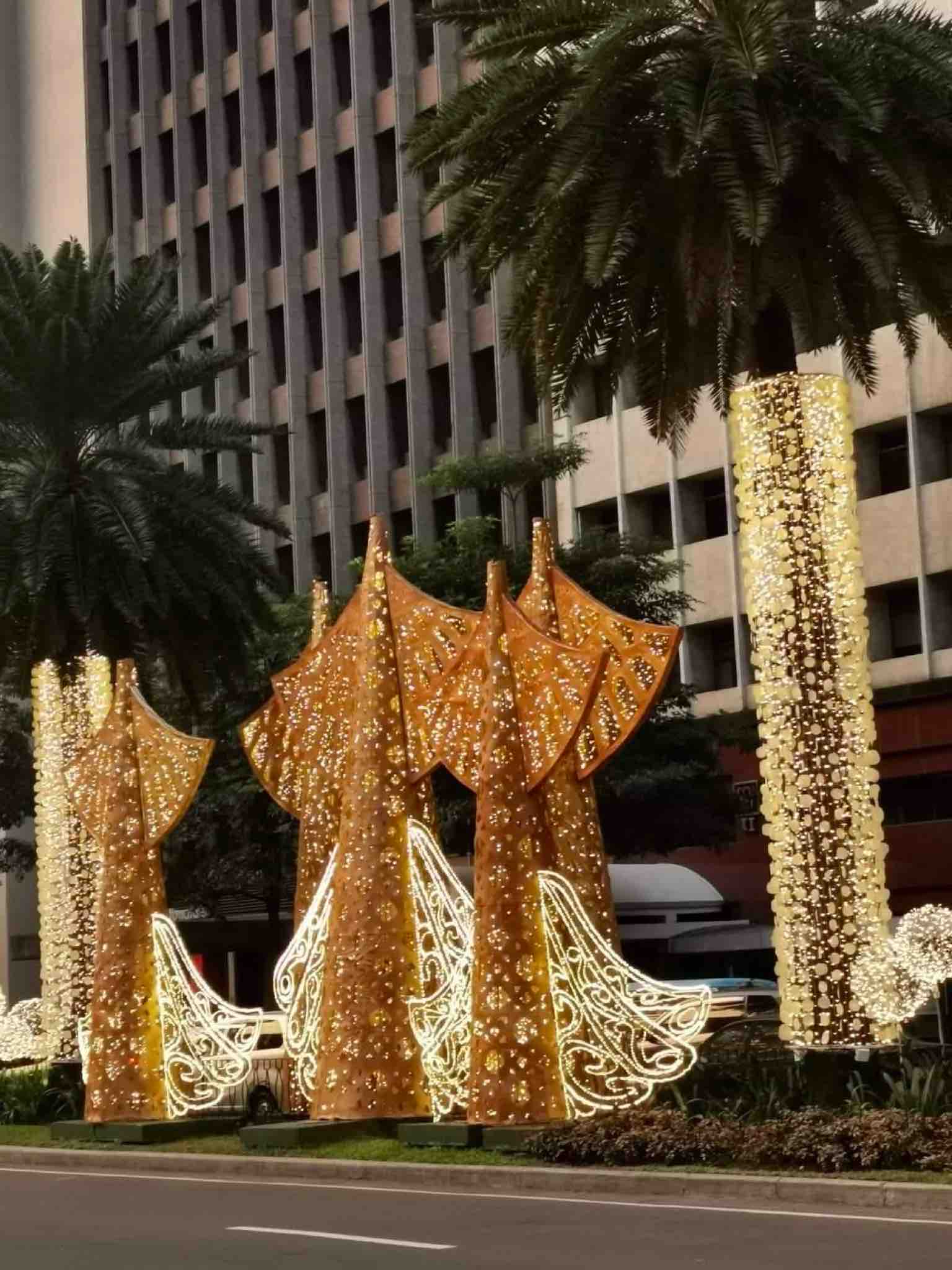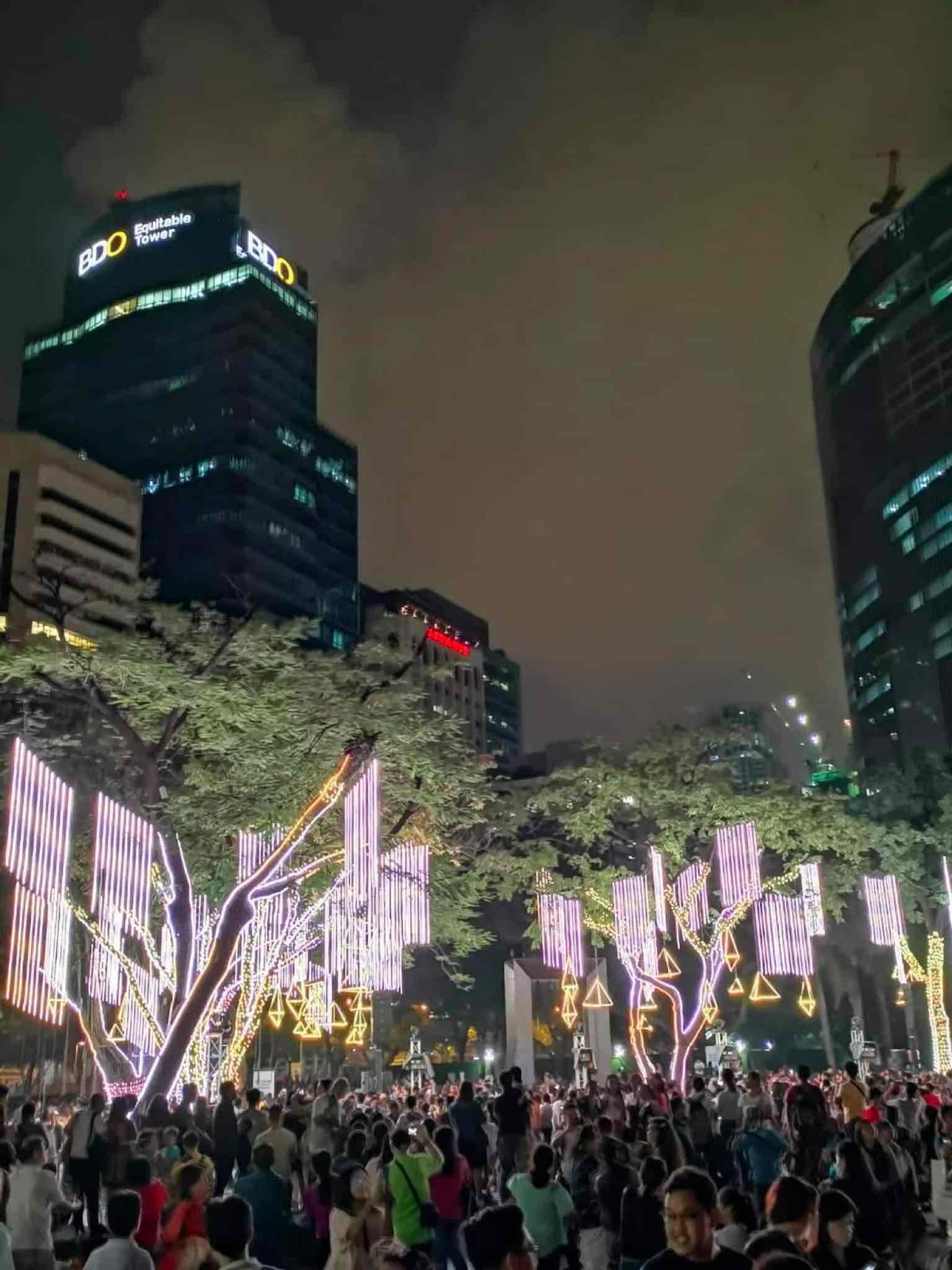 All this takes place in one of the most interesting places in Makati, which is Ayala Triangle Park.
It is a well-kept park, worth spending a moment having a drink or having lunch or dinner.
There are several interesting restaurants and bars along the lanes surrounding the park.
My favorite is Camp BBQ, which serves fantastic dishes in a camping style. Both when it comes to the appearance of the premises, as well as cutlery and plates, everything is camping-style.
I love this place.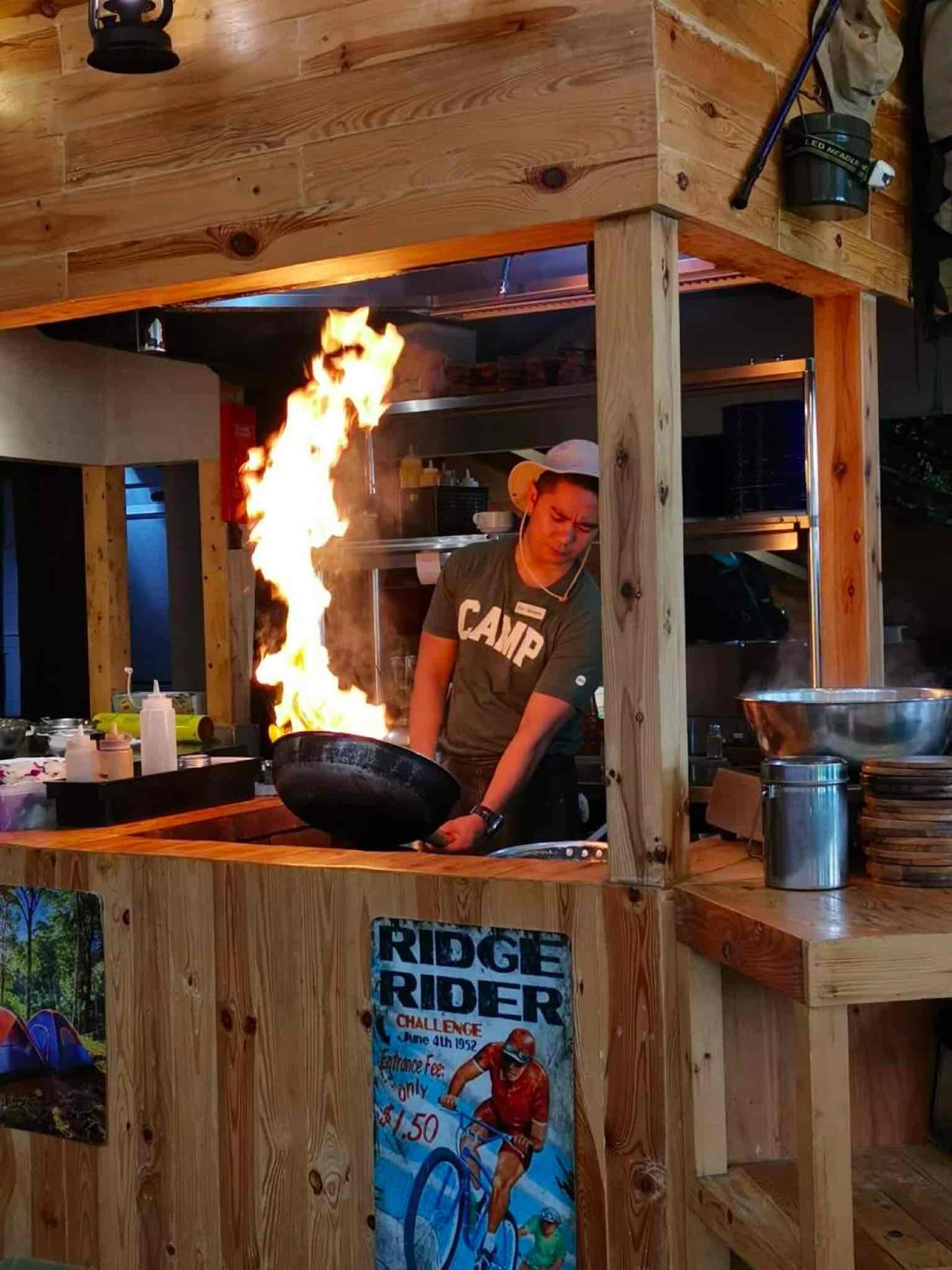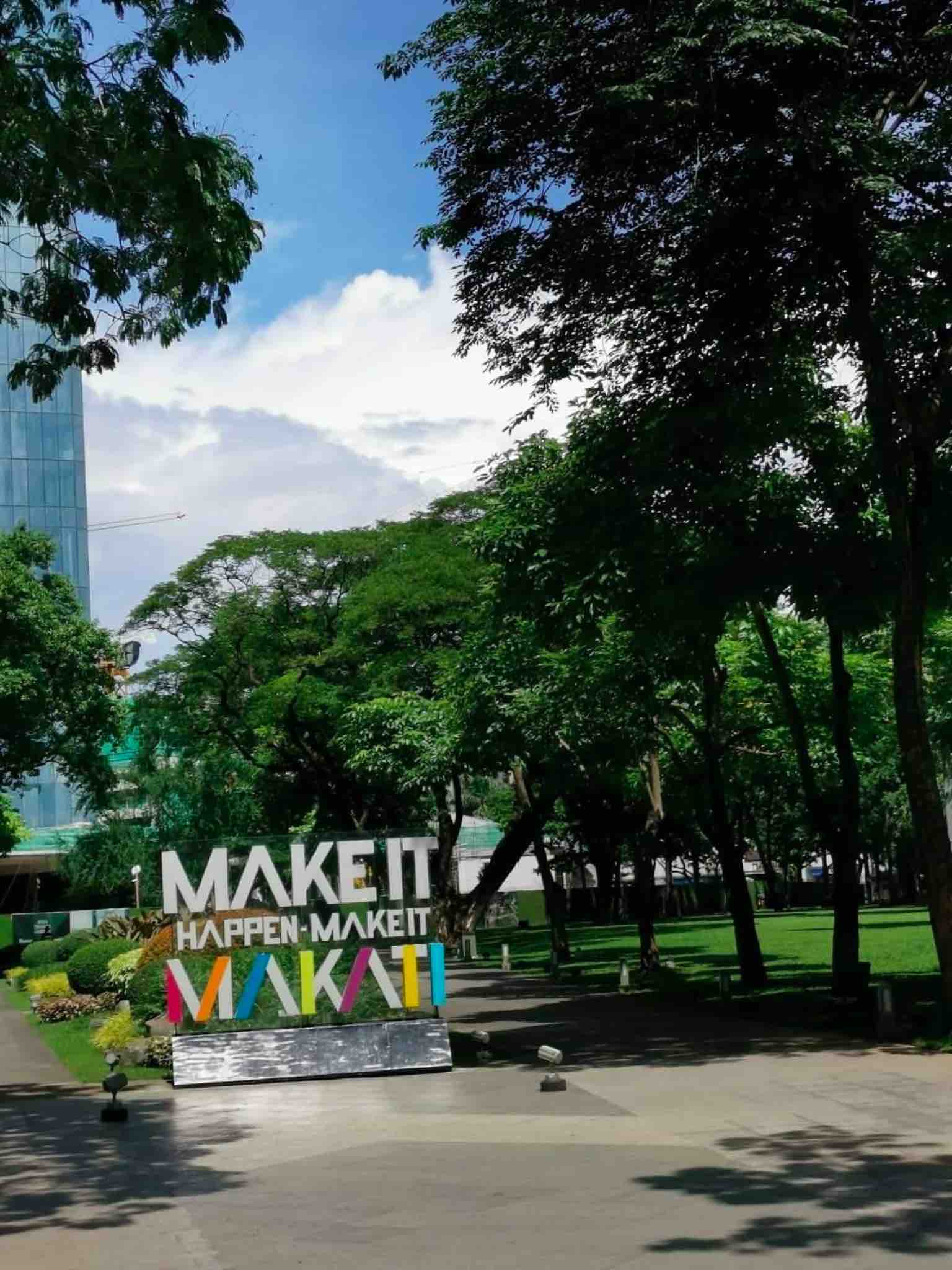 Walking through the wide streets of Makati, we do not even guess the genesis of their creation.
Until 1930, the first Manila airport was here. After the new airport was built, the old one was demolished, leaving the air traffic control tower, where today is a museum and the runways were ... converted into two main streets - Paseo de Roxas and Ayala Avenue. Such a curiosity. The streets that cars drive now used to be used by planes.
In general, this place, as a business center, owes its development to the Ayala family, who bought land here from the Spanish Jesuits for 52,800 pesos and began to slowly invest in the development of the business center.
Today, Ayala is a large Philippine corporation, recognized as one of the best, if not the best, in terms of social responsibility, human and financial resource management. It has sizable stakes in almost most of the key companies in the Philippines.
It was in Makati that I had the opportunity to participate in the rally of Star Wars fans and the march of "lightsabers" through the streets of Makati during "Earth Hour".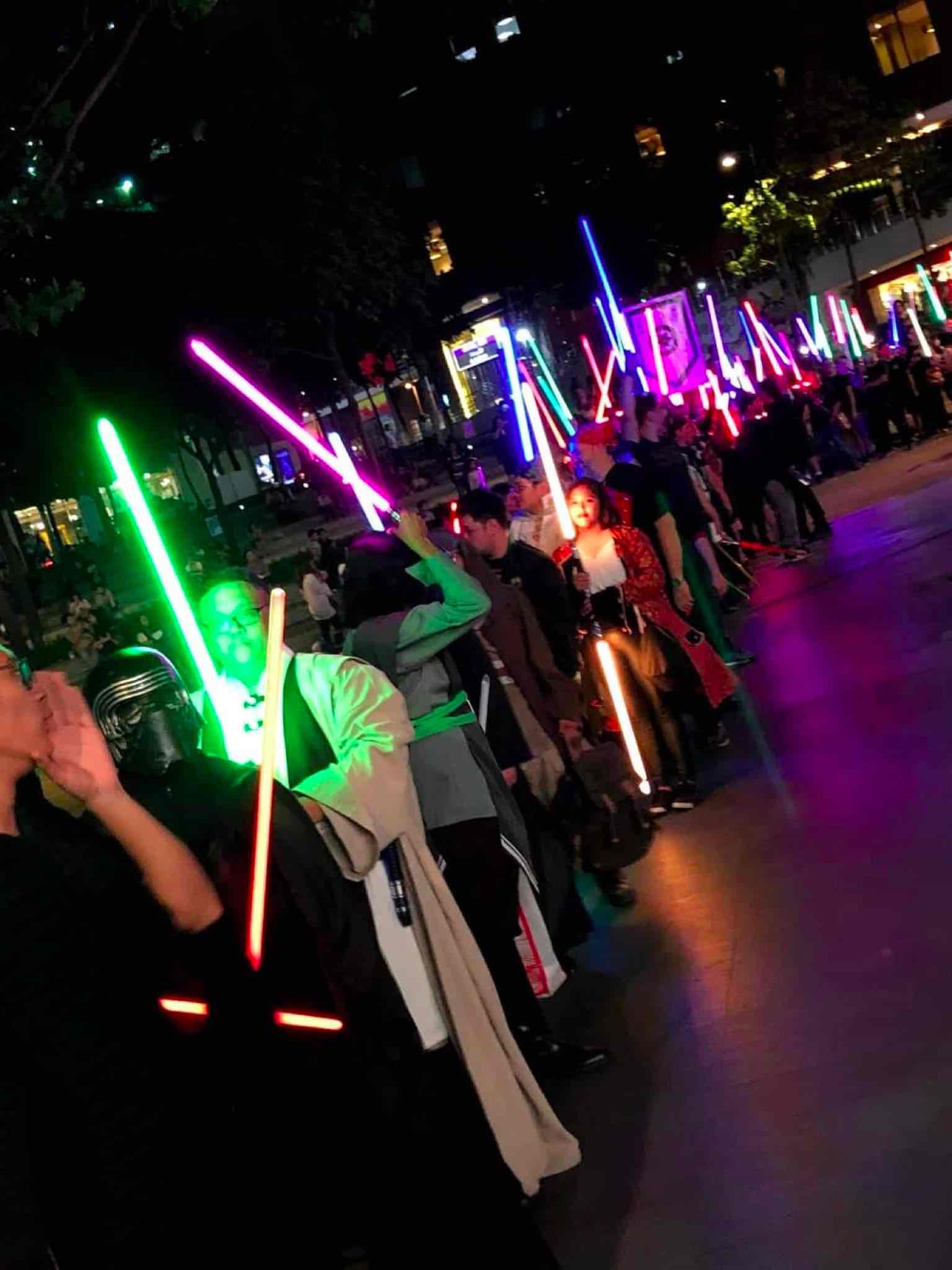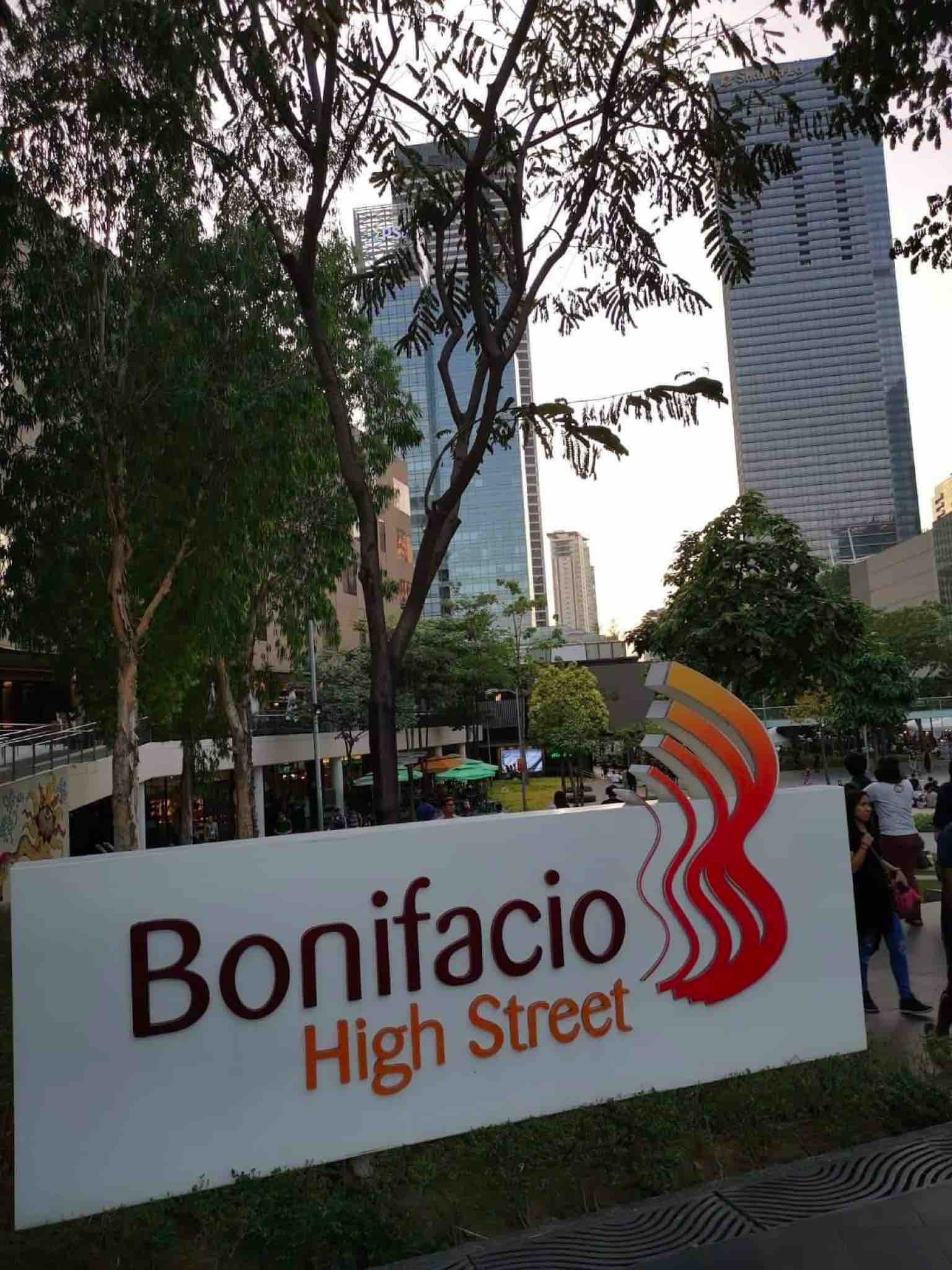 If you want to experience the metropolitan Manila, then of course I invite you to Makati. For a walk, for dinner at Camp BBQ and for the opening of the Christmas season. This is probably the best time to visit this beautiful city.
Remember that Makati is still a center of night entertainment and places such as Moulin Rogue or similar attract crowds of tourists ...;)
When it comes to accommodation, I definitely recommend "home stay" in one of the numerous apartment buildings here. It's very easy to find an offer right in the center of Makati, very often with a rooftop swimming pool, with a nice view of the city and access to the surrounding attractions.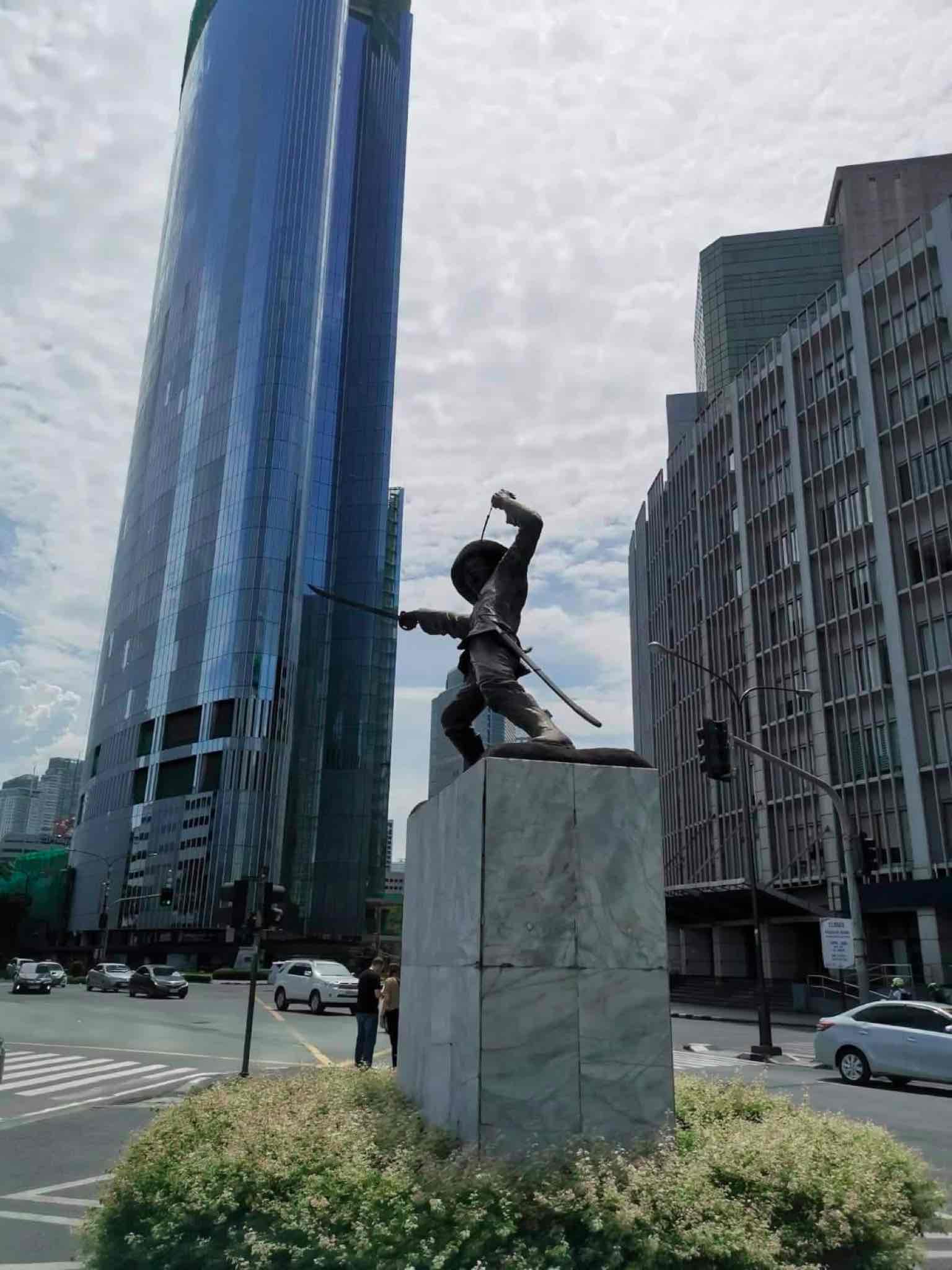 However, if you love sunsets and the evening breeze, I highly recommend my favorite place - Pasay and Manila Bay - where there is a promenade right over the bay with restaurants, bars and clubs on it. It is here that spontaneous Zumba dances as well as various street runs and marathons take place.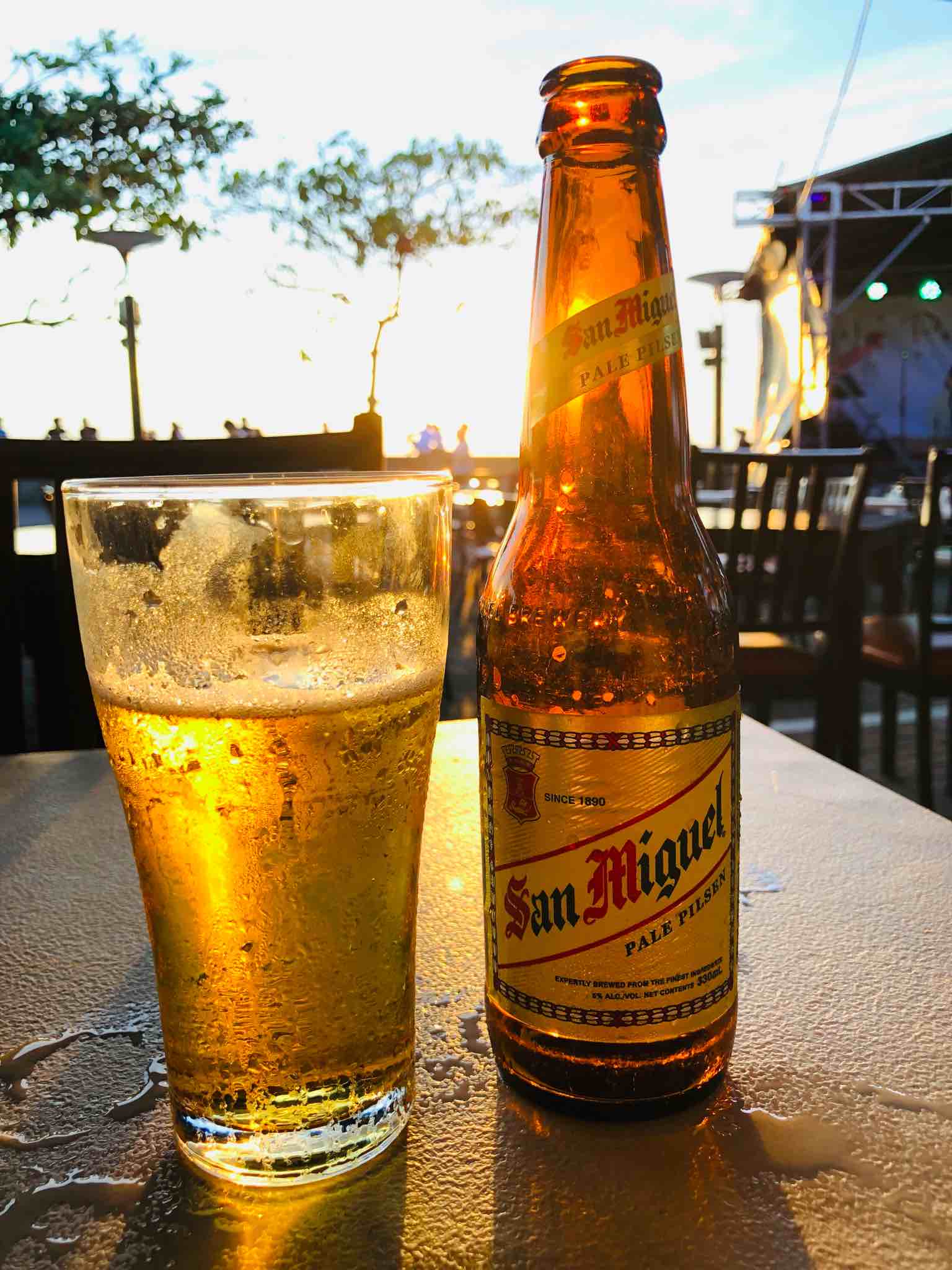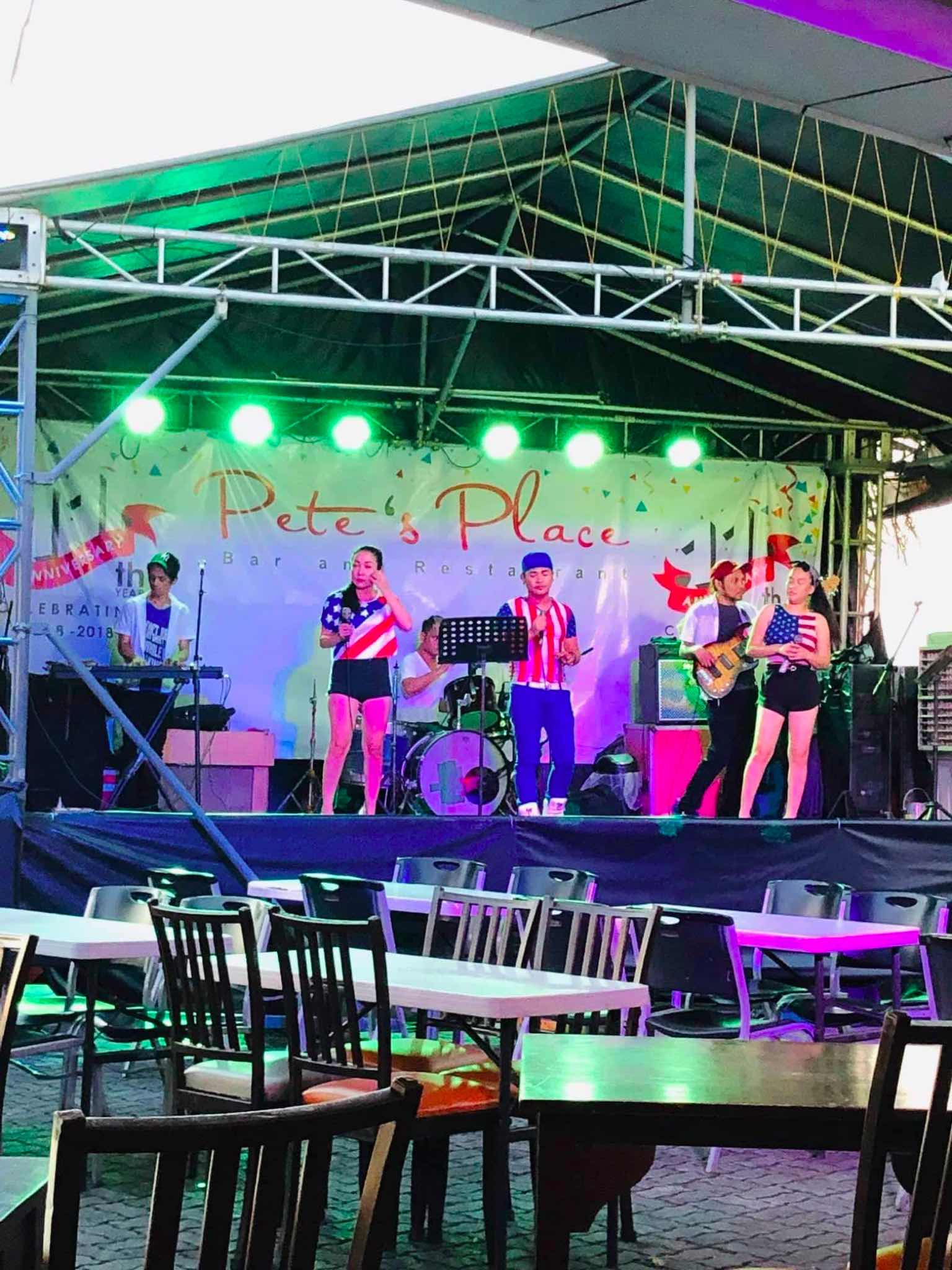 In my opinion, there is no better place than the "Pete`s Place" restaurant, where, with live music, you can enjoy a well-chilled San Miguel Light and watch the sun setting over the bay, enjoy the evening breeze.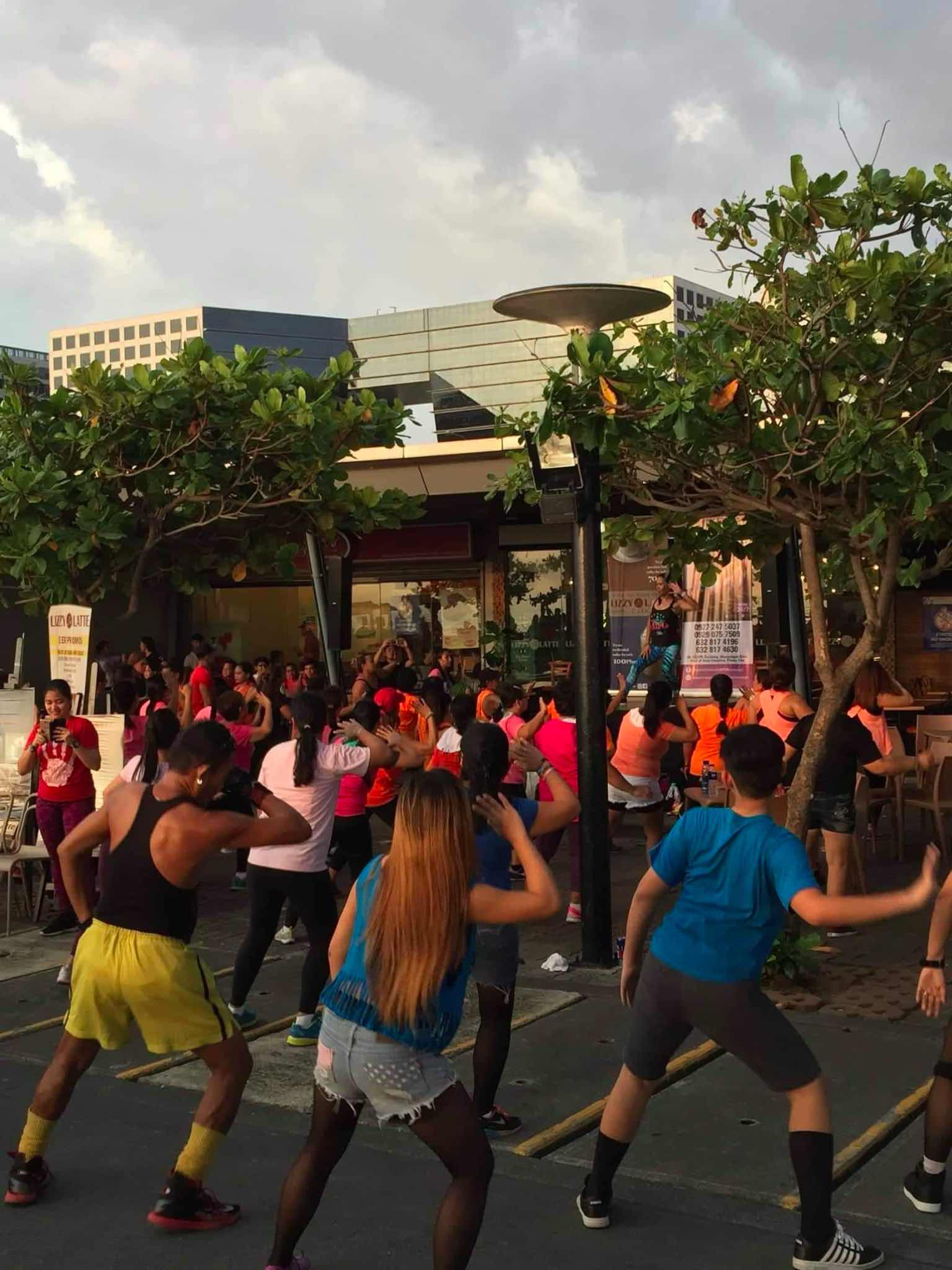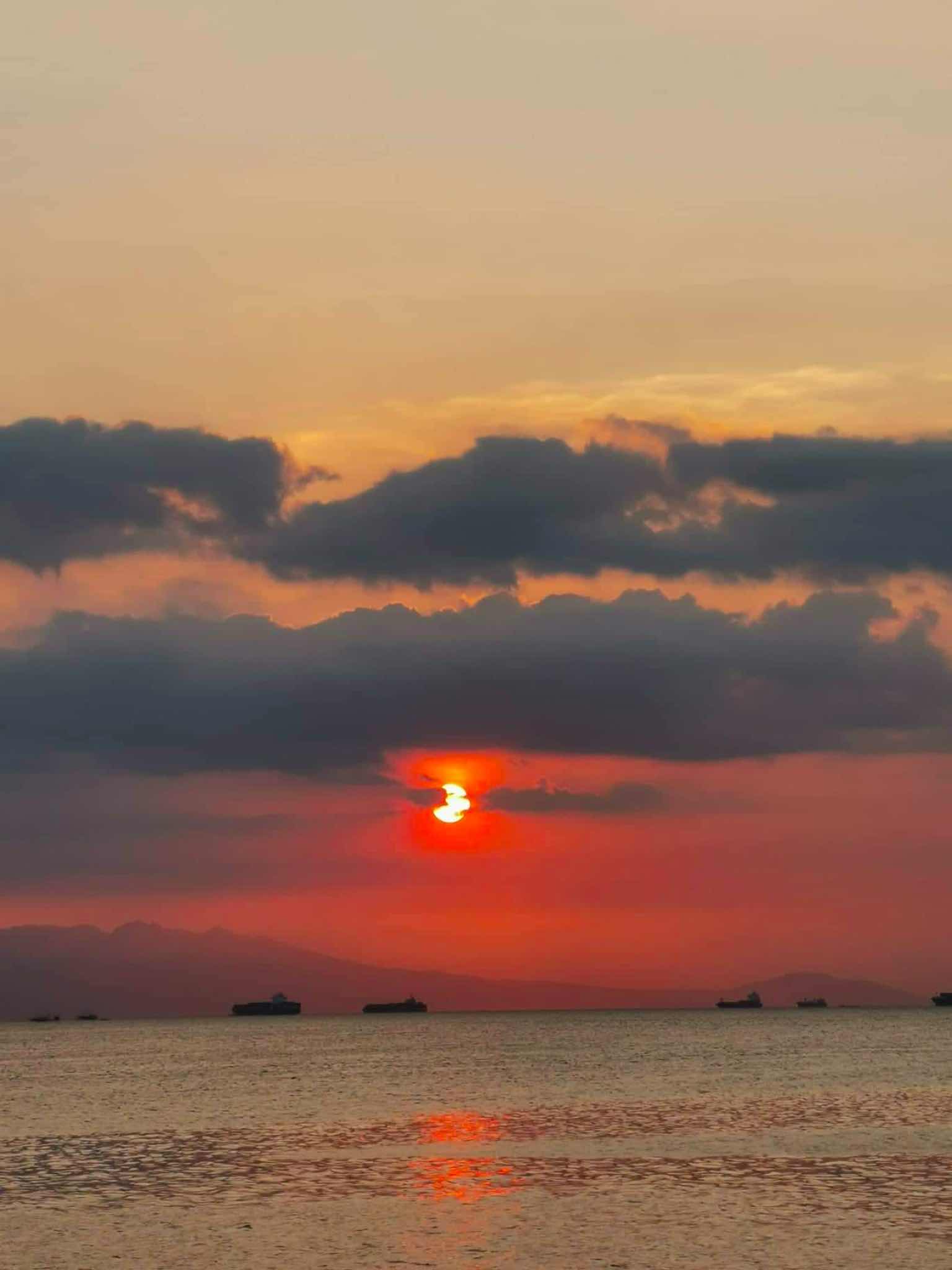 As the advertising slogan says:
There is more fun in Philippines! ... and I totally agree with him :)
Salamat Philipines!