Good morning from Asia. The rainy season is slowly coming to an end. We are waiting for the dry season.
In the meantime, I would like to tell you a secret. Imagine there is one fruit that I don't like.
No, this is not the durian I wrote about here and which I love.
This is Papaya. Why don't I like her? You will find out at the end of the article. Undoubtedly, it has the connection to the place I invite you to visit today.
When traveling from Europe to Bali or Australia, very often the stopover takes place in Kuala Lumpur. Moreover, flights with a stopover in Kuala Lumpur combined with a one- or two-day stay in the city are cheaper than flights with a direct connection to the next segment.
Therefore, sometimes it is good to stay for one or two days in Kuala Lumpur to visit its most interesting places. I wrote about my impressions from my first trip to Kuala Lumpur in this article.
This time we will walk through one of the largest parks in the world, and certainly the largest in Asia, with free-flying birds.
KL Bird Park (Taman Burung Kuala Lumpur in Bahasa) - this is its official name. It is located almost in the city center, on the Bukit Aman hills, in close proximity to the TV tower, Petronas Tower and Malaysia's National Mosque.
So if you have a day or two, let's go and see what is hidden among tropical greenery, in the heart of Kuala Lumpur.
KL Bird Park is one of Kuala Lumpur's ticketed attractions. It is spread over 8 ha of green areas, which are part of a larger whole, the municipal gardens - Lake Gardens.
The whole park is fenced to ensure the birds' comfort and safety. This allows them to be kept in their natural environment, allowing them to move freely throughout the park and at the same time prevent their "escape".
It is also a park that scientists from all over Southeast Asia use to study bird populations, their behavior and natural reproduction. The research includes observations of nests, breeding habitats and the hatching process of the chicks. All this is well recreated in the park and used in daily scientific work.
For us, it will be important to walk through the park, visiting all four zones into which the park is divided. While there, contemplate the views, admire the accumulated tropical greenery, but most of all, beautiful birds in their natural habitat.
The entire bird population in the park is about 3,000. They represent about 200 bird species, 180 of which are local fauna, typical of Southeast Asia, and about 20 species are imported from Australia, China, Indonesia, New Guinea, Tanzania and Thailand. It must be admitted that there is something to look at.
The park is almost 30 years old. It was established in 1991 and, as I mentioned, covers over 8 hectares of land. Opening hours: 09:00 - 18:00, also on public holidays.
The entire walk and crossing all four zones will take us about 3 to 4 hours. It all depends on how long you want to admire parrots performing tricks, how much time you spend in science pavilions and in the hatchery.
The ticket booths are located in the second zone and the main entrance in the first zone.
In any case, you can enter the park directly at the ticket offices. Then the walk will be organized as follows: zone two - zone one - three and four.
When moving along the paths between zones, pay attention to the places where the birds are fed. They are well marked and there are bird feasts at appointed times. Usually based on fruit. In the case of predators, these are rodents or pieces of raw meat.
If you visit the park during the rainy season, make sure you have at least an umbrella, and preferably a cape. When planning a walk, take into account specially prepared places for tourists visiting the park. Wooden shelters provide shelter from rain. In the rainy season it rains for an hour or more every day. It's good to remember that.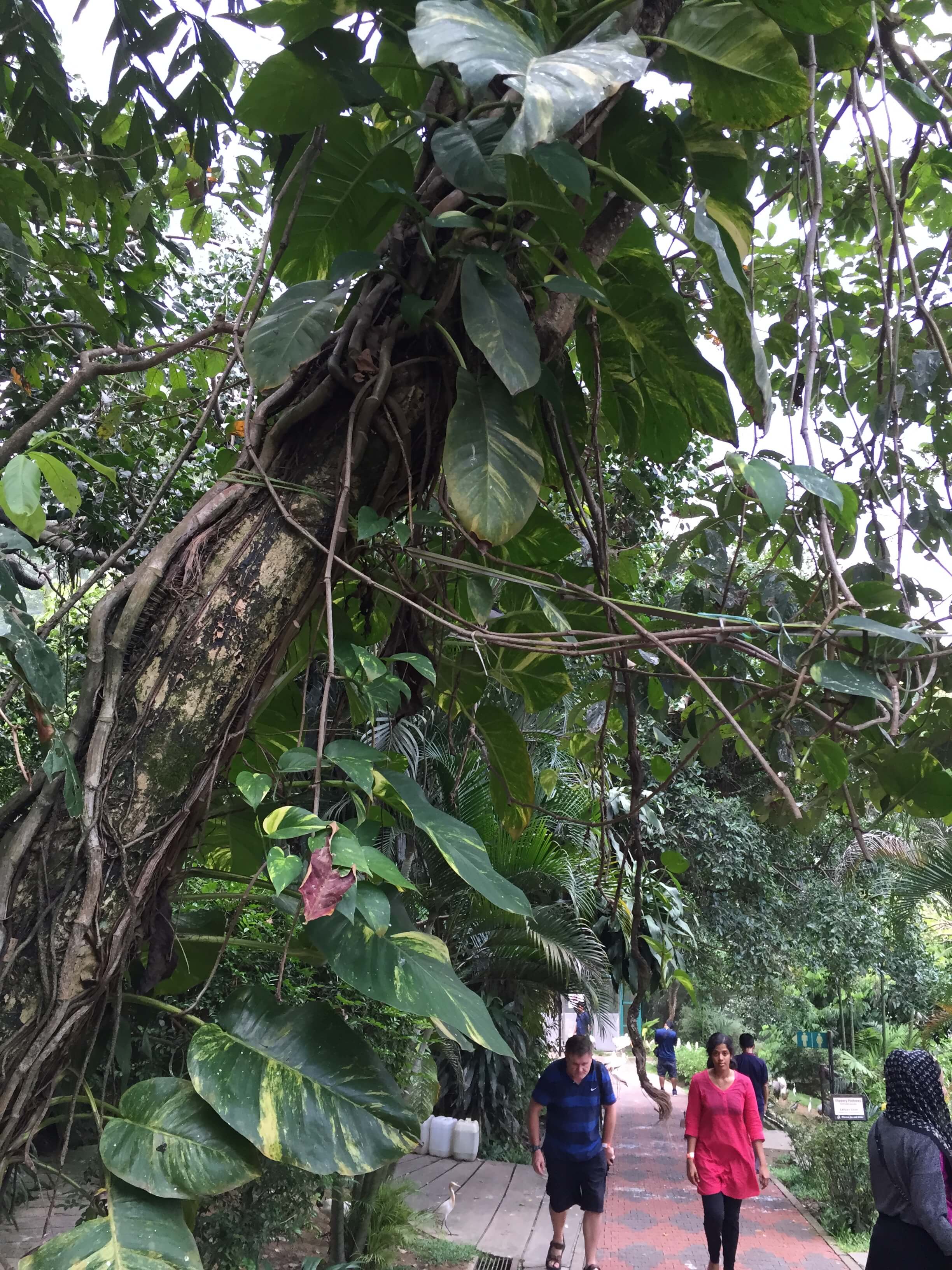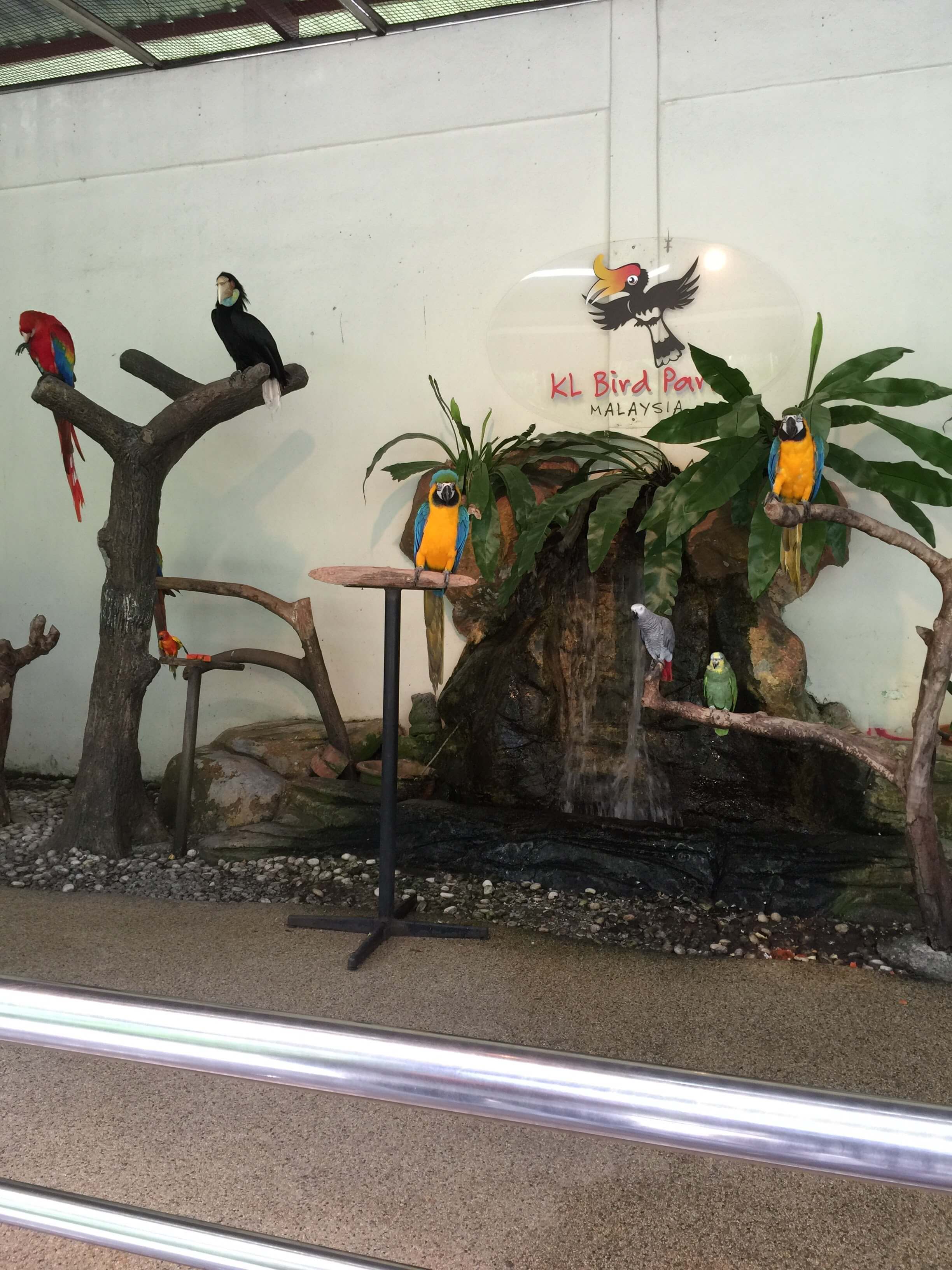 We are entering the kingdom of birds
We start from zone two. Around the marked paths you will meet species of birds that look beautiful against the backdrop of tropical greenery. Weavers, nicobar pigeon, ostriches or scarlet ibis - these are eye-catching, colorful shapes.
We pass to the first zone. This is the zone of birds that love to fly. I will mention here flamingos, pelicans, Indian narrow-leaved parrots, a parakeet, but also starlings, pheasants and eagles.
They all walk, they fly freely, from time to time they sit on the railings that surround the marked paths, watching with interest at us, who visit this place.
The feeding time for fruit-eating birds is 10:30 am and for meat-eating eagles at 2:30 pm.
We come to the third zone where hornbills and blue magpies reign.
This is also a zone with a restaurant and gift shops.
You're about halfway there. It's worth staying a while to eat. Have lunch, a late breakfast or an early dinner, have a cup of good coffee or tea or try freshly squeezed juice. If you choose a terrace as a dining place, be careful. The birds will be waiting for an opportunity to peck something from your plate. It is also an opportunity to buy some souvenirs. The restaurant is open from 9:00 am to 8:00 pm. It is accessible from the car park next to the park, so you can stay longer after the park is closed.
The feeding time in zone three is 11:30. Feeding is an interesting moment because, firstly, guests can also hand-feed the birds using the fruit provided by the park's staff, and secondly, you can watch how the animals are doing well with their food intake.
Walking along the alleys, we approach the fourth zone, which is the kingdom of parrots.
In this zone, more than 20 different species of parrots and other flightless birds, such as Emu, Nandu and fantastic Kazaurs, have been gathered.
It is in this zone that there is an air-conditioned Bird Gallery, educational stations and the "Bird School" where you can see incubators and chicks just hatching. In the pavilions of zone four, you will also learn about the research achievements of the park.
The fourth zone is also a place for 50 species of oriental birds, from toucans to starlings, which are exotic birds in Asia. An interesting fact about this place is the over ten-meter-high natural waterfall, near which live milk storks and other birds gathered in this zone.
After a long walk, probably three hours later, we reach the amphitheater with 350 seats.
Bird skill shows take place there, and the park's employees ensure a cheerful atmosphere. The shows are held twice daily. The first show is at 12:30 and the second is at 15:30. If you are accompanied by children, be sure to visit this place.
In my opinion, it is worth taking a break during such a show. Animators interact with the audience also, especially for children, it's great fun. Children are invited to the stage to pet the parrots or perform simple tricks. Lots of fun.
In zone four, we have 3 feeding times.
Two: at 10:00 and at 5:00 p.m. - for Lorie ostriches and small parrots that feed on the nectar of flowers with an adapted language. The third, at 4 p.m., is intended for storks and other inhabitants of the waterfall area.
Here, in the fourth zone, or in the restaurant you can return to (in the third zone), our stay at KL Bird Park ends.
Before I go back to the mystery of why I don't like papaya, let me help you get to the park.
If you are traveling through Kuala Lumpur and are just passing through, it will be most convenient for you to stay close to KL-Sentral, the Central Station.
I have already written about a good location in this article about Kuala Lumpur.
It is from the KL-Sentral station that the bus line 115 (Rapid KL) departs and takes you directly to the park. You can also use the city train, the so-called KTM Komuter. In this case, get off at Kuala Lumpur Rail Station. You can also, like anywhere in the world, just take a taxi.
As for the cost. Non-Malaysian adult entrance to the park costs 63 Malaysian ringgits (MYR), and children's entrance is MYR 42.
Malaysians pay much less. Entry with "MyKAD", which is also an ID in Malaysia, the ticket costs MYR 25 for adults and MYR 6 for children.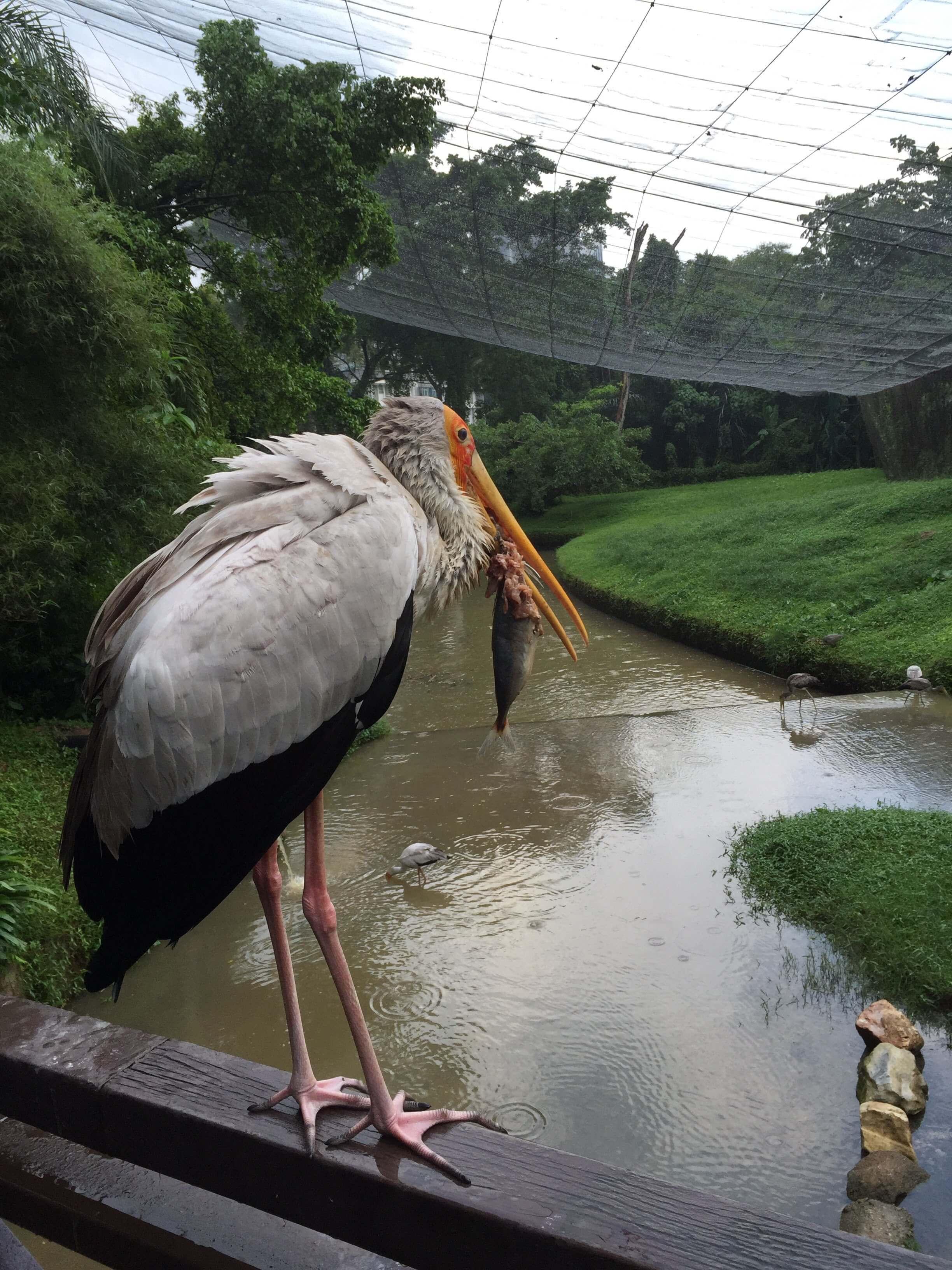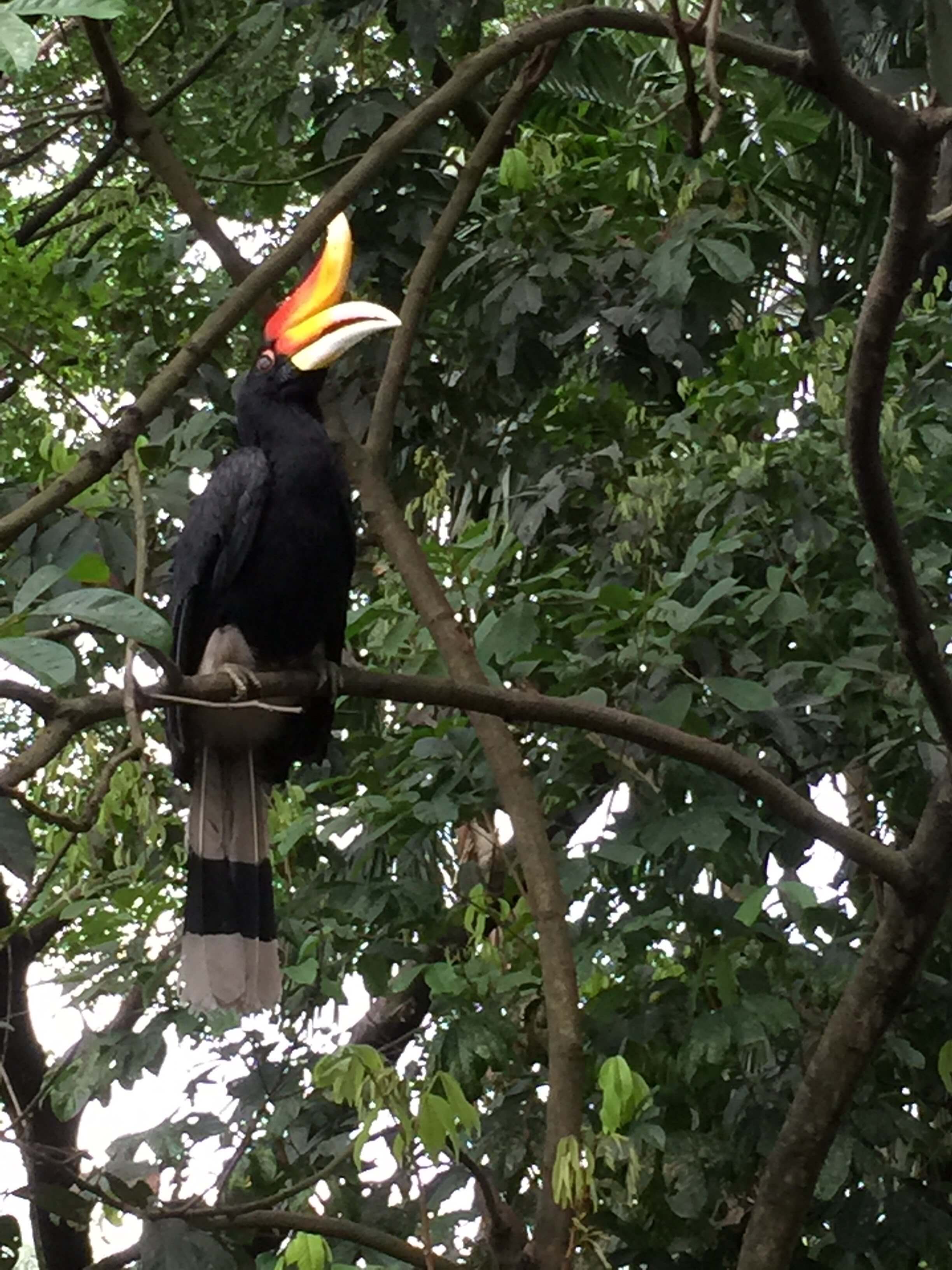 OKAY. It's time to finally tell you the secret why I don't like papaya.
As I wrote, one of the recommended attractions is watching or participating in the feeding time of the birds. I had the pleasure of seeing all the feeding times in the park. Most birds, except those that are predators, are fed papaya.
So I saw birds eating papaya, breaking the fruit to pieces. The way they did it, left a mess and the smell of papaya mixed with the smell of bird droppings made me immediately remember the view from the park in Kula Lumpur ...;)
Somehow I can't bring myself to eat papaya with good taste. I still associate her smell with the situation in the park.
Of course, sometimes I eat papaya, but still, deep in my head, I have this image. Picture of birds plucking papaya fruit while excreting faeces. It didn't look very appetizing anyway.
However, I am convinced that the bird park in Kuala Lumpur is a place worth visiting. I recommend it with a clear conscience as a place where, during a very short stay in Kuala Lumpur, you can come across tropical vegetation, with exotic birds and at the same time rest for a while while traveling.
Selamat meneroka! Have fun exploring!  
Terima kasih. Thank you.